I've found a new object of my desire. This my new love has taken a lot of my time and money and it doesn't appear like this is going to change any time soon. I'm so enthralled by my new love that I can't wait to show her off to all of you, my dear friends at BN. Neglected for a very long time by me, but now I've seen the light and never again. I'm not going to even try to deny my love for Rosemary.
Rosemary is not a girl (get your curious minds out of the gutter!) Rosemary is a herb that has been grossly neglected by many Nigerians yours truly included. I realized that Rosemary isn't invited to many of our Nigerian Cuisine Soirees. I got drawn to Rosemary when I started shopping at L'epicerie and Shoprite and I found an amazing range of the herb being stocked. I became a convert and a chronic addict.
So today, I'm here to preach the gospel of Rosemary to you guys and to share the different forms and ways you can use this herb.
Oils.
Place a bunch of rosemary leaves in a bottle of olive oil for a week and the oil would take the flavor of the herb. You can use this in salad dressings and cooking lamb and meats.
Salts
Mix some rock salt, black pepper, dried chillies, rosemary and some coriander seeds put in the mill attachment of a blender and whizz and use to season beef, chicken and pork.
Sauces
Use in sauces that pair with meat chicken and pork. Also when making  bolognese add some rosemary to the mince meat I would give it a deeper flavor.
Dry Rubs
Chop the rosemary finely and mix with other spices for marinades for steak and add some whiskey and grill!
Air Freshener
I know this sounds odd but heat up your oven and put some oil in a tray and place some of the rosemary and the fragrance would fill your kitchen
Kebab Sticks
The stems of this herb are quite hard so you can pass some pork or chicken pieces and skewer on the sticks and place on a hot grill!
My favourite way to use rosemary is definitely in my roasted red bell pepper sauce. It amazing for confit potatoes or just roast potatoes.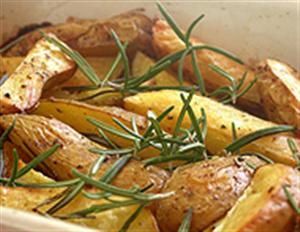 Rosemary is like the creed of all herbs its such a strong flavor. There's a tendency to overdo.
You can replace thyme with rosemary if you normally use the former when preparing your stew. I assure you that you'd be pleasantly surprised with the result.  The stew would have different and nice flavour.
Try something amazing with Rosemary, and have a flavour filled weekend!
Ciao!
Photo credit: marigoldlane.com; photo-dictionary.com