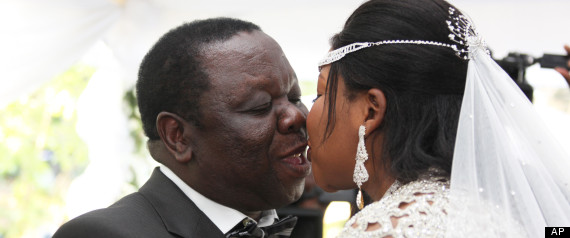 The Zimbabwean Prime Minister, 60 year-old Morgan Tsvangirai created quite a buzz over the weekend when he got married to 35 year-old Elizabeth Macheka. Interestingly, the age difference between him and his bride wasn't the only factor that drew worldwide attention to his marriage.
His wedding plans were almost thwarted last week when a court ruled that he was already wed to a former flame, Locardia Karimatsenga.
Days earlier, another woman, South African Nosipho Regina  Shilubane, also filed a court challenge to stop the wedding,  saying she was engaged to the prime minister, with whom she said  she had been romantically involved since 2009.
In Zimbabwe, Polygamy is recognized under its traditional customary law but not in its formal legal system. A man can have several customary  marriages, but if he has wed under the practice, he is precluded  from holding a legal marriage ceremony.  The Prime Minister had initially planned to have his second marriage under the legal system but Locardia challenged his plan in court. After seeing video footage of the traditional bride price being paid last November to Locardia's family, the magistrate cautioned Tsvangirai that if he signed a legal marriage register with his new wife he could be prosecuted for bigamy.
And so, in order to save face, he instead held a ceremony under Zimbabwe's  "customary marriage" practice. Reuters reported that the bride and groom exchanged vows and rings at a luxury convention facility in Harare but did not sign the legal marriage register. The wedding took place on Saturday, September 15, 2012 and was presided over by a Priest.
Huffington Post quoted the prime minister as saying that he had to date several women to find the one he truly loves. He also dismissed media reports that his private life is irresponsible and makes him unfit to lead the country.
His bride was dressed in a white ball gown accesorized with 'Kim Kardashain style' hair piece,  diamond chandelier earrings and necklace.
Check out photos of their wedding:
Photo Credit: AP via Huffington Post