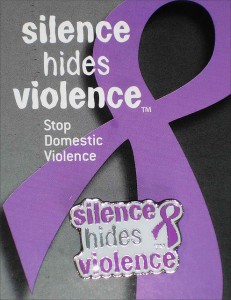 Domestic Violence is indeed 'the secret sin'. It's happening in so many families and most of the time, women are the victims and we're keeping quiet. It is not a joke and women are dying all over the world because some people still believe that it is something that can be trivialized. People continue to stay with domestic partners for fear of societal reproach and judgment. We are the society and we should stop providing an environment which condones remaining with an abusive partner.
"He started with a few slaps and then apologized. He would buy gifts, and apologize and then we would move on. But then, it graduated."
When I hear things like this, my blood boils and it reaffirms my stand to get the word out there so that it can stop.
Today, the 21st the Wellbeing Foundation, Africa has chosen today, (in support of the Peace One Day's Global Truce 2012 'Reducing Domestic Violence Campaign') as the day for creating awareness of the human and emotional cost of domestic violence by launching a short Eliminate Domestic Violence documentary which voices the experiences of gender-based violence victims.
We all need to stand together to say NO… to the perception that running away from a violent man is wrong. Say NO!… to being used as a punching bag. Say NO!… to beating as a form of birth control.
Describing domestic violence as the "secret sin," Wellbeing Foundation Africa Founder-President Mrs. Toyin Saraki reiterates that issues of domestic violence occur in many families and communities around the world when individuals are not allowed to live in peace with respect and dignity.
The foundation has partnered with Project Alert Nigeria to give a voice to victims. In this poignant video, documenting the personal stories of Katherine Obiang, 'Jane,' Hadiza Zaaki-Azzay and Abimbola; and the impact of domestic violence on their lives, we hope that we can completely eradicate domestic violence. No half measures, but a complete eradication.
If that guy/girl is slapping you around, please leave. It's not worth losing your life.
Please say NO! to domestic violence today.
Watch the "Reducing Domestic Violence" video here!
___________________________________________________________________________________________________
The Wellbeing Foundation Africa (WBFA) is a leading frontline African Maternal Newborn and Child Health (MNCH) and empowerment organization, dedicated to transforming the lives of women and children through advocacy and action. WBFA achieves this goal by forming strategic partnerships and engaging local and international stakeholders while providing practical support interventions and tools such as the WBFA IMNCH Personal Health Record©. Committed to health, education, women's empowerment and social welfare, WBFA, founded by Her Excellency Mrs. Toyin Saraki in 2003, promotes MNCH through the UN's Every Woman Every Child effort, diverse multi-sector initiatives, and advocacy campaigns including WBFA 24-7-365 and the Millennium Development Goals Countdown to 2015.
For more information, please visit http://www.wbfafrica.org.