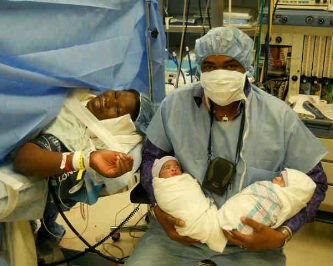 It's definitely a day of joy in the house of the Ossais!
Today, Friday 21st September 2012, Nollywood actor/Producer, Emeka Ossai and his wife, Jumai Ossai welcome the birth of twins – a boy and a girl, after 5 years of wedded bliss.
The father was present in the delivery room and smiles on as he holds his new bundles of joy – Awww… How Cute.
We wish the couple and the new babies all the best.