It's a brand new year with loads of opportunities and new beginnings for both you and our favorite stars.
To kick off 2013 in super star style, Nollywood actress, Oge Okoye is gifting all her fans in diaspora with her uber stylish "photo speak" shoot.
According to Egor Efiok, PR rep for the actress – who also produced and directed this photo shoot – the shoot is Oge depicting that she wants to achieve as much as she can in life because time waits for no one. From striking a pose as a high fashion corporate entrepreneur to rocking a fab Ankara piece and basking in the sun in a yellow number, the thespian proves she very much a bona fide Movie Star.
Keep refreshing BellaNaija.com, to view her other looks including Oge Okoye "the Fashionista "and "the Drama Queen". Till then, BN presents Oge Okoye Photo Speak Filmed Shoot  – The Movie Star
High Fashion Corporate Entrepreneur
Here's a statement about this look;
This make-up would normally be too fierce for a business look; however, this was done on purpose because I wanted Oge to look like a fashionable working girl. As a business woman in the showbiz industry, most of her business associates should look very high fashion and glam, even when they attend board meetings. Think of Anne Summers who loves wearing short skirt suits or even Tyra Banks and her fellow ANTM judges sitting at the table together, in their business mode, judging the models.

I particularly wanted Oge's hair to look understated for this look. One of Oge's most distinctive facial features are her high cheekbones and I wanted to complement them by having her hair tied up into a severe chignon, with her make-up exuding an Ify Jones kind of bold look. The hair has to be freshly relaxed and gelled to achieve the 'severe' look though and because Oge had recently cut her hair, it was difficult to achieve the exact look I wanted, so we had to devise another means of getting something similar. My saviour came in the form of Yinka, our make-up artiste, whom I didn't realise also makes wigs. Yinka did a splendid job with Oge's hair here and I still got my chignon.

My verdict: Melanie Griffith ain't got nothing on this sexy working girl!
African Queen 1
Here's an official statement about this look;
As we all know, Kente designs have been trending on the runway in recent times, so naturally, for one of my African themed shoots, I decided to use Kente. Oge wore a figure hugging dress and she looked so elegant, so beautiful, so regal…one could almost gasp.

My verdict: True African Queen
Pretty Woman
Here's an official statement about this look;
If you have watched Julia Roberts in Pretty Woman or know about how the rich love polo matches, eating caviar and drinking expensive champagne while they lounge in their yachts, etcetera, you'd get my drift here. Also, it is Oge Photo Speak and here is our aristocrat inside her yacht and on its deck livin' it up and acting it out aptly!
My verdict: This is one classy aristocrat!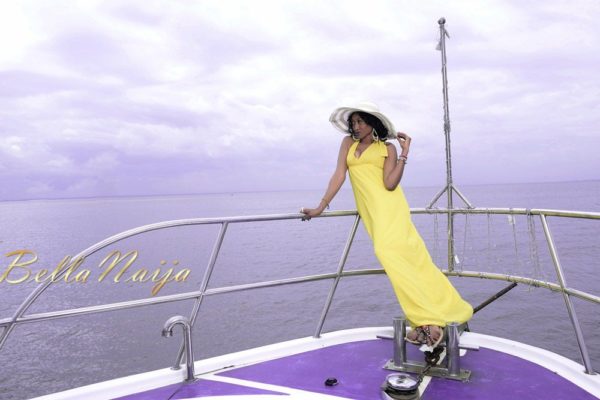 Credits
PR: Egor Efiok
Photography: Moussa Moussa
Make-Up: Yinka Make-Up Institute
Stylist: Sandra Itu
Oge Okoye Speak Filmed Shoot presentation: Uche Odims
Accessories: Be Glam Accessories
Outfits: Rouths Boutique
Designers: Grey | Amira