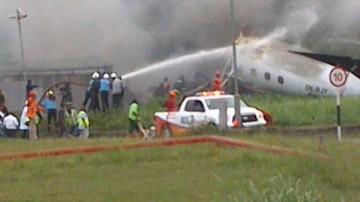 A few minutes after 9 AM today Thursday 3rd October 2013, a private plane owned by Associated Airlines crashed at Aviation Estate, Mafoluku, Oshodi-Isolo way, Lagos.
If you missed the breaking news feature on BellaNaija, click here to see
Crash Time
At about 9:20 AM, the EMBRA plane 120 crashed less than a minute after take-off from the local wing of the Murtala Mohammed International Airport, Ikeja, Lagos.
The 30-seat plane had 20 passengers on board including the body of the former Governor of Ondo state Olusegun Agagu. Residents at the venue disclosed to reporters that the plane exploded mid-air before crashing.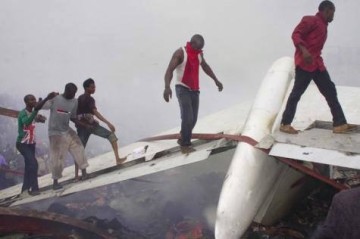 9 Bodies Recovered
Nine victims of the Associated Airlines plane crash have been recovered by rescue agencies. The number of casualties is yet to be released.
Flight Manifest
Passengers
Feyi Agagu
Femi Akinsanya
Akintunde Joseph
Akeem Akintunde
Tunji Okusanya
Chijioke Duru
Kingsley Amaechi
Deji Afolabi
Mrs. A.O. Alabi
Daji Bernard
Deji Falae
Samson Hassan
Olatunji Okusanya
Crew Members
Capt. Yakubu
Flight Officer Oyinlola
Engr. Soroh Ebiya
Flight Dispatcher Ibrahim
Mr. Felix Latoya
Cabin Attendant Owolabi
Cabin Attendant Samson
Reported List of Survivors (Yet to be Confirmed)
1. Agagu Feyi – (Survivor)
2. Akintunde Taiwo – (Survivor)
3. Akinsanya Femi – (Survivor)
4. Akintunde Akeem – (Survivor)
5. Adult Male Survivor (Name to be Confirmed)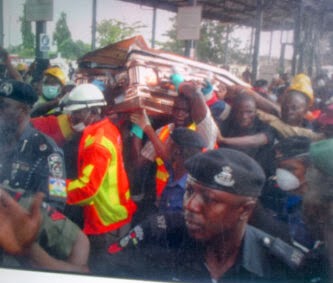 Olusegun Agagu's Casket Recovered Intact
The casket bearing the corpse of Olusegun Agagu has been recovered by rescue agencies at the site of the crash. The casket was intact as of the time of recovery.
Security operatives have taken into custody the casket. Almost all parts of the aircraft was burnt except the back where the casket was kept.
Engine lost after take-off
The plane is alleged to have lost an engine immediately after take-off. A source revealed to Punch that the pilot of the plane tried to return to the airport just before it crashed 800 metres away.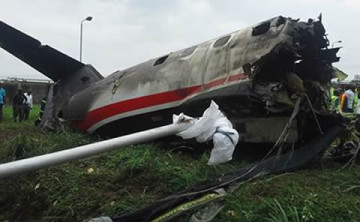 Black Boxes have been recovered
Emmanuel Dialla, the Director of Engineering Accident Investigation Bureau said "AIB has succeeded in picking the two black boxes, which will give us an insight into what really happened."
Credit: Punchng.com