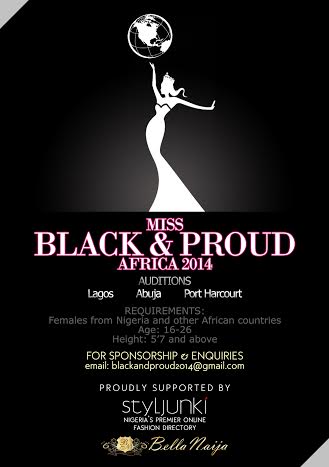 Are you African and fierce? Do you feel you have what it takes to 'talk the talk' and 'walk the walk'? Do you have the desire to excel in the field of modelling and beyond? Are you bold and eloquent with unique features?
The Black & Proud Model competition 2014 is a fashion and modelling initiative aimed at developing and providing young African females a platform to excel in the field of modelling and beyond, providing each applicant a unique opportunity to achieve their desired goals.
The word "Black" is a Metaphor used here to represent a foundation on which Africa's culture, heritage and ethnicity are embodied to give an edge and charisma that supersedes falling back to a notion that 'black' is just an ordinary colour. It promotes strength, unity, beauty and diversity on which a number of African women all over the world have embraced and created entrepreneurial goals and achievements for them. This project therefore embraces women from all over irrespective of their skin colour, race or social-cultural background who are proudly African.
This year it could be you!
The Components
The competition would consist of Regional Castings, The Black and Proud Academy (boot camp) and the Main Event. Applicants would be judged based on their individuality, originality, unique attributes and creativity. Castings would take place in Lagos, Abuja and Port-Harcourt.
Requirements
• Go to blacknproud.org and fill online application bio data
• Send in a 3 min video clip showcasing individual commercial prowess (ability to sell and influence). Products can be dresses, shoes, bags, nature or whatever works for you. Videos are to be sent via mail or hard disk which can be brought to the audition centers. Videos can be shot with camera phones, digital cameras and other electronic gadgets convenient for you.
• Registrations forms would be sent via contact email provided in step 1 or can be picked up at audition centres.
• Registration forms are FREE
Applicants from other West African countries are invited to participate in the Black and Proud Model Competition 2014.
Please note that further details regarding videos and data sent would be conveyed via registration forms.
The theme for this year's Miss Black and Proud Africa competition is "Who is the Fiercest of them All". The theme is centred on providing a winner who has the ability to command the catwalk and showcase her originality and individuality by maintaining her confidence and charisma.
Audition dates and venues would be announced shortly.
The winner for The Black and Proud Model Competition would walk away with
• Prize Money
• One week luxury trip to an African destination country
• One year modelling contract with one of Africa's most prestigious modelling agencies
• Brand Endorsements
• ….and many more
Applicants please note that THERE WOULD BE AN INTERESTING TWIST on the day of the main event scheduled to take place on Saturday 2nd August 2014.
Don't just hear about it. BE ABOUT IT!!!
Follow them on Twitter: @bblackandproud | Follow them on Instagram: @bblackandproud | Find them on their Facebook page- www.facebook.com/bblackandproud
For sponsorship and enquiries send an e-mail to [email protected]  | Call 08032179713 | Visit: http://blacknproud.org
The Black and Proud Model Competition is proudly supported by media partners Styljunki and BellaNaija.
__________________________________________________________________________________________
BellaNaija is a media partner of The Black and Proud Model Competition.