Pop Star Soul E turned Prophet made headlines back in March, for his startling vision on Wizkid and Davido.
He claimed he had a vision of Wizkid being poisoned and Davido involved in a fatal accident – read it here.
A few hours ago, he took to his official Facebook to state that the metropolitan city of Lagos, is the next bombing target for Islamist militant sect Boko Haram.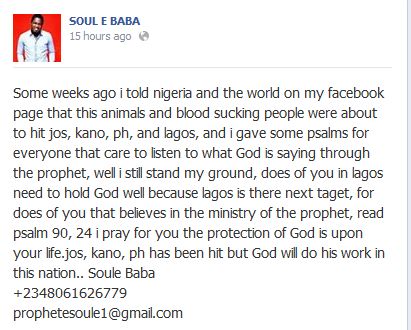 "Some weeks ago i told nigeria and the world on my facebook page that this animals and blood sucking people were about to hit jos, kano, ph, and lagos, and i gave some psalms for everyone that care to listen to what God is saying through the prophet, well i still stand my ground, does of you in lagos need to hold God well because lagos is there next taget, for does of you that believes in the ministry of the prophet, read psalm 90, 24 i pray for you the protection of God is upon your life.jos, kano, ph has been hit but God will do his work in this nation.. Soule Baba" he said.