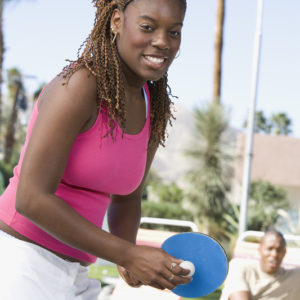 LAGOS (NAN) ― Cecilia Arinye, the first female Nigerian table tennis umpire to be invited to officiate at the Commonwealth Games, on Monday attributed her nomination to hard work.
Arinye, a blue badge umpire, told the News Agency of Nigeria (NAN) in Lagos that her selection was based on merit.
The Commonwealth Games will hold from July 23 to August 3 2014.
Arinye, the Director of Sports, University of Lagos, said that her passion for the game earned her the status.
"Invitation to officiate in such a global competition does not come on a platter of gold because it requires some formalities.
"Umpires' records and achievements are some of the requirements for selection.
"My hard work and contributions to the sport both in Nigeria and outside the country earned me the slot.
"I ensure that I go for trainings as regards table tennis umpiring.
"I make sure that I attend officiating programmes both locally and internationally; I make additional efforts at all times," she said.
She urged other Nigerian umpires to update themselves in modern techniques in officiating.
"All they need to do is to keep abreast of the latest techniques in the game and constantly attend training programmes.
"They need to be up-to-date with happenings in the game; this will help them to be considered for officiating at international competitions.
"If I can be considered, any other female umpire can also be considered.'' Arinye said. NAN reports that another Nigerian, John Peters, will serve as a deputy referee for the tournament. Table tennis will feature in five events at the tournament.
Photo Credit: © Photographerlondon | Dreamstime.com