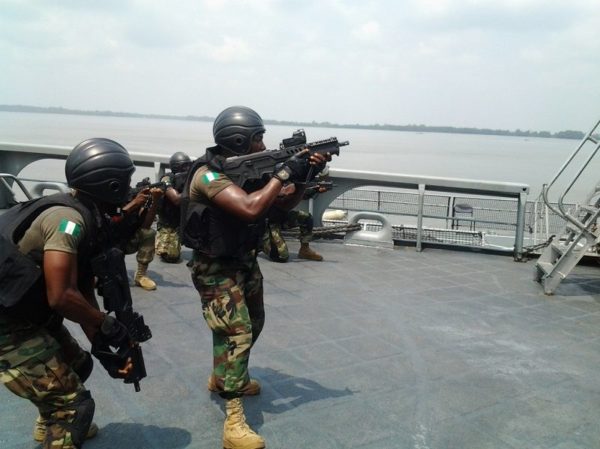 ABUJA (NAN)―The Nigerian Navy on Monday said it arrested one Simon Musa for posing as an admiral of the Navy.
Parading the suspect in Abuja, the Director of Naval Information, Commodore Kabir Aliyu, said the suspect was a deputy manager in ASO Savings and Loans Ltd., Victoria Island branch, Lagos.
Aliyu said he was arrested at the Mortgage Bank Head Office, behind Ceddi Plaza, Abuja, by Naval Intelligence Operators.
He added that preliminary investigations revealed that the suspect had during an interview for employment, claimed that he was a brother to one Admiral Musa in the Navy.
"This was to influence his employment, as well as to give the impression that he would be able to source for a deposit of N2 billion from the Navy through the Admiral for the mortgage bank.
"Accordingly, the suspect was employed as deputy manager of the Victoria Island branch of Aso Savings on May 27, 2013 which falls under one Ifeanyi Uzor, the Regional Manager of the institution for South-South and South-West Regions.
Aliyu explained that due to the intense pressure on him to meet the target given him, the suspect often posed as Admiral Musa and call Uzor on phone to assure him of the N2 billion deposit.
According to the naval spokesperson, the suspect, still posing as Admiral Musa, demanded for N1.5 million from the regional manager.
He said this was to enable him to effect repairs on his supposed burnt house before he would facilitate the deposit of the N2 billion.
Aliyu said the suspect was asked to collect the money from Uzor's sister in-law, who also works with the same bank in Abuja.
The director said "the incident was reported to the navy by representatives of the bank's head office where the suspect was apprehended when he came to collect N1.5 milion."
He noted that the suspect would be handed over to the police for further investigation.
Responding to questions from newsmen, Musa admitted using the name of the Admiral during the interview in order to get the job.
He, however, confessed that no Admiral Musa existed anywhere.
According to him, when the office demanded to see the admiral, he resorted to telling lies in order to ensure quick confirmation of his appointment.
He claimed that the N1.5 million he demanded from Aso Savings in the name of the admiral was for him to make the N1 million he already had to enable him to open an account and get his confirmation.
He said he was sacked from Fidelity Bank two years ago and his desperation to get another job made him to resort to that measure. 
Photo Credit: Lucian Coman/Dreamstime.com