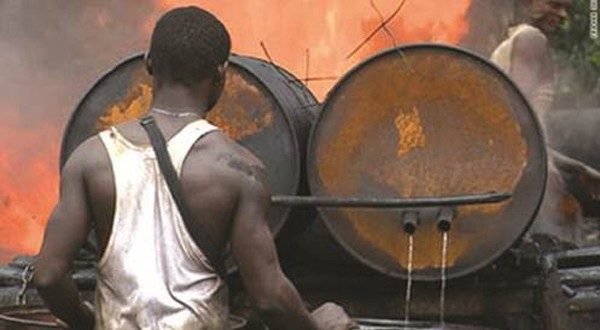 Six illegal refineries with combined capacity to refine four million litres of crude oil daily have been discovered by the Nigerian Navy, NAN is reporting.
According to Capt. Victor Choji, Executive Officer of the Nigerian Navy Ship (NNS) Pathfinder Port Harcourt, the refineries were discovered in Alakiri, Asari Toru Local Government Area of Rivers.
Choji, while destroying one of the illegal refineries on Thursday said: "the refinery (in Alakiri) has capacity to produce one million litres of refined petroleum products daily, while the five other refineries have production-capacity of three million litres daily."
Speaking on the operation that led to the discovery of the refineries, Choji said:
This operation is focused on hitting the very heart of their infrastructure, so that the operators do not have capacity to regroup and resume their illicit activities.

We realised that whenever we set ablase the refineries without the use of Swam Buggy machine, days after our troops leave the scene, the oil thieves return and revive the refineries.

So, the Navy came up with this strategy to ensure that the pipeline network and metallic storage at the illegal facility are completely crushed.

We started siphoning petroleum products first before destroying the illegal refineries as part of measures to eliminate soot in the atmosphere.

After siphoning the product, it is then taken out of the area and handed over to authorities for testing and analysis.
The Naval chief said it will take about seven days for troops to move the petroleum products and destroy the six illegal refineries.
Following the news of the destruction, Senator Ben Murray-Bruce, representing Bayelsa East constituency, in a tweet said that instead of destroying the refineries, they should have been handed over to the Nigerian National Petroleum Corporation (NNPC).
Reading the news about the 3 million liter per day illegal refinery the Nigerian Navy discovered and destroyed. But why not seize the refinery and hand it to the NNPC? We need the know how to build more refineries like it. We import fuel and destroy refineries. I don't get it!

— Ben Murray-Bruce (@benmurraybruce) March 29, 2018