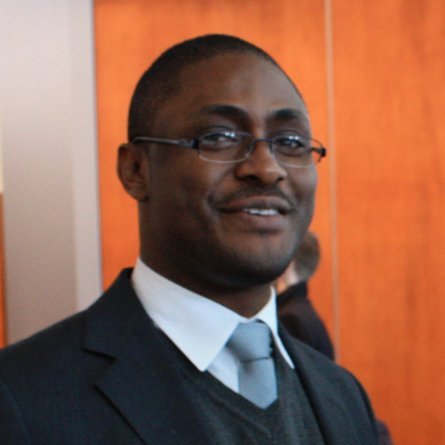 Move Back to Nigeria is a series on BellaNaija which aims to encourage young and not-so-young professionals in the diaspora who are trying to make the decision of whether to move back to Nigeria. In collaboration with the brilliant team at MoveBackToNigeria.com, we hope to bring you a weekly interview with individuals who have successfully made the leap, considering the leap, as well as those who have tried it and realized it is not for them. MoveBacktoNigeria.com's mission is to showcase stories of Nigerians abroad who have moved back home and are taking giant strides, often against all odds and to serve as inspiration to others. This, however, does not preclude us from sharing stories of the people who have moved back and are facing various challenges.
This week we caught up with Chidi Iwuchukwu, who moved back to Nigeria in July 2010 to take up a senior position in a Nigerian bank. Chidi, in our view, is a good example of how hard work and strong academic credentials can lead to a successful career in Nigeria. He advocates the importance of having a plan ahead of your move back and using positivity to overcoming some of the challenges associated with living in Nigeria. Do have a read to find out more.
Thanks for speaking with us. Can you please introduce yourself, tell us who you are and what you do?
My name is Chidi Iwuchukwu.I am an Associate director at Standard Chartered Nigeria, responsible for leverage finance in West Africa.
Have you always been in Nigeria?
Well, I spent my early school days in Nigeria and my first degree. Then I left the country and was away for about six years.
Where did you get your first degree?
It was at the University of Nigeria, Nsukka.
Why did you leave?
At the time, after my first degree, I joined Econet as a pioneer staff. I was responsible for battling most of their roll out campaigns. I had studied mechanical engineering and for me, it was big shift getting into telecoms. After two and a half years and at a point where Econet had started to get to a mature stage and they wanted to sell the company, I made a decision to leave the country for advanced education. I made a conscious effort seeing that I wanted to get involved in policy making that would shape development in the country.
Policy making is very strategic. How did events pan out when you left?
I went to the University of Applied Sciences in Emden –  a very small city in Germany-  to study alternative energy in conjunction with environmental policy. Then,  I went on to study environmental technology with a focus on Energy Policy and Energy law in DeMonfort University, Leicester in the UK and finally completed my program in Aalborg University Denmark, where I majored in Management techniques and environmental technology. I graduated with three degrees since I was under the Erasmus program which allowed me transfer credits between EU countries towards any degree.
This must certainly have empowered you.
Yes, certainly. When I was done, I set up my own company and went into partnership with the the United States Africa development fund. At that time in Nigeria, they had a problem where it was very difficult for them to identify projects which will meet certain criteria set by the US government that would enable them appropriately disburse the funds to those projects.
At about the same period and when I came back into the country briefly, I was seconded to the ministry of power during Obasanjo's government.I was involved in a lot of the power policies in operation today as a lot of the power policies and frameworks were actually developed during that time.
I was very actively involved in the writing of these policies and worked very closely in the minister's office and with the then D.G. of NERC- Nigerian Electrical and rural company. It was a great three months for me but constantly felt I needed to achieve more to create any lasting change
Did you think of returning to Europe afterwards?
I am one of those people that always thought that no matter what happens, I must find a way to get back into the country to contribute.
However, you can always plan, but you know there might be other things that would keep you away. However,  just making it a conscious effort actually keeps me focused. I continued working in policy and after a while, it stopped working for me. I got into a lot of clashes with a couple of the government persons and finally decided to leave.
Where to, this time?
At that point in time, I was barely in the country for less than three or four months, then I told myself, that I had to go and do my MBA. I wasn't done with education. I just made a final decision that finance was what I needed and so, I applied and got accepted to Columbia University. This was a great experience as it marked a defining and a turning point in my career going forward.
How so, and why?
I decided to focus on finance and also a little bit of strategy and also social entrepreneurship. I did not want to sway towards doing hard core finance but still keep an element of heart and soul in me, because Columbia is known for its hard core financial programme – that is pretty much why everybody in Columbia ends up on Wall Street.
So I consciously stayed away from the Wall Street jobs with a focus on getting the right job that would keep my focus alive. Eventually, I got a role at Standard Chartered. They had setup a unit in Nigeria which was going to be dealing with a lot of the investment banking portfolios and I was to be in that unit with a very senior banker who they would be bringing into the country, which worked for me. I was excited at doing things that I would be passionate about and thankfully, it's turned out well. I took the offer and moved back to Nigeria in July 2010. In my role, I have been involved in every green field power asset, large infrastructural transactions and couple of the oil and gas acquisitions that have been done in Nigeria by Nigerian companies.
How did you find moving back and transitioning?
I think for me, it was the mindset. Though I must confess that it is not easy because there are certain times I have actually questioned myself as to if I made the right decision. It was because I wanted to be here; even with all those issues which I had been away from, I decided to stay.
Also in Nigeria, there is a certain mentality where everything is driven by age and respect, rather than performance and a certain level of positivity. I was finding myself after being away for too long, getting back to see this mindset and then having to face a lot of cultural clashes with a lot of older people who believe things are done a certain way and must remain that way which is typical of Nigeria. I kept on reminding myself that if I gave up and left, I would regret it.
How can you describe your day to day role with standard chartered?
My daily role is actually looking at very high level transactions for the bank. Typically, I tend to look at the larger transactions which are definitely greater than a hundred to two hundred million dollars in transaction.This is because in Nigeria, if the ticket size is small, they would rather go to a local bank, because it is very easy for the local bank to fund. Once it starts getting bigger than that, they find it difficult to deal with the local bank and now it would be a question of 'do they have access to that kind of dollar liquidity?' So my day to day job is technically looking at very high large value transactions in different sectors, especially oil and gas, power and fast moving consumer goods (FMCG). These are the three sectors in I currently get to do eighty percent of my work in.
Where do you see yourself three to five years down the line?
I am actually very happy with the new role I have found myself in. Interestingly, I am actually beginning to see Nigerians move out of the countryto create hubs in some other African countries which is exciting.I see myself continuing to support the Nigerian sector especially in growing development assets.
I have also always intended to remain involved in policy-making and implementation, so I see myself going back to that. I think Nigeria actually does a good job of writing the policies which is what I found out in my short stint with the government but the flaws we have are implementation and sometimes, implementation is sometimes hampered by people's self interest, so you need to find somebody who is genuinely committed to actually implementing the policies to the letter without interference or sentiments.
How inspiring! On a final note, What words would you give people considering moving back to Nigeria?
One advice I always give and will still continue to give is to have a plan. One of the biggest mistakes people make is not to plan. Do not also assume it's easy, because sometimes, people think just taking up a good job in Nigeria is all. They just want to come back, and it doesn't work that way. The questions should be: 'why do you want to move back? and what do you see yourself doing when you move back?' The minute you can answer those two questions right, you realise that you start to access the networks of people that will actually help you achieve that goal. But if you don't have a plan in mind and you pretty much read up a story like mine or that of other person and think it's going to be as straight forward as it may sound,it doesn't work that way.
Also positivity is important. Keep a positive attitude to what you are going to expect here. You are going to be challenged by lots of things especially if you have been out for a very long time. So just try as much as possible to connect with a lot of people who can let you in on what the challenges would be. You know there are a lot of people who have re-integrated into the society, so it is important to develop a network around them even when you are back because just coming out, meeting those people, hearing their experiences and actually understanding from them how they circumvented certain challenges can really help. People don't actually understand how difficult it is in making friends when you move back so taking all these into consideration is key.
Thank you for your time and best wishes going forward.