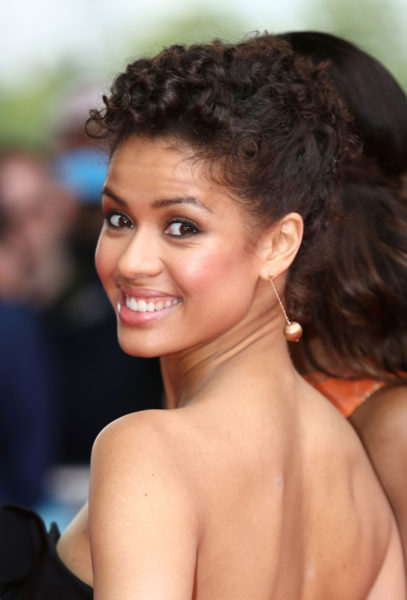 Although the milk overwhelms her caramel skin, her kinky curls and full nude lips are unmistakably African. Her wide-bright eyes work harmoniously with her cheeks and jaw, and with every expression; with every outburst of emotion my heart skips. Her cackle daunts on a frequency so sublime, I wondered if someday it'd become the soundtrack of my life. It's been an hour, and it disappeared just like that thinking of her, thinking of Gugu Mbatha-Raw as Dido Belle.
It is childish; it stands to reason that an adult shouldn't crush on actors playing out characters; it stands to reason that you, …that I should know the difference between real and make-belief. But there I was, reminiscing scenes of the movie 'Belle' and all the while thinking of Gugu Mbatha-Raw, the film's lead as the perfect specimen of a woman. I laughed with her when she played carefree in the 18th century gardens at Kenwood, and I cried with her when she clawed at her skin, when being neither black nor white became too much a burden to bear. I cheered her on when she defied Lady Ashford, refusing to marry into a family who would carry her as their shame 'a mulatto'. I cheered Gugu but this is not Gugu's life, not her character, not her trails or triumphs. They belonged to Dido Belle Lindsay.
The tale of the illegitimate, mixed race daughter of an 18th-century naval captain was what I fell in love with. In a time when blacks were slaves, lesser creatures than their masters, even in paintings they were painted subjugate; looking benevolently upward to their high-and-mighty Caucasian owners. Dido was painted vivaciously leading the way ahead of Lady Elizabeth Murray, her Caucasian cousin. She was loved by the Murray's her Caucasian family in a time when such love was a taboo. But the rest of the world hated her, for she was too high in rank to be a slave and low to be genteel. In an Austenesque society, she had no place but she remained brave like the biblical Esther. She grew into a woman of strength in character as depicted in the Hollywood feature, and a woman of excellent education and intellect as captured in the critical memoirs of Thomas Hutchinson, an American loyalist who lived in 18th century London.
It was her I fell in love with not Gugu. It was the story, not the package that took my breath away. It was her pain that caused Gugu's tears to ache me so; it was her joy that gave Gugu's eyes its glow. Beauty is fleeting, charm deceptive, because what is truly beautiful is the person within. I was reminded of that when I mistook Dido for Gugu. Hutchinson's memoirs don't describe her as a 'striking' beauty, "She is neither handsome nor genteel – pert enough." He wrote. But her portrait echoes a striking pose, and an even more intriguing tale.
I found beauty in an 18th century figure, yet more importantly is that I have learned that beauty lies many a time in the most down-to-earth packages. It takes patience to unwrap them and for a longtime people may ignore them like they did Dido but blessed is the man who finds… be it a wife, a friend, a partner or all of the above wrapped up in one. It is indeed a good thing much better than full nude lips and caramel skin.
Photo Credit: Getty Images