Yay! It's #WaG2014!
Birthday Mates Yewande & George are classy (we adore their wedding style), creative (their pre-wedding shoot was sweet) and fun (OMG you should see them dance), we definitely have a couple crush!
Enjoy their beautiful photos and love story!
***
~ Pre Wedding, Engagement & White Wedding Photos by AkinTayoTimi
The couple met during their Masters at Warwick University and their cute pre-wedding shoot reflects that. The bride shared, "we met in 2010 during our Masters program in Warwick Business School in the UK and started out hanging in a group of a few Nigerians. We gradually started spending more time alone getting to know each other and in January 2011, we became an official couple."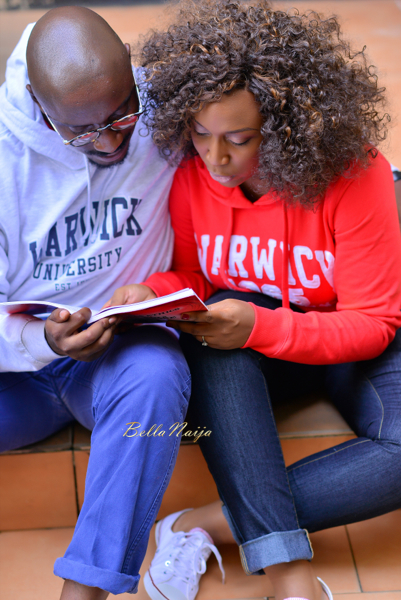 On the surprise intimate proposal, the bride says, "in October 2013, we went on vacation to Dubai and had the best time ever – Dubai is our happy place. Because we had been dating for almost 3 years, all my friends kept saying that this was going to be the trip. These thoughts crossed my mind a few times while on holiday, every time we went to a fancy restaurant I thought "omggg is this it???" haha. I got over it quickly though and just decided to enjoy the holiday.
Two days after we returned to Nigeria, we had been out all day visiting friends and family. When he dropped me off at home around 10pm, he asked to come upstairs which I found odd considering how late it was. He came upstairs regardless and we sat at the dining table with my mum and chatted away. After about an hour I started feeling sleepy and was even trying to signal to him to start going home but he ignored all my signs and just kept on talking, lol!
I excused myself from the table and went into my bedroom to start prepping for the night. George then walks into my room and starts hugging me from behind. We are both big huggers so that didn't feel strange.
When I turned back, I saw him reaching for something in his pocket and I started screaming because I couldn't believe it, he got me good! I made a dash away from him looking for a hiding place with no luck, he just followed me laughing and held my shaking hands.
Then he got on one knee, gave a long speech that I can't remember (nobody does!) and asked me to be his wife and I said yes! He then slipped the most beautiful diamond ring on my finger, I literally gasped when I saw it. We reveled in the moments after the proposal; it was private and peaceful, just what I wanted."
Advice for Couples Getting Married
Keep both parties in the loop of all the planning. It is very easy for the bride to take over everything and leave the groom out of things, you want your partner to feel as involved in the process as you are.
Counselling is also essential, we had the best priest who shared a lot of valuable insight with us that we will be arming ourselves with as we start our journey.
BellaNaija Weddings wishes the happy couple a beautiful married life together – a love to last a lifetime and a friendship through thick and thin.
***
The rest of their pre-wedding shoot, inspired by where they met… at school!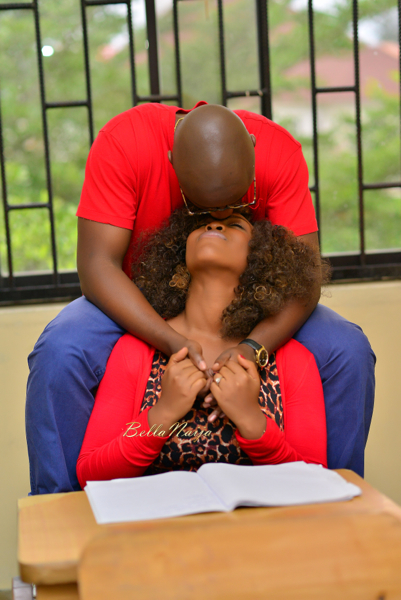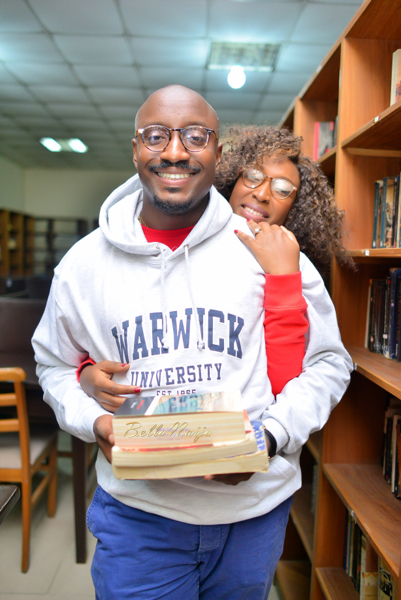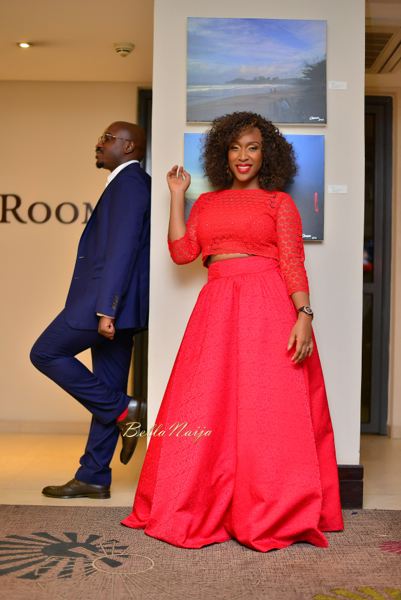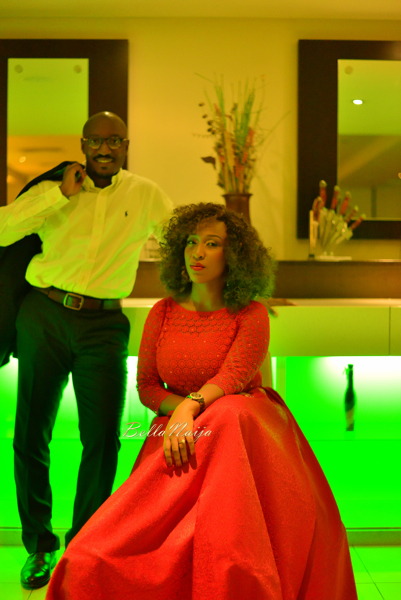 Joint Birthday & Engagement Dinner 
~ Photography: Jay Exposures  (see more here!)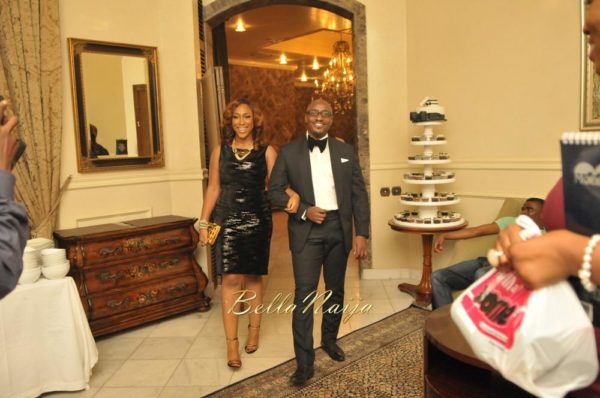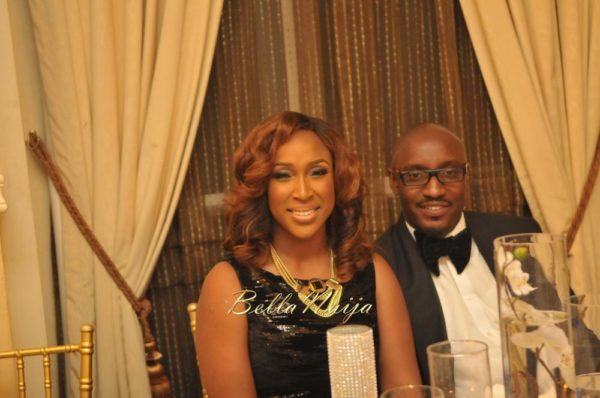 White Wedding
"The theme for the wedding was 1950s. I am totally in LOVE with how classy the fashion of the 50s was so I wanted it to reflect in my wedding – from my two dresses, bridesmaids dresses, decor, wedding guests, stationery, logo etc."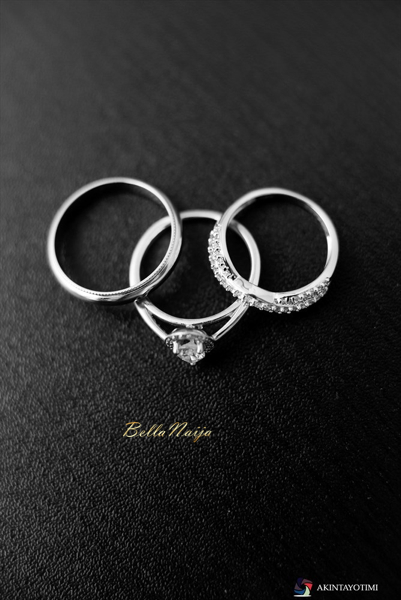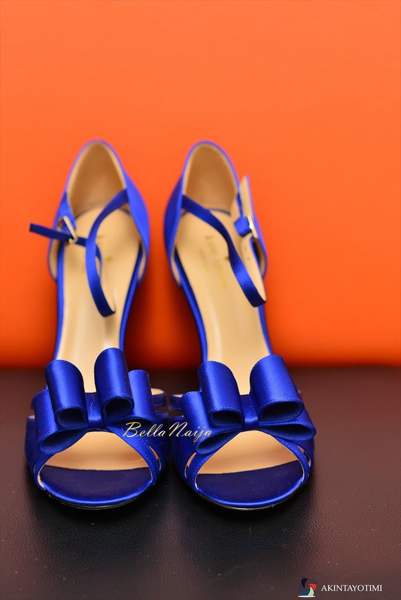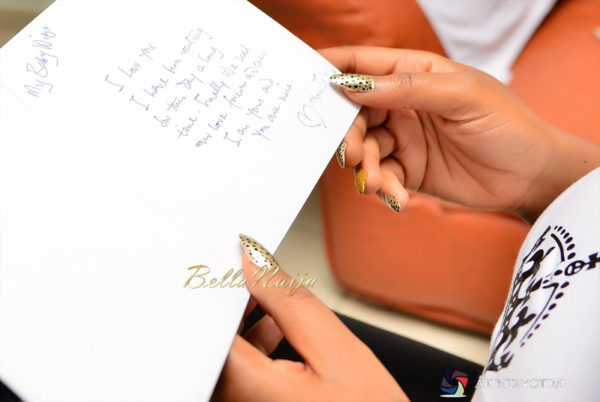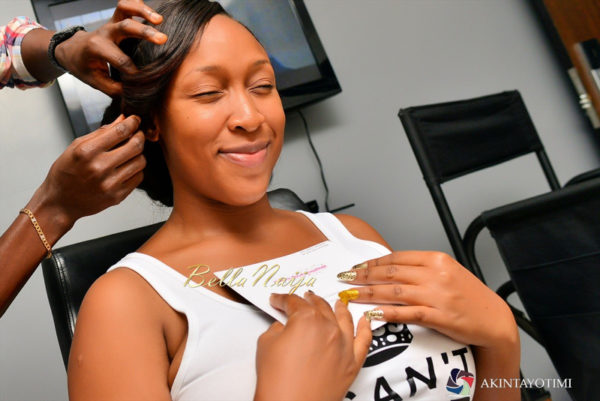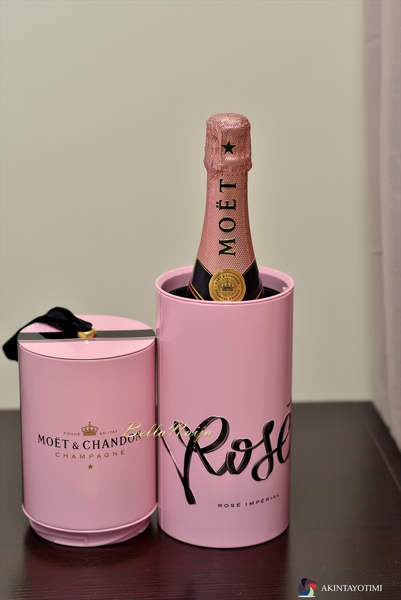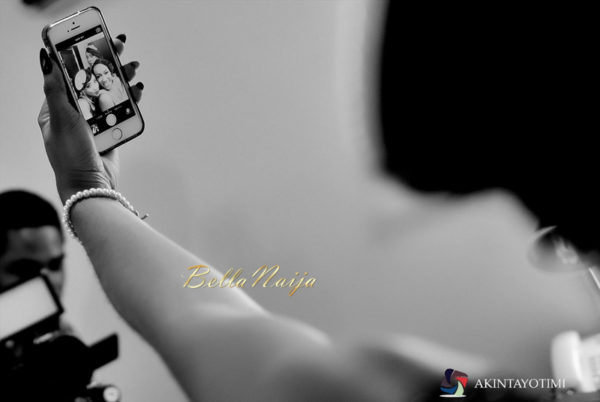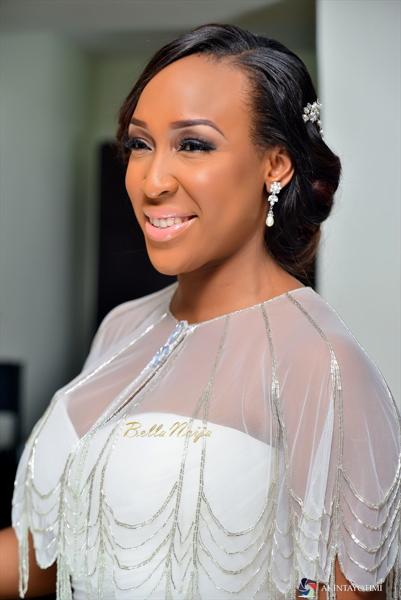 "Hmm…the dress!!!! I think I tried on about 10 dresses and each one was "the dress" for about 24hours..lol! My maid of honor was frustrated- Hi Ada 🙂
But when I found the real dress, I knew it was the one- it was perfect. Now my troubles didn't end at finding the dress, I also wanted the perfect cover-up, one that would be fab enough to wear all-day. I wanted something that was uniquely reflective of the glamour of the 50s that would take my dress to the next level. I did not want a lace bolero or a lot of the bridal cover ups readily available now so you can imagine how difficult it was. It took me several weeks of desperately searching until I found this beautiful capelet, it was love at first sight.

My second dress was also a reflection of the 50's era- an off shoulder pencil dress with a tulle circle skirt over it. It was custom made for me by my designer extraordinaire- Iysha Couture!!!"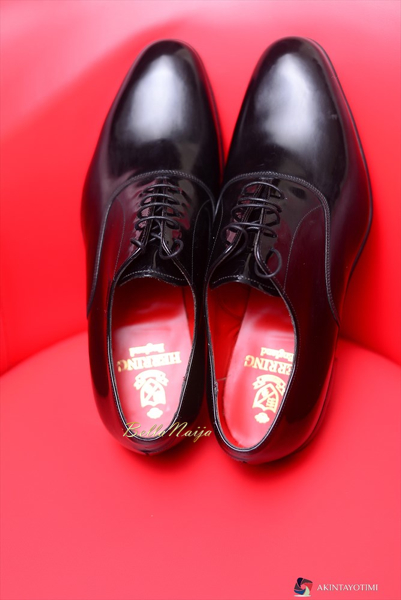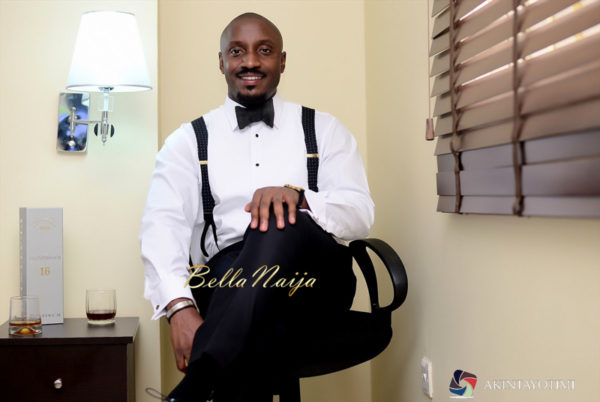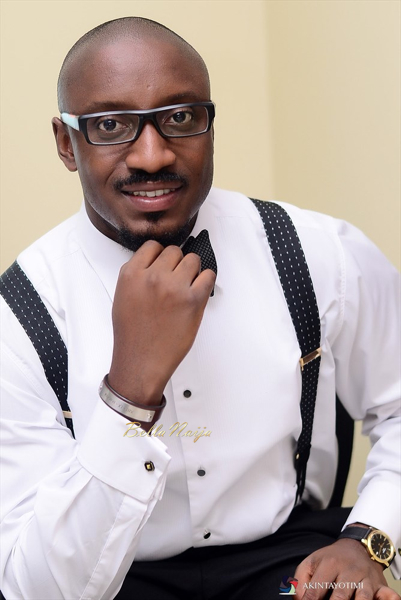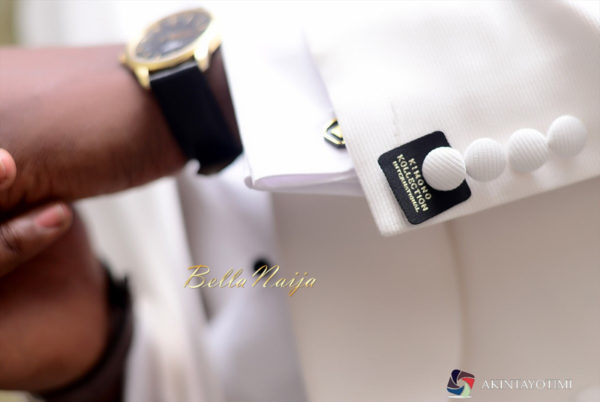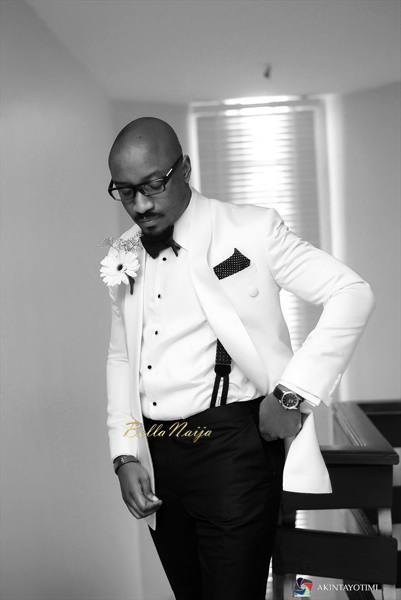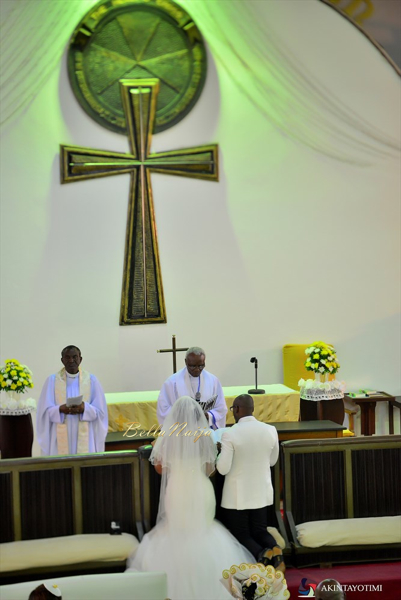 My bridesmaids dresses was another thing that I obsessed over..hehe. I wanted them to be perfect! The dresses were made by my mum's sister. They had classic circle dresses with petticoats underneath for that extra poof!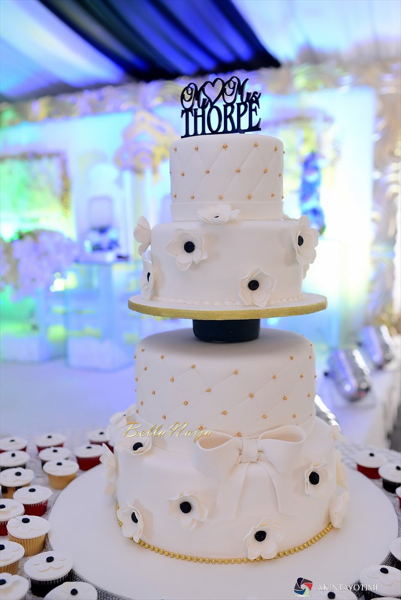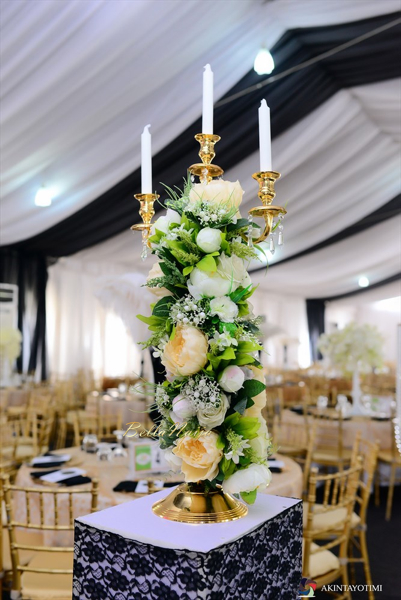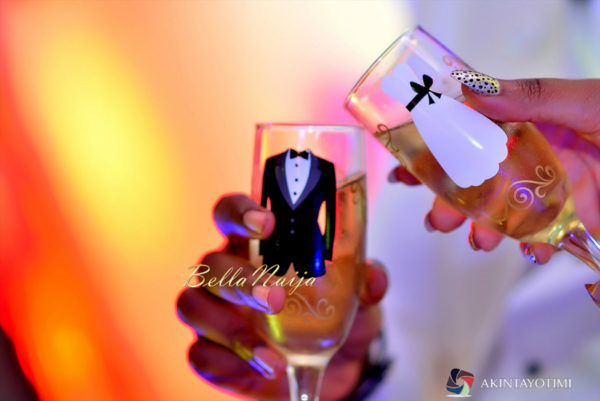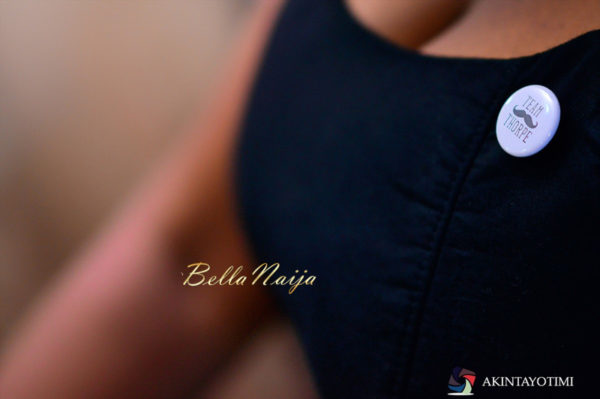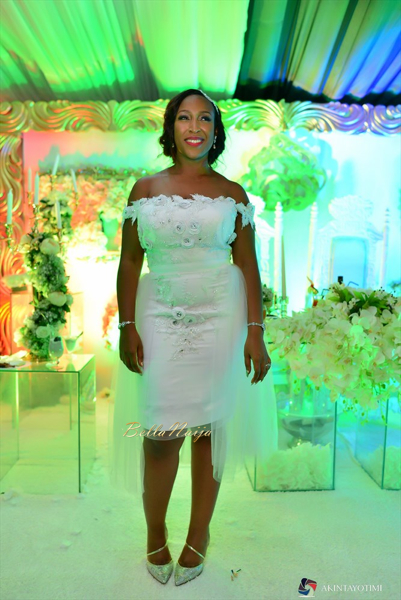 Engagement
"The traditional was a perfect fusion of the Yoruba and Efik culture.
My first outfit – aso oke buba and iro represented my Yoruba heritage. After the first portion of the ceremony, I went to change into my Efik outfit – Oyonyo to signify that I had fully become an Efik wife.
After the formal ceremony, I changed into an evening dress for the reception (for ease of turn up 🙂 ) but rocked it with a gele for a traditional twist.
My husband rocked three looks too, first two looks were variations of the Efik traditional wear and he wore a light Agbada for the third look."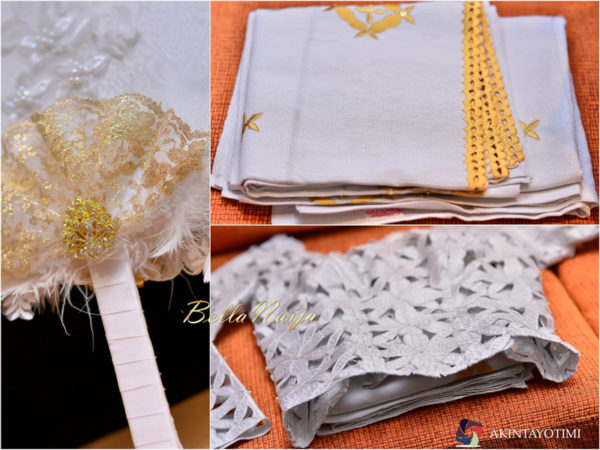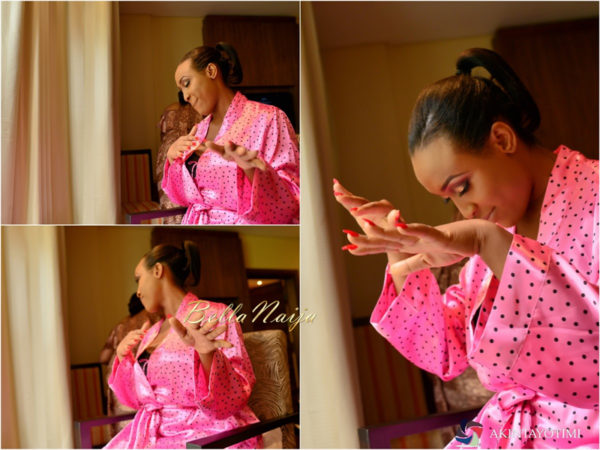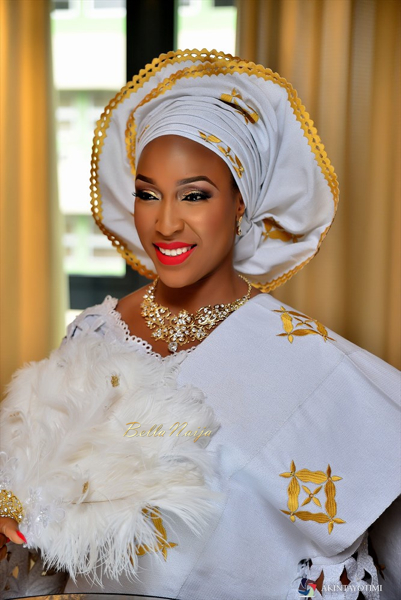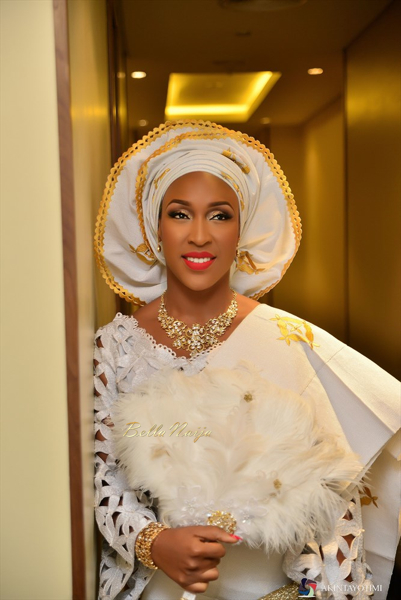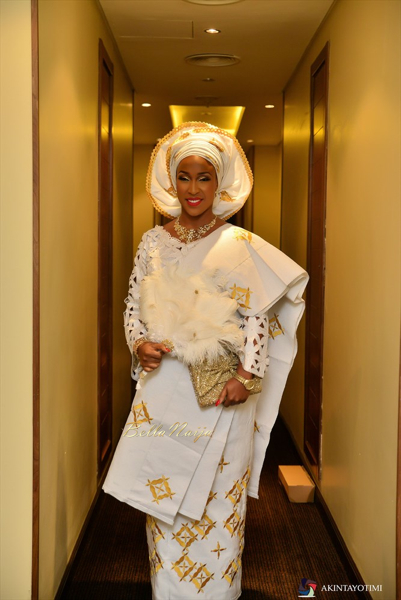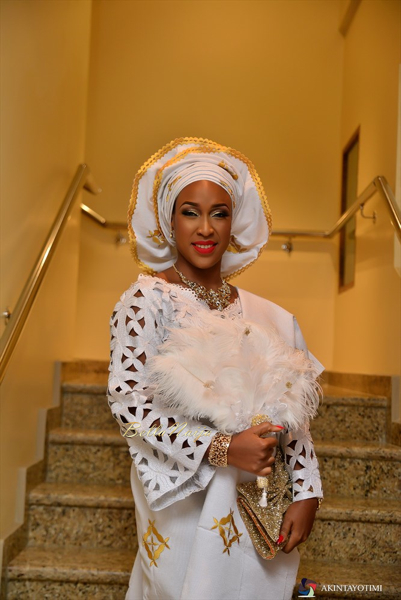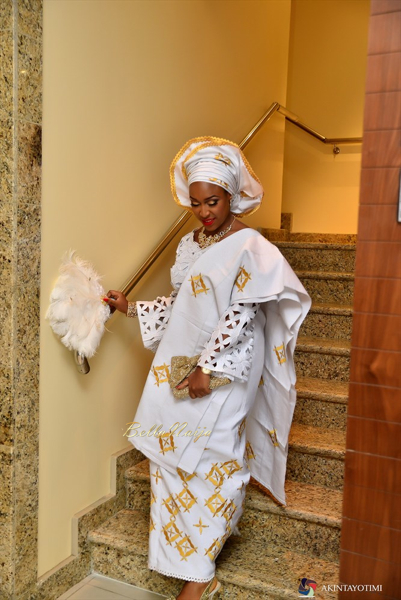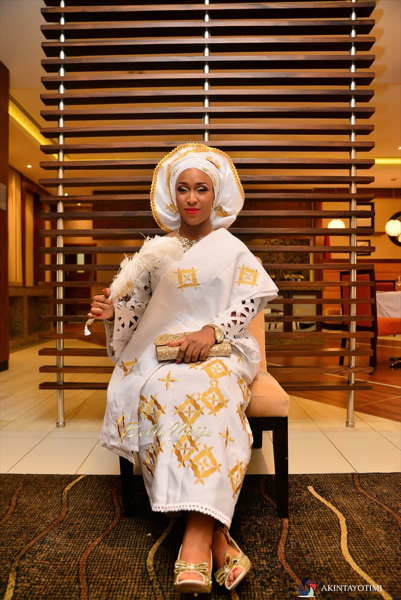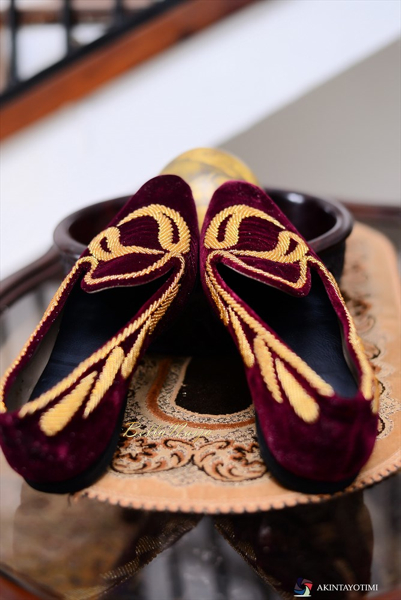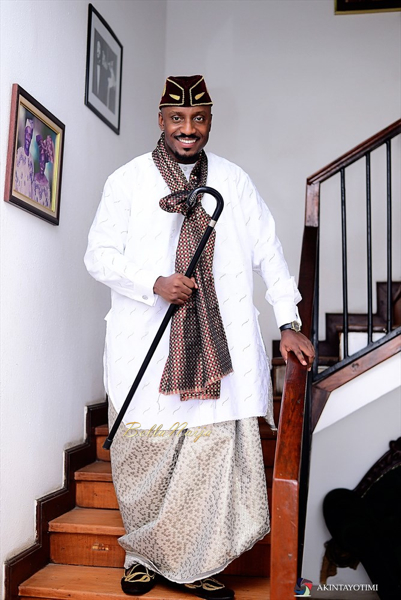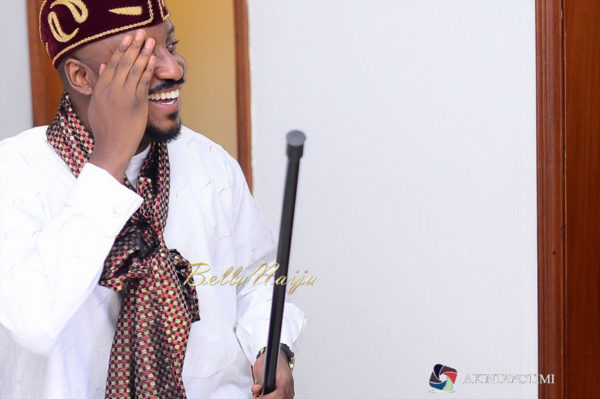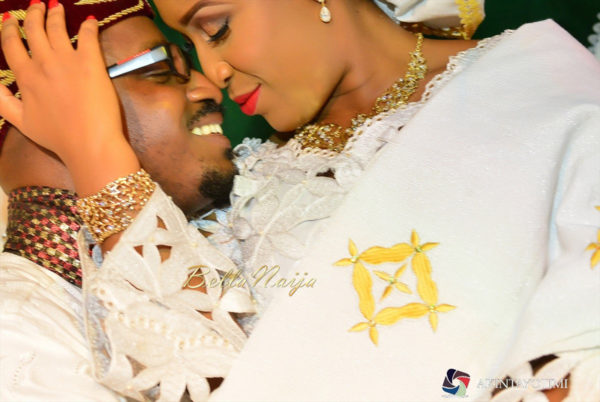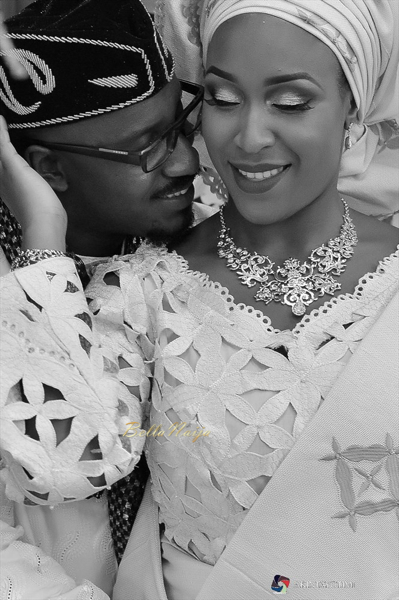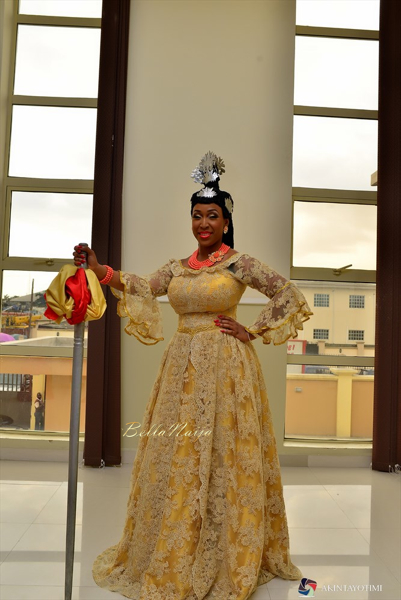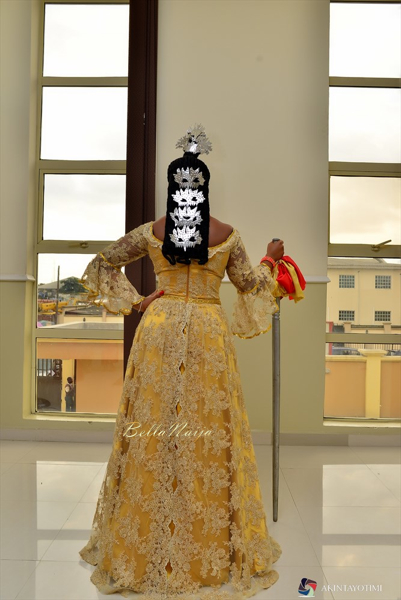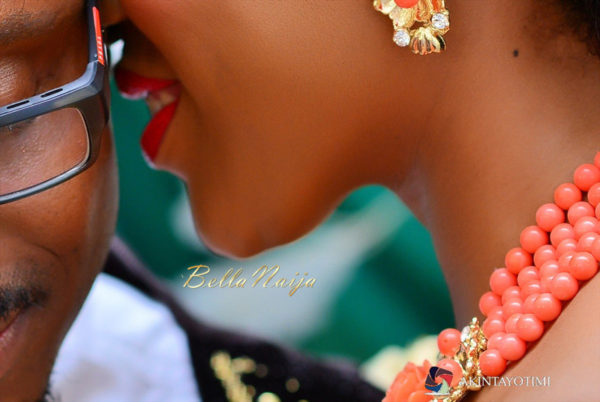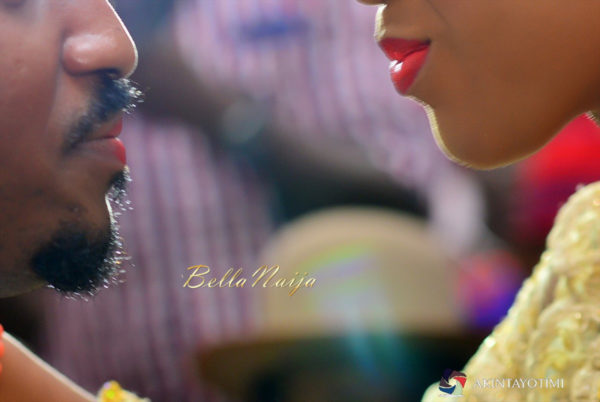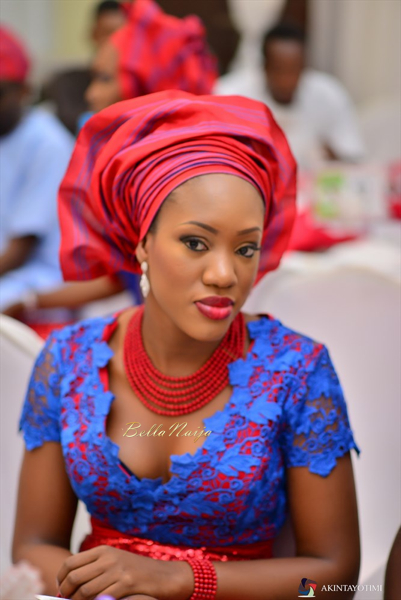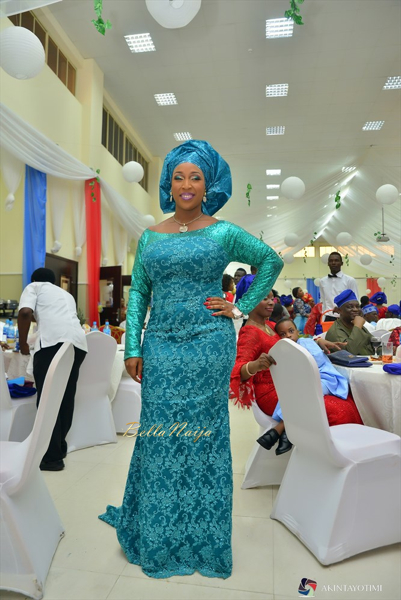 ***
Photography: AkinTayoTimi | instagram.com/akintayotimi | www.akintayotimi.com
Additional Photo Credit: Keziee Photography for AkinTayoTimi | www.keziie.zenfolio.com
Wedding Info
Traditional: 11th September 2014 | The Summit Event Centre, Ikeja | Royal Blue and Red
White: 13th September 2014 | Havilah Event Centre, VI | Black, White and Gold
Wedding Attire
Reception Dress: Iysha Couture
Bouquet: Tope of BTG Decor | instagram.com/btgdecor
Bride's Review: "I wanted Black and White Gerbera Daisies which apparently are very difficult to come by here but Tope of BTG Decor came through for me! I had my lovely daisies with baby's breath"
Groom and Groomsmen Tuxedo: Kimono Kollection @Kimonokollection
Groom Bow Tie: Ty-Tye Ventures- 08050540564
Makeup for Traditional and Wedding: Faces by Labisi | instagram.com/facesbylabisi
Hair: Yinka of X and Bs- 08026553882
Traditional Attire
Aso Oke: Bisbod
Groom's Outfits and Oyonyo: Designer in Calabar
Blue Third Dress: Iysha Couture 08055756116
Vendors
Custom Favors: Etsy
Bride's Review: "I would like to share the not so secret place called Etsy with all intending brides. The beauty of it is that everything is hand made specially for you! I got a gazillion cute things off of there for my wedding including the cake topper, bridesmaids t-shirts, our champagne glasses and many other things that made the day extra special. Etsy is my little treasure trove, just look out for the highly rated sellers!"
Wedding Planner: Bach & Lorrette Events @bachnlorette, 08023461552
Traditional and White Cakes: Sweet Indulgence by Ola
White Wedding Decor: BTG Decor | instagram.com/btgdecor
Food: Kaffy, JK Partyworld, Oleander
Drinks: Smigz Mobil Bar, Drinks.com, Drinks Pro
Frozen Yoghurt: Sweet Kiwi
Dessert: Sweet Cravings
Trad Decor: Just Weddings
Traditional Band: Demola Olota
White Wedding Band: LuDare
DJ: DJ K