Hello BELLANAJARIANS! It has been almost a year since I last shared a recipe on this platform! Thank you all for the kind remarks on my last post! I am happy you liked the recipe and it turned out well for those of you who tried it. When Chef Fregz (Hi Gbubemi!!!) emailed me about the "fine eats" project he was working on for BN I was very excited! In case you do not know me very well, I am a Nigerian-Fusion food lover! I believe Nigerian food is just as amazing as food from anywhere else in the world and just needs some passionate chefs to make it into something extraordinary! Using Nigerian ingredients and spices to create totally new meals has been an amazing experimental journey in the past few years.
Enough of the plenty story! Today's recipe is a combination of two of my favorite things! Suya seasoning and ripe plantain! Chicken roulade is on of the easiest "fancy" meals I make. When you see the way it looks, it looks so complex but TRUST ME, any person who knows their way around a kitchen can make this.
What you need:
For roulade
1 chicken breast
2 strips of bacon/prosciutto/Ham/porchetta
½ cup provolone/swiss/ cheese
1/2 onion (chopped and caramelized )
1/2 cup flour
1 tablespoon suya seasoning
1 seasoning cube
Salt/ black pepper (to taste)
Plastic wrap (for rolling)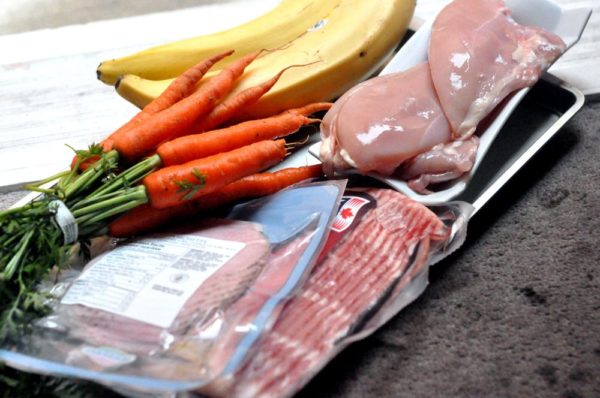 For plantain
1 ripe plantain
Oil for frying plantain
For barbecue sauce
1 tablespoon tomato paste
1/2 cup balsamic vinegar
1/2 cup apple cider vinegar
1 seasoning cube
salt/pepper to taste
How To
Place your chicken breast between two layers of plastic wrap or in between a ziploc bag that you have made wet.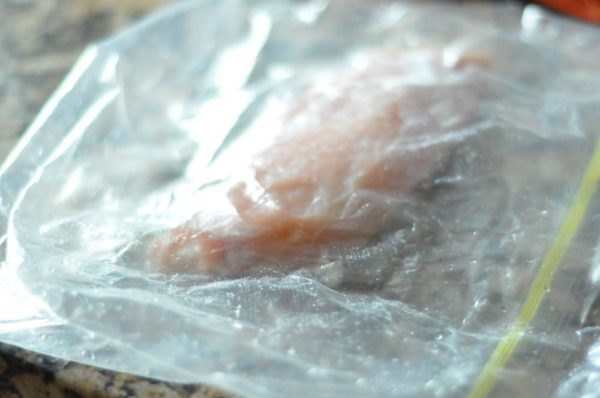 Using a meat mallet, (or any thing with a flat surface with some kind of weight like a rolling pin) make the chicken breast flat. Make sure to hit at an angle to ensure the breast does not tear.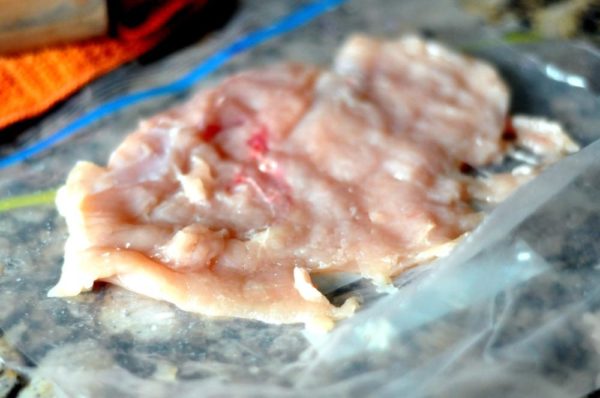 When the breast is flat and wide enough, Season with salt and b. I also sprayed a thin layer of suya spice.(optional) stuff with all your favorite things. I used turkey bacon, provolone cheese, mushrooms and onions that I caramelized and some chopped basil.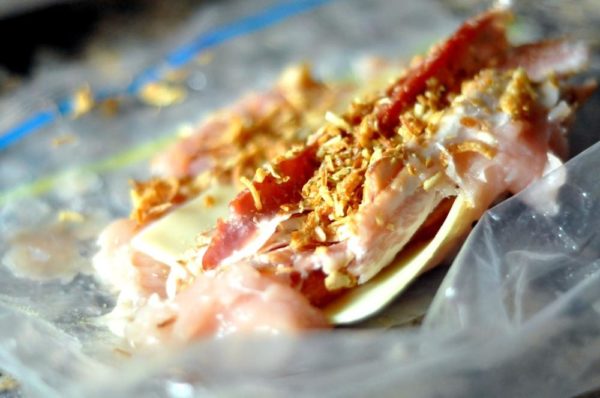 Roll the roulade into its shape using plastic wrap and steam in simmering water for 20 minutes. Remove after 20 minutes and place in an ice bath.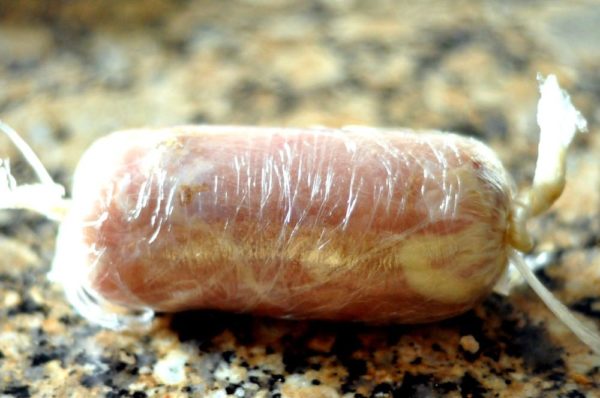 When the roulade is completely cool (you might want to put it in the freezer for 5 minutes) Mix flour with salt and pepper. remove roulade from plastic wrap, coat in flour and place into a pan with a coat of oil. turn till it is browned all over.
Place the roulade in a oven safe try and bake in the oven for 15 minutes at 350 degrees Fahrenheit to heat the insides up again. Wrap with three slices of bacon (ensuring not to overlap too often) and bake again in the oven for another 10 minutes. Cut into rounds and set aside to rest.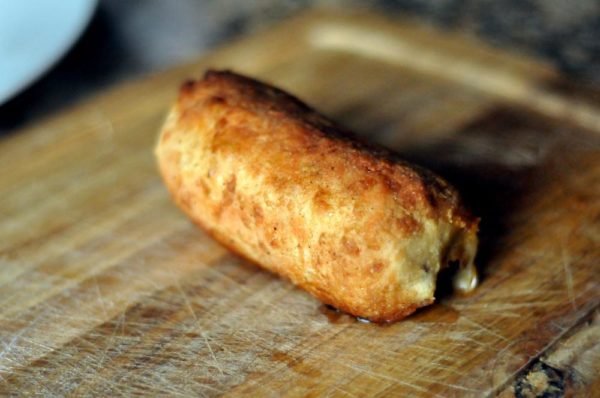 For the plantains
Cut the plantains into 2 inch circles.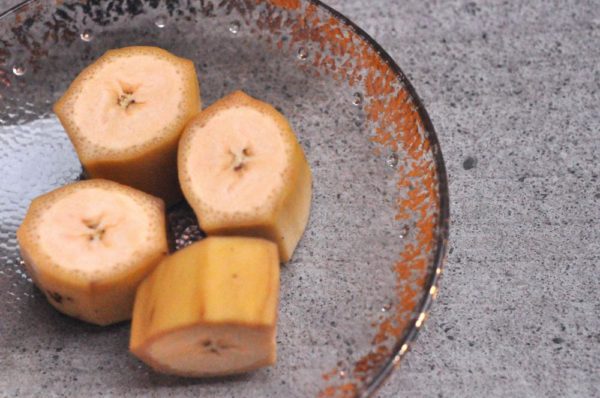 Season with some suya spice, salt, and chilli peppers Place into a pan with just enough oil to sear it and fry on both sides with the skin on to keep its shape. Fry on the sides as well and ensure it is cooked all the way around. Place on a paper towel to drain excess oil.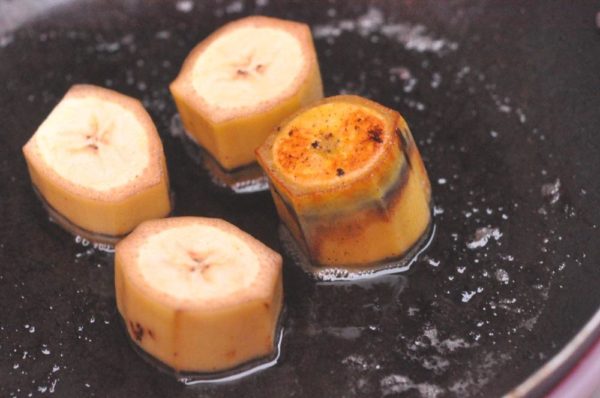 For the sauce
In a pan add 2 tablespoons of oil. Once hot, add the tomato paste and fry for about 5 minutes stirring often to ensure it does not get burned. Season with half a seasoning cube and pinch of fried pepper. Add the apple cide vinegar and reduce till it is a consistency that can coat the back of a spoon. Using a baking brush, brush the chicken roulade with the sauce.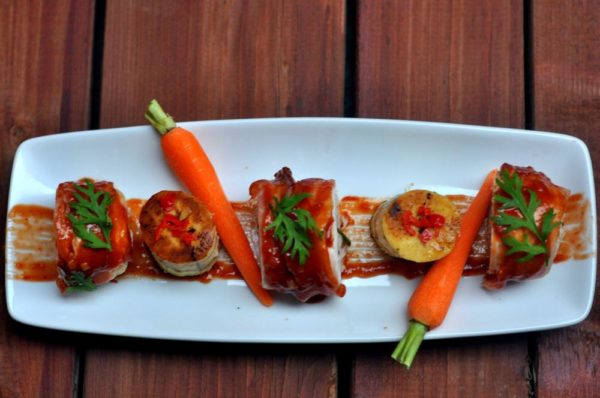 To plate like the picture above.
Choose a rectangular white plate. Using the baking brush, brush one smooth stroke horizontally.
Place the cut medallions of the roulade and fried plantain alternating between the two. Garnish with some baby carrots, micro greens(fresh herbs) and fresh chilli.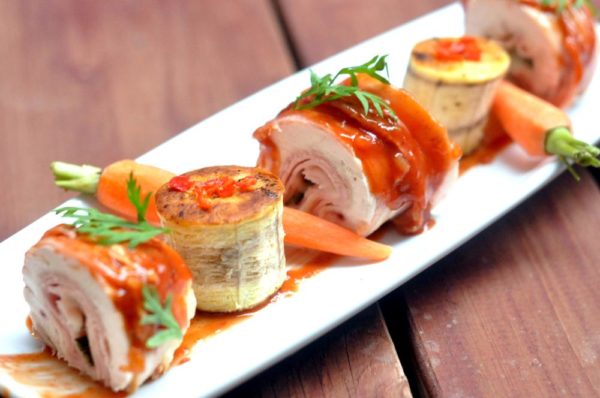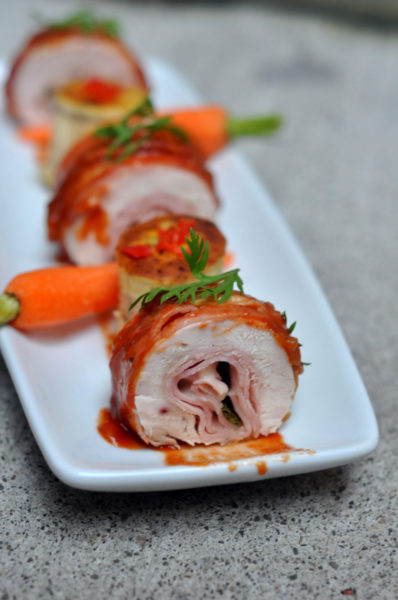 Enjoy! Till next time!