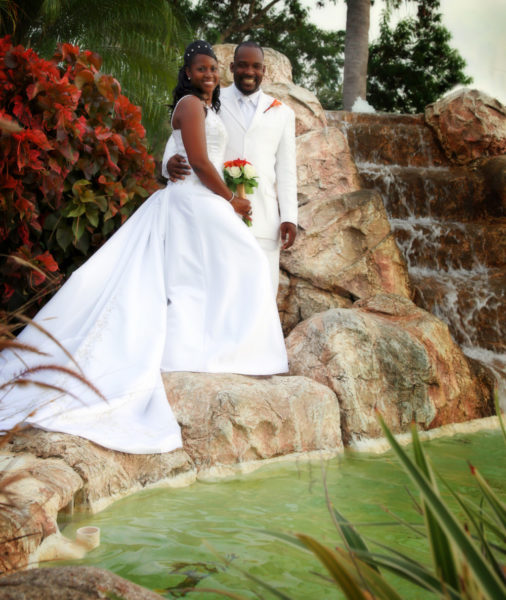 We got our travel wallets promptly that morning, I have always heard about the Kwa Falls located in Cross River state in Nigeria. It is a spectacular waterfall located in a steep, narrow gorge, branching off the Kwa River. I have also heard of the love stories shot behind its walls.
We landed quite early in Cross River State. My husband and I were tired. We could do with a cold shower and pizza for dinner but I was determined to visit the Kwa Falls that day.
At 4:15pm, we arrived at our hotel. I threw my bags on the floor and jumped right on the bed. As soon as I did, my husband jumped on top of me with his full weight pressing me down to the cold sheets.
He held my head with his hands, slowly staring into my eyes. "I love you baby" he said while pressing a kiss on my lips. I blushed. "I love you more to the moon and back" I replied. Soon, he started to tuck off the buttons from my blouse. I held back quickly. Yes! My chance!
"Baby", I said. "Let's go to Kwa Falls now". "Tomorrow is Sunday we wouldn't be allowed in". "Okay" he sort of reluctantly gave in. He wanted to go too. He has heard of the stories about the woman who was reunited with her lover at Kwa falls after they were forcefully separated by their parents since they were sixteen. He was more curious to sit at the famous spot of the King III and his queen. The couple had no children and he refused to leave his queen and marry another lady despite knowing that he was the only child of his father and the throne would be given to another family. It has always been best example in history about true love.
I was curious about that spot too. We reached the fall at 6:30 pm. We walked through the narrow road leading to the river. You could hear the birds make amazing sounds of the evening. The sun had cooled off and you could hear the noise of wind blowing over the leaves on the trees slowly as we walked past.
When we got to the edge of the river, we heard two people talking. They sat at the famous spot of King III. They were clad in traditional attires, dressed like a king and a queen. They were smiling and staring into each other's eyes. The man held the woman's face up with both hands. We hid behind one of the trees quickly not to disturb.
"Can you see their faces baby?" I asked. "That could be King III". I exclaimed to my husband. "No" he replied. "But hey look, they are turning around to us".
They turned around to us. They were both old. When we looked deeper, it was my face I saw on the woman in an old form and my husband's face in an old form. We both turned and looked at each other with surprise, shock and fear.
I woke up suddenly. I was sweating. I could hear my mom's voice "Amar get up! It's your wedding day" My friends started pouring into my room. "Amar! Congrats!" Another friend complemented me "sweetie, you are so beautiful when you wake". The voices of friends were mixed in my thoughts like ten movies played all at once as they kept flooding into my room. I sat upright on my bed with my two hands on my face.
I must be marrying the right man.
Photo Credit: Dreamstime | Mary Katherine Wynn