BN Music lovers, we've teamed up with the duo at Should You Bump This, and we'll bring you a special album review of music from some of your favourite Nigerian musicians. Sho and Tunde are seasoned music heads and together, they give their insightful and witty take on the chosen album and artist.
***
Olamide has been pretty consistent since his debut album, Rapsodi, hit the streets in 2011, in 2012 he gave us YBNL, and in 2013, Baddest Guy Ever Liveth. Street Ot is what we get this year, and possibly a collabo album with Phyno next year(somebody say amen), Street Ot is available for download HERE. The album features Pasuma, Lil Kesh, Viktor, Don Jazzy, Chinko Ekun, Phyno, Reminisce, B. Banks, Chuka and Pepenazi.
1. Oga Nla feat. Pasuma and Lil Kesh
What doesn't kill you my nigga can only make you stronger/ and we taking over my nigga and we about to go bonkers – Olamide
Dem no dey give me face not to talk of give me head/ nowadays I no dey beg ko to la le lori bed – Lil Kesh.
@whoistunde: No way I'd hear someone say 'oga nla' and not scream, 'boss!' Nice way to start the Street OT album. Pasuma totally owned the chorus
@showontstop: Funny, but I was more impressed with Lil Kesh, funny verse. At least now I know his album won't all be 'shoki shoki'
T: Kesh is nice
S: Ok slow down with the niceness. He cool like a glass of Fanta with two ice cubes in it.
T: Ok…He aite
S: Production sounded good on this.
2. Zero Joy
O ye ko ma po ru ko mi to ba pe Sango ati Obatala to ba ti pe Fela, Femi Kuti pelu Lucky Dube, Bob Marley, Biggie Smalls, Tupac abi Tuface
T: Zero joy was given when Olamide murked this song
S: Change the name to 'Zero Chill' yo. Baddooo went iiiiiiin.
T: Someone vexed him I swear.
S: Price of okele went up? Bariga gutters are flooded?
T: I guess so mehn.
S: Hardest jam on the tape.
T: I agree
3. Blood Money
Wan wa mi wan bere pe awe da, m'on da igboro ru bi awon Al-Qaeda
T: Nothing special here for me.
S: This is one of those songs for aerobics. Skip with ease
T: *skips to the gym*
4. Ya Wa
T: Nothing here for me too. Skipping this one like a 200-second snapchat story.
S: Mehn I am skipping this ish like breakfast at a wicked mother-in-law's house.
T: Haha! Stop
S: The purpose of this song was lost alongside every shalams dignity after a night at Elegushi
T: Don't know nothing about shalams
S: Skiiiilolos? Ashanas?
T: Nope.
5. Hood Rap
What doesn't kill me make me strong like iron / te ba se bi werey ma ya yin si meji bi nylon
T: This song should have been like an interlude or an outro. I mean it's basically the same beat for the intro of BGEL.
S: Yeah it was too long. Kinda zoned out after a while. I like that he revisited the beat though.
T: Mixtape material maybe but not album worthy
S: Mehn that's the problem with some of the tracks on this album…but let me just keep sipping this tea.
6. The Real MVP.
S: The mixing on this album is poor I gotta say.
T: Not a bad song. Olamide goes on the singing tip.
S: Like this is the only time I will EVER say this…."I wish I heard Sheyman on the mix" on all these songs.
T: Hahaha!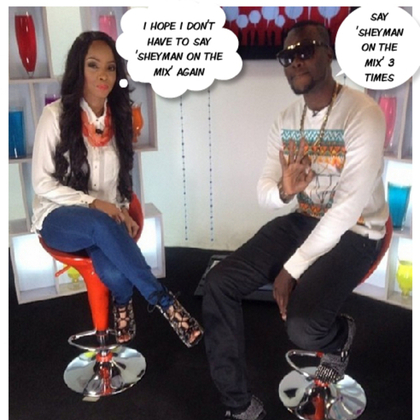 S: This song could have been much better
7. Up in the Club feat. Viktor
T: This right here is my jam!
S: This song is pure clowning
T: Straight up cruise
S: Ain't gonna knock the "Yaaah" adlib lift
T: Naa. Fits perfectly
8. Skelemba feat. Don Jazzy
S: Ain't crazy about this but it's cool
T: Nothing cool about this. Sounds like Don Jazzy was meant to use the verse for Dr Sid's 'Princess Kate'. Same pattern.
S: This is his verse for Pippa as per Kate Middleton? Get it? No? Okay…moving on
T: Hahahahaha
S: I think Don Jazzy should have given him a beat though. That would have been a better collabo.
9. Prayer for Client
Money no go sweet if owu no dey / baba God fun mi' client ti'n ma mu lo te / to ma gbori duro to lo wo bi Dangote
S: This is my jaaaaaaammmm
"Money no go sweet if owu no dey"….chuuurch!
T: Best song on the album. The 'Sweet Lullaby' sample is everything.
S: Olamide just flexes his street muscle on this Street OT album.
T: Yahoo boys gon' love this one.
S: From Dubai to Malaysia to whatever next city runs boys are gonna take over.
10. Batifeori
S: Meeeeeehn, if any DJ doesn't have this on his playlist…he is a dead guy.
T: Really not a fan of this singing Olamide but the song is good.
S: This one is sha on point like decimaaaaal.
T: You're right.
S: Pheelz just be sprinkling gummy bears on his talking drums…sweet die.
11. Bang feat. Chinko Ekun, Lil Kesh
I say my flows so immaculate, I calculate /anything I do must just to circulate/ communicate, participate/ rap is my fate – Chinko Ekun
Mi o ba fe yin jor se mo jo Saka, me I show no mercy (Messi) se mo jo Barca – Lil Kesh
S: YBNL NATION!!!!!!!!!
T: Dem boys just came to tear ish up
S: Fam! Chinko's verse was purrre flames
T: They didn't come to play.
S: Even Olamide respected himself and just took the hook. He is not hungry enough for this type jam
T: Hope they all get to the promise land
S: Amen. Too much desire not to. Olamide will lead them well
12. Goons Mi
T: You already know…Dope song
S: Naija version of 'Hot Nigga'. Shmurda dance on lock once this jam comes on… *throws hat into the air*
T: You are hearing things. Shmurda dance can only be done on 'Hot Nigga' beat.
S: You can't even do the dance…sit down.
13. 1999
T: Another impressive song.
S: My favourite song on the album
T: You could feel Olamide's pain on this one.
S: Shiii sooo tuuushin. Anyone can relate. Beautiful jam.
T: I agree. 1999, I was just entering secondary school sha
S: Of course. As the new principal
T: I hate you.
14 Falila Ketan
S: I got the skip button on speed dial for this one… But I let it slide…and this ish had me cracking up.
T: This has to be the funniest jam I've heard in a while. So lewd, yet so catchy.
S: 'You just got back from London yeah? Yeah yeah yeah' …Replay value is low on this track though.
T: I like it. I'll bump it again.
S: I will get tired of it soon.
15. In my Circle feat. Phyno
S: Meh Meh
T: I first heard this song and I was like this is the weakest 'Olamide and Phyno' collabo. But it grew on me. A Phyno and Olamide mixtape should be next
S: This is by far their most disposable collabo. Nope, this ain't growing on me at all. Dwarf song. A collabo album needs to drop ASAP.
T: They got good chemistry together.
16. 100 to Million feat. Viktor, Chinko Ekun
Awon to wa ni underground hope you no dey slack/ ke ma lo pe bi Underground bread to wa ni Unilag – Olamide
E ni to mo clipper tun se dandan a ba barber jeun – Chinko Ekun
S: That Jaaaaaaaam
T: My personal favourite. Chinko Ekun is a problem.
S: Should have just thrown Viktor on every hook
T: Viktor the chorus killer. He's one to watch out for
S: Ekun is my new favourite. Real hustle anthem
T: So many gems dropped by the dude
S: Ekun is clearly hungry! Starving probably…world vision baby bars!
T: Yup
S: Use of the 'Stay Scheming' sample was pretty apt
17. Story For The Gods
T: Another sweet song. Nuff said
S: Baddo with another home run
18 Hustle Loyalty Respect feat. Reminisce
Alaga never stagger, murder any bagger, te le wan lo le run daddy won mo le bi maga – Reminisce
S: Remmmmmmmmmy!!!!
T: Omo mehn! Reminisce was everything on this one! They complimented each other so well
S: Remmy has not had a bad feature in 2 years. Hardest run. 'Alaga never stagger murder any bagger!'
T: His last verse was just fire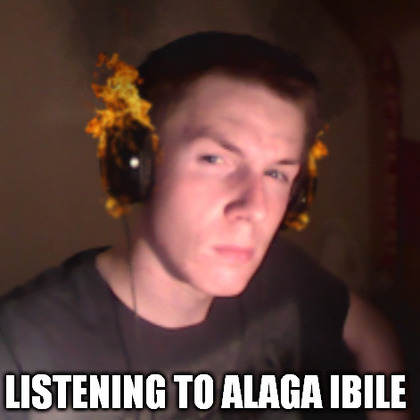 S: Solid track
19 Possible feat. B Banks
S: This can be skipped and by "can be" I mean "should be"
T: Another song I like.. I fux with it
S: *yawning…sets alarm for the next song*
T: What do you know?
20. Usain Bolt Feat Lil Kesh, Chuka, Chinko Ekun, Penenazi
T: These YBNL nation guys showed no mercy on this Street Ot album
S: Squad track!!!
T: No lie
S: Except the last guy. Who that guy be?
T: Hahaha
S: That one just dey mess up and down…Has to be Penenazi
T: Yup
S: Pheelz is still that nigga
21 Eni Suun
S: Dope outro!T: Yup. Pretty decent.S: Hit them with them braggadocios bars and fade
T: Olamide got bars
S: Never in doubt
Verdict
S: Olamide is definitely the hardest working artist in the game. This is definition of hitting while the metal is hot. Street OT is not a stellar Baddo solo project but it's a nice YBNL showcase album (stepping stone for Lil Kesh, Chinko Ekun, Viktoh and Young John)
T: Arguably the hottest rapper in Nigeria right now, Olamide delivers a decent album with Street OT. The album, however, suffers from subpar production and mixing.
3/5 Wraps