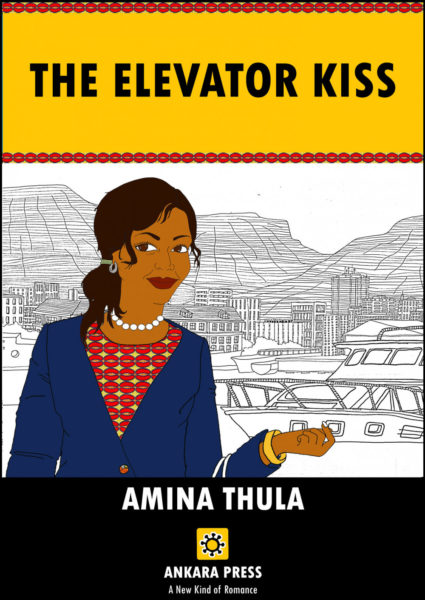 In the world of romance, miracles happen all time. The awkward and dowdy Bridget Jones ends up with Darcy the hot human right lawyer. In the Nollywood classic, Violated, Ann the orphan housemaid ends up with Tega the banking mogul.
Not so for Sindhi Mali, a Cape Town event planner and the heroine of Amina Thula's romance novel, Elevator Kiss—one of six titles in a new African romance series called Ankara Press. Think of it as Africa's answer to Mills and Boon.
Sindhi receives a dear jane text from her fiancé hours before she walks down the aisle. In addition to the shame, the disappointment, the anger, the break up leaves her in serious financial mess—I'm talking having to service the debt accrued by her fiancé's wasteful lifestyle, and in the process, losing the event-planning company she built with her own hands.
How does a woman like Sindhi move on though? Every heartbreak breeds its own kind of emotional handicap. For a girl like Sindhi, is it a matter of finding the right man the next time around or a question of being able to trust him?
First Sindhi tries to find her balance and herself through work. A bonafide hustling babe, Sindhi begins work for an event planning agency, but then hoping to strike out once more on her own, she maintains a side hustle, planning small scale events for friends.
But Sindhi has other issues. She cannot trust any man no matter how perfect he seems. She can't help watching his every move, doubting his every motive, and generally over-thinking the relationship to death.
So maybe it's not such a bad thing that when her affair with a Cape-Town based Ghanaian millionaire starts, it is way too fast and too steamy to allow her time to think.
Edward Boateng enters her life with that accustomed flair of a West African man—rich, powerful, but with a good head on his shoulders, strikingly handsome yet understated, knows his worth yet treats the woman he loves like a goddess. He is the typical West African Afropolitan, born in Ghana, schooled in Cape Town and later in the States. Even though he comes from money, he's built his empire with his own sweat. Of course, there are the necessary extras—his perfect body, his gentlemanly love, and dynamite sex.
But in spite of this impressive bachelor's profile, Sindhi cannot bring herself to fall for Edward completely. So really, what would it take? What gives? What miracle has to happen? This is what Amina Thula's gripping novel is asking.
Elevator Kiss is an effortless page-turner, but it is also really smart. For one thing, it's a grown-up romance story. Sindhi is that kind of woman you don't see everyday in a romance novel. She is not confused about her worth. She knows she is beautiful and smart. And most of all, she knows her body. She understands her desires and is not afraid or too shy to make a man satisfy them.
Maybe that's why the sensual rhythm of the novel is so on point. The sex scene in his Cape Town penthouse…God, I'm still "blushing" just recalling it. A good bit of licking, and nipping, and spanking, and playing, and kneading happens.
So, yeah, for those of us tired of romance stories where the woman has to wait for the man to make every move, Amina Thula has indeed given us a gift.
 The Elevator Kiss can be bought for #499 here