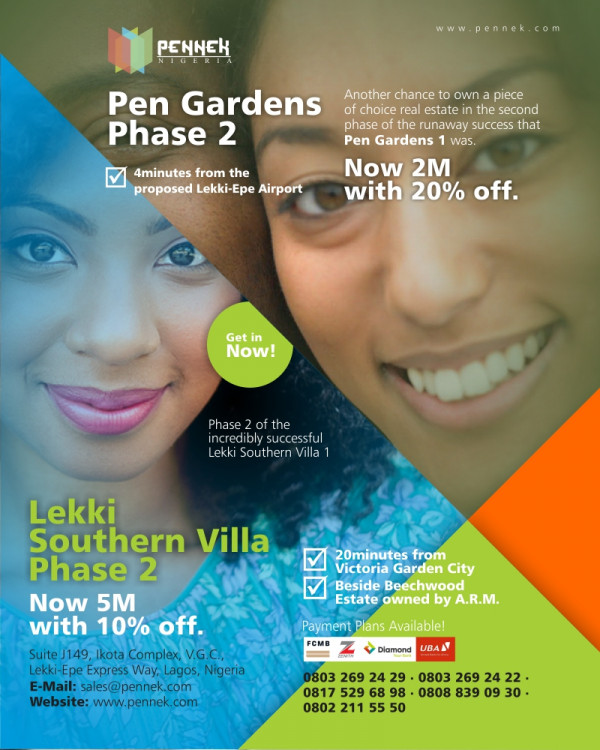 PENNEK Nigeria Presents Lekki Southern Villa 2 and PEN Gardens 2.
Lekki Southern Villa 1 is just a 12 minute drive from VGC. The Estate is in strategic proximity to major developments & Estates like Emperor Estate built by CCECC, the new Shoprite, Fountain Spring-Ville, Diamond Estate, Pearl Garden, and the Monastery.
Lekki Southern Villa 2 is a 10 minute drive from Phase 1.
What do you feel like building? We provide the prime plots of land in Lekki for you to make your dream home come true.
The land comes with an excellent Title, ideal as a home for a contemporary family or as a very
profitable investment opportunity for an individual or company.
6.5m/plot – Outright Payment for Lekki Southern Villa Phase 1
4.5m/plot – Outright Payment for Lekki Southern Villa Phase 2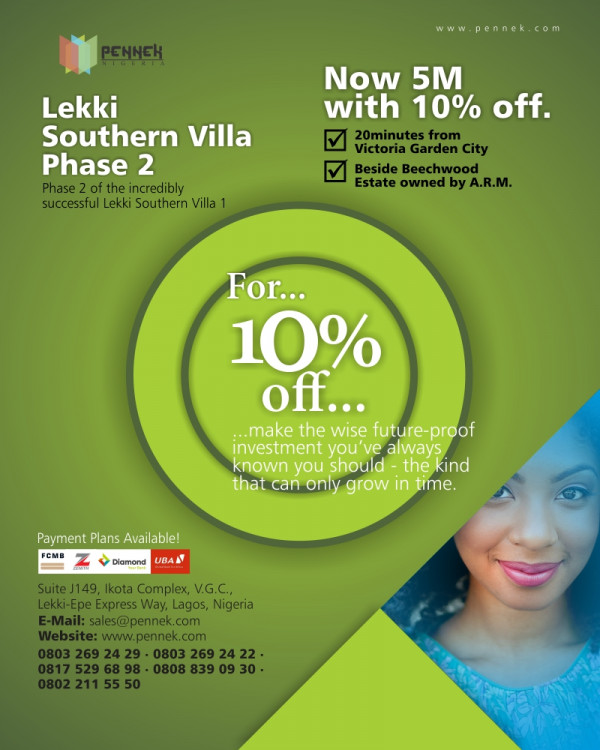 Why should you invest in this project?
It's a serene environment ideal for a contemporary family
Accessibility of the estate to the major road
It's situated in a secure environment
It's a profitable investment for any individual or organization
It's well positioned in the Lekki-Epe axis
Closeness to similar estates and other social amenities like the market, malls etc.
Competitive prices in comparison to similar plots in the area
Huge discount available
Flexible Payment options also available
PEN Gardens is located near the LFTZ in Ibeju-Lekki area of Lagos on a Peninsula bordered on the south by the Atlantic Ocean and on the North by Lekki Lagoon.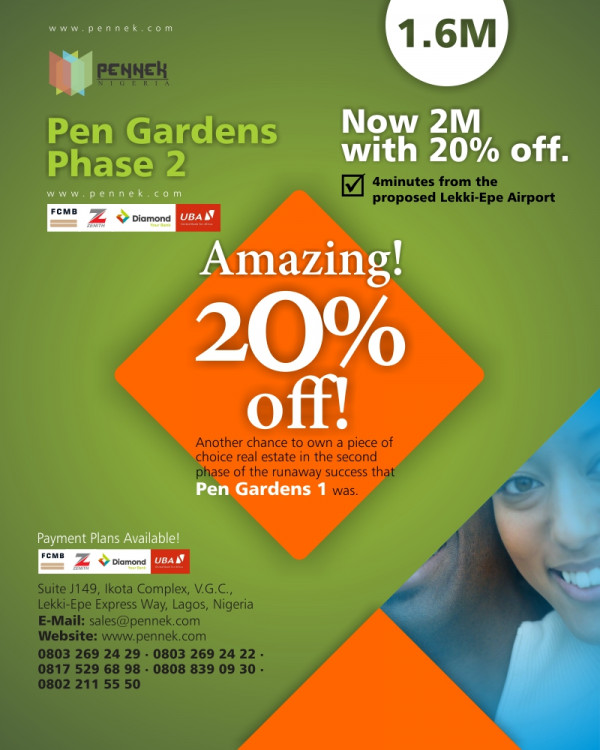 Why PEN Gardens?
The LFTZ is a model project for inter-governmental cooperation between China and Nigeria, attracting preferential policies and incentives in the zone. The area is projected to thrive in production, manufacturing, oil & gas, import & export trade, trans-shipment, tourism and real estate.
Lekki Free Trade Zone is the new investment, business & tourism haven of Lagos State, particularly in line with the Mega-City status of Lagos.
1.6m/plot – Outright Payment for both PEN Gardens Phase 1 and 2
Note: Discounts are on 3 plots and above
For Details and Flexible Payment Plans, Call us today!
08032692429, 08032692422, 08022115550, 08122493114.
Also feel free to check on us at our office or online!
Website: www.pennek.com | Email: [email protected]
Address: Suite J149. Rd 5, Ikota Complex, VGC – Lekki
__________________________________________________________________
Sponsored Content