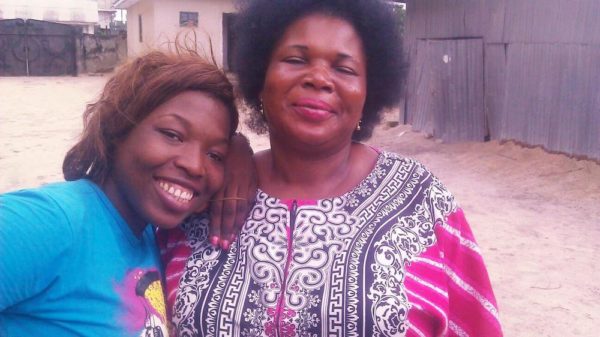 I am a total sucker for birthday celebrations.
I rarely let the birthday of a friend or family member pass by without celebrating it.
Yes, I am that friend who bugs her friends to "do something na", for the day.
I even had a mini accident in the market some years ago because I had woken up a friend who had no plans for her birthday for us to go to the market and buy foodstuff for her day. You would think that I was the birthday girl with the way I was so "gingered".
Despite all these though, there's one person that I have never even so much as called on her birthday.
I didn't even know her birthday for the better part of my life – you'd see the reason why soon.
Every February 20th for the better part of my life has passed by as a normal day without so much as a call to wish the woman who birthed me happy birthday.
I have determined that this year won't be the same with previous years.
I am going to tell her story and celebrate the amazing woman that she is.
I mean, she may think that I do not know, but I know. I know more than the smile I see in her eyes right now. I know more than the laugh that I see tumbling out of her belly.
I see more than she is willing to show to me. I see into the twelve years of her life spent without a man, and maybe this article will finally be able to tell her just how much I know. Maybe this article will be able to tell her that I am not that nine year old girl anymore but I am a fully grown woman who can relate with her on the same pedestal.
I know an amazing woman, her name is Mrs Perpetual Okoro and she birthed me.
My childhood was filled with the mischief that children are won't to do and such mischief she didn't hesitate to squash immediately they came into my mind.
She is the reason why I am not a tout even though we once lived in a tout filled neighbourhood.
She is part of the reason why I am a lawyer today. She always said that her children are different from the rest and yes, I am indeed different from the rest.
I hated her discipline, but right now, I see the good in it all.
She was so strict. Strict enough to not let us play on the sand outdoors. That was the worst punishment we thought we could be given then but still, we were happy till trouble knocked on the door of our home and the marriage between her and my father was broken.
She left us; she left our home and I was shattered. I remember crying for days on end with thoughts about my parents fights haunting me.
I do not like to reach into my memories from those times, I do not like reaching deep down into the memory of me crying while the fights raged on with the neighbors ever present consoling words ringing in my ears.
The fear of everyday being like the last with no change in sight left me torn for days.
We prayed and prayed for 12 years and our home is reunited now, Perpetual is back at her husband's house and I am so grateful to God… but that doesn't mean that memories do not seep into my head sometimes.
I still remember.
She was not blameless in the events that led to the breakdown of the marriage. She had her days; but that does not stop me from remembering the events of those 12 years spent living in a broken family.
I still remember her sitting on the stairs outside the house just to visit us.
I still remember her not having mere 50 Naira to pay for the fare needed to take her back home.
I still remember that she had forfeited her JAMB admission into a University to enable her to take care of us when we were kids and when she was left without a husband, she still went through her years at College of education with debts piling up on her… but still she rose.
I look at her when she smiles now I remember those 12 years of sleepless nights spent in her father's house, filled with the shame of being a returnee wife, living with her step brothers and sisters, being mocked and used as a laughing stock.
I see it all clearly now because I am a woman like her and I share her story, not because I am not yet healed of all that took place in the years past but because she inspires me.
I know without any iota of doubt that some women would have been broken in spirit in those 12 years Of pain… but not Perpetual.
In the midst of insults and financial difficulties, still she rose.
In the midst of her kids putting the blame on her as the one who caused the break down of her home, still she rose.
In the midst of attacks on her marriage, still she rose.
And when she told me she wanted to go to the university in 2015 to get her degree, I smiled with joy bursting in my spirit.
She may have spent 12 years of her life being mocked as a returnee wife but still she will rise. She may have forfeited her opportunity to go to the university many years ago, but still she will rise. Getting her degree from the university may not be foreseeable in the near future. She may not even have the funds to go to school right now, but still, she will find a way.
This is the Perpetual I know, strong and ambitious.
Strict and loving.
Sacrificial and amazing.
Broken, beaten down and bent… but still she will rise.
And when I look at her, I believe that I have no excuse not to shine and spread forth my light to everyone on my path while I am on earth.
I have no reason to not rise out of the ashes whenever I need to and I have no reason to not reach for the stars.
No matter how long the journey to the stars may take, be it 12 years or more, I know I can get there because Perpetual has shown me that I can.
I know an amazing woman, and she taught me to never give up.
This amazing woman birthed me and today is her birthday.
Happy Birthday Mrs Perpetual Okoro.
This is the beginning of my never forgetting your birthday for the rest of my life.
May your path shine brighter and brighter unto the perfect light of day.
With Love,
From Your daughter,
Frances.