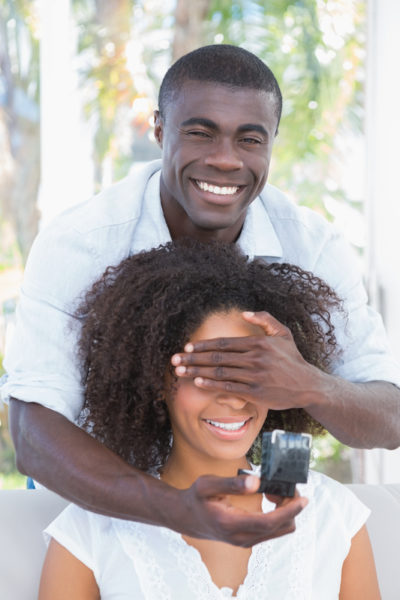 The wedding day is mostly about the bride. She has been planning this day since she was 16 and probably has a Pinterest page with all the wedding ideas. However, it's the groom's day too. And more importantly, it might be paid for out of his wallet as well.
Below are a few areas we think the grooms should pay attention to during the wedding planning process.
Agree on the Venue and Date
The cost of the wedding is generally determined by these two factors. While she may want a romantic Valentine's Day wedding, or one during the Christmas season, this may not be feasible due to costs during such periods. This may be one of those times you need to say, "I know that's a good idea but saving here means a nicer honeymoon".
Find Your Wedding Suit
This is probably the next most important decision to be made. Grooms also need to make an effort to look very well dressed on their big day. As we have seen more and more grooms going for second outfits, you probably have to find two tuxedos.
Look Genuinely Interested
There is the tendency for brides to go into override when it comes to wedding planning. And while they may not require you to be just as excited, brides expect to see some form of interest. Some grooms generally give their brides a one hour wedding discussion time each day; this might (or might not work for you).
Get Fit!
Ever so often, we hear about brides getting fit for the wedding. Or making sure that they fit into a particular dress size. As the infamous saying goes, 'you don't alter Vera Wang, you alter yourself to fit'. We believe that grooms should also try to get fit as well. Remember you will be in just as many photos.
Organise Your Groomsmen
This seems rather basic but it's extremely important. Gone are the days of groomsmen just appearing in their favourite black suits. As it is the groom's day too, organising the groomsmen and ensuring everyone gets fitted (and is sober) on the wedding morning is important.
Decide on Groomsmen Gifts
Groomsmen's gifts are becoming a more important part of the wedding. This is really a way of thanking your best friends all their support during the wedding planning process and on the big day. The more popular gifts are customised accessories such as cufflinks, or monogrammed alcohol flasks.
Pay for the Rings
Notice the word 'Pay for' as opposed to 'Choosing'. We know the bride already has this covered so be kind enough to swipe the card.
Arrange the Honeymoon
This is probably the most important role of the groom (asides paying for part of the wedding). After the fairytale wedding the bride has always hoped for, jetting off to a nice location is the icing on the cake. It is a great idea to consult online guides and plan this well in advance taking into account visa and other logistics.
Security
Here is one area the bride will leave all up to you. So feel free to flex your muscles here. This is however very important especially for crowd control.
The wedding. It used to be every girl's dream. Now, it's most boys' too. That is, judging by how involved men have become in the planning of their weddings.
The 'ideal' groom is one that brings his ideas to the table, is open to ideas from the bride but at the same time, not imposing. While the idea of an ideal groom may be far fetched, adhering to the above guidelines may help make the planning process  and both your lives easier. Whatever you do, don't be a 'couch potato' – one that is nonchalant and just wants to show up on the wedding and definitely don't becoming the over obsessive 'groomzilla' either.
Though every bride wants a supportive and understanding groom, there are a few no go areas when it comes to the wedding and wedding planning.
Her Wedding Dress
We all know (or should) know the tradition of the groom not seeing his brides dresses until the wedding morning. This is also extended to choosing a dress. The bride will require exclusivity when it comes to choosing her dress. Your suggestions will probably not be welcome. If she however solicits this, make sure to keep it 'short and sweet'.
Her Bridesmaids
This is both literal and figurative. Though you may want the bridesmaids to wear a certain colour so it coordinates with your dream of your groomsmen in a certain colour of suit, the bride gets to choose first. If you are unable to accessorise your groomsmen as you would like based on her preferences, rather than making it an issue, contact us.
The First Song
Brides are generally sentimental about the first dance and of course, the first song. She has probably had this on replay since you proposed. It will be in everyone's best interest if you dance along to this song, like you mean it.
Her Bridal Shots
Yes she now bears your last name. However, your idea of appearing in all her photos probably wouldn't fly. Definitely take as many photos with your bride as you'd like. But make sure to give her space for as many photos as she will like.
The Wedding Photographer
Brides are generally sentimental about their wedding photographers. They have probably been following his work and booked him (or her) before you proposed. This is therefore another area where 'Yes Honey' will be just fine.
The Decor
This is probably the single most expensive part of the wedding day (after the hall). The typical groom is just ok with a few drapings and table covers. However, since the bride has been planning this wedding and has several blogs on Pinterest, that really will not do. Also, considering the amount spent on décor, it's probably a good idea to have the décor looking good. So make sure to say yes to the chiavari chairs and ambience lights.
Bridal Makeup
We all know its both the bride and groom's day. Or rather it's the brides day in reality. The makeup is therefore a part where your input will be required. And whatever you do, please don't say 'why pay so much for powder?' you can say 'you know I love you just the way you are' for a few brownie points.
Photo Credit: Wavebreakmediamicro | Cjmgrafx | Dreamstime.com