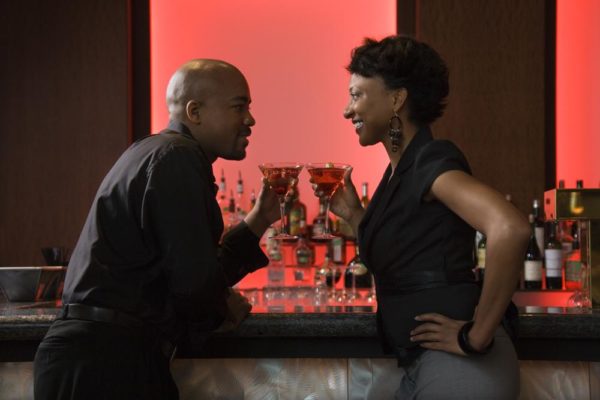 Today, I'm going to introduce you to a whole new experience that your Boo might probably not have heard of. I call it, 'The Pomegranate Infusion'. There is a whole lot about the pomegranate you might not have discovered; please just take a ride with me.
The pomegranate goes with a botanical name "Punica granatum". If you're not familiar with the pomegranate, it is a red fruit with a tough outer layer; only the juice and the seeds inside are edible. Pomegranate juice is available year round, but you can purchase fresh pomegranates in most grocery stores from September through January. When refrigerated in a plastic bag, pomegranates keep for up to 2 months. You can also try tossing the seeds on a salad for a brilliantly colorful, crunchy, and nutritious addition.
Health Benefits of Pomegranate:
Most powerful anti-oxidant of all fruits, Potent anti-cancer and immune supporting effects, Inhibits abnormal platelet aggregation that could cause heart attacks, strokes and embolic disease, Lowers cholesterol and other cardiac risk factors, lowers blood pressure, shown to promote reversal of atherosclerotic plaque in human studies. May have benefits to relieve or protect against depression and osteoporosis.
Nutrition Facts
Total Fat 1 g 1%
Saturated fat 0.1 g 0%
Polyunsaturated fat 0.1 g
Monounsaturated fat 0.1 g
Cholesterol 0 mg 0%
Sodium 3 mg 0%
Potassium 205 mg 5%
Total Carbohydrate 16 g 5%
Dietary fiber 3.5 g 14%
Sugar 12 g
Protein 1.4 g 2%
Vitamin A 0% Vitamin C 14%
Calcium 0% Iron 1%
Vitamin D 0% Vitamin B-6 5%
Vitamin B-12 0% Magnesium 2%
Also, seeding a pomegranate may seem like a lot of work for just a piece of fruit, but think again – getting at those seeds may be well worth it. The pomegranate is a nutrient dense food source,  rich in phytochemical compounds. Pomegranates contain high levels of flavonoids and polyphenols, potent antioxidants offering protection against heart disease and cancer. A glass of pomegranate juice has more antioxidants than red wine, green tea, blueberries, and cranberries.
Recipe prep time:10 minutes
Total prep time: 2 hours, 10 minutes
In making this I suggest you use a Carafe or Pitcher
What You Need
Half a cucumber
2 fresh pomegranates
Half a lemon
4 cups of water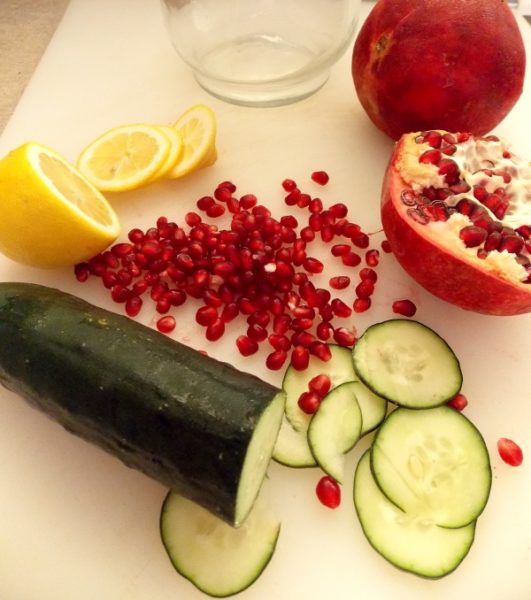 Steps
Slice half a lemon and half a cucumber.
Seed the pomegranates by chopping off the crown (blossom end) of the pomegranate. Remove it with it some of the pale-yellow pith. Take care not to pierce the seeds within.
Lightly shear the skin in quarters from stem to crown end.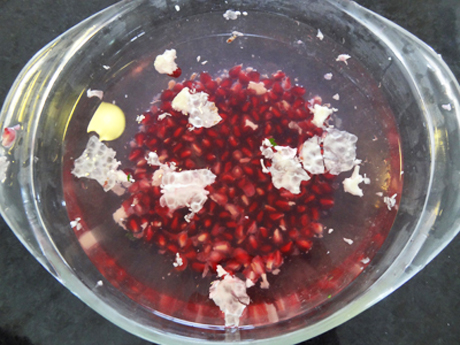 Immerse the sheared fruit in a large bowl of cool water and soak for 5 minutes. Holding the fruit under water, break sections apart with your fingers, separating the seeds from membrane. The seeds will sink to the bottom of the bowl.
Discard skin and membranes. Drain the seeds and dry on paper towels.
Gently mash the whole thing in a carafe (or water can or whatever you like to drink from) using a muddler.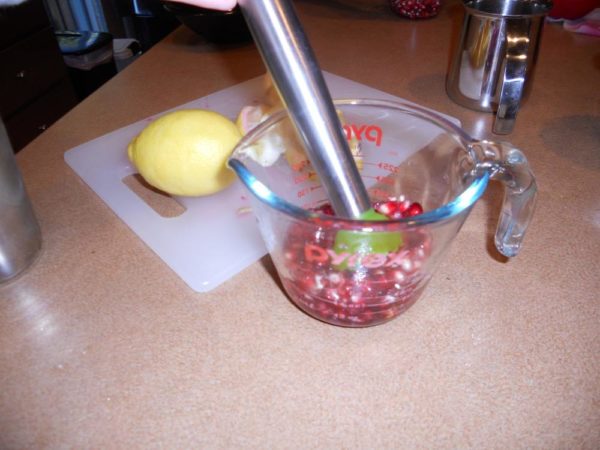 Concentrate more on the pomegranate. The pomegranate seeds will naturally fall to the bottom of the pitcher. Add 4 cups of water and stir.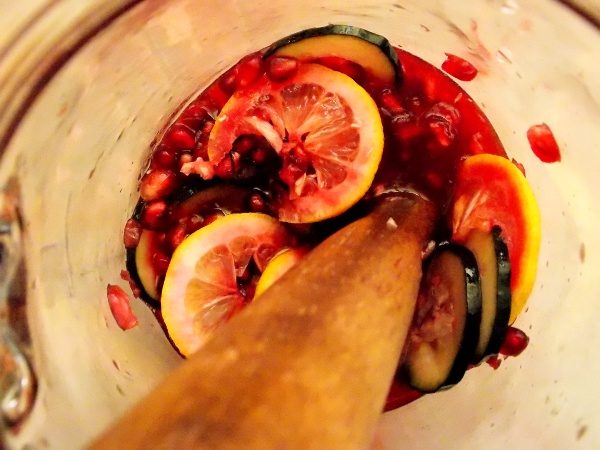 I could not resist trying it right away and it was heavenly. Do let it steep for a few hours – overnight if possible.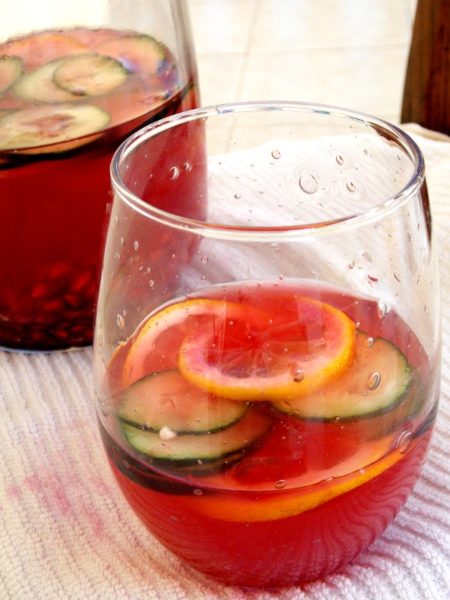 The longer it infuses, the more goodness your body will receive, the hotter you will feel. Let's drink to that, cheers!
Photo Credit: Dreamstime | Ron Chapple