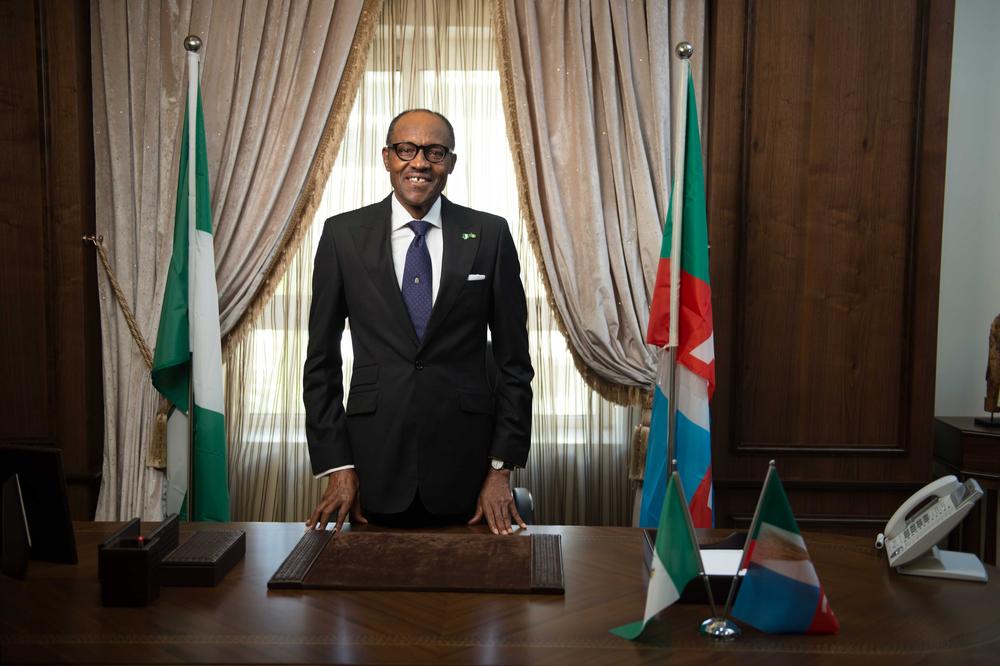 Dear ex-General, I know you have not yet taken your hot seat, but time is of essence. There is no African time when it comes to ruling Nigeria. Everyone will table the usual suspects of constant power, curbing Boko Haram, battling inflation and corruption, and these are key areas, but there are others too:
1. Food needs to be available nyafu nyafu in this country na. I was at one of those society weddings in Oniru some months ago, and seeing the disparity between the monied set who have chopped belleful, and some of the beggars asking for scraps at the entrance to the reception was disheartening. I saw a society chick/ red carpet celeb type barely scrape her plate of small chops and hors d'oeuvres as she was trying to form fit-fam. She drank the alcoholic beverages on her table like a tilapia though. Meanwhile, some of the servers behind the cooling van battled physically over the remnants of a cooler of coconut rice. One received a bulging black eye, for his troubles, from the other waiter over a pan of fried dodo. The other waiter got a gash so deep on his forehead that his head looked like a palm fruit someone had tried to force open with a blunt hoe. Let us go from famine to farming, so that food is freely available for all at affordable fees. Alliteration.
We Nigerians are not expecting the miracles of 5 loaves and 2 fishes from the new government, but haba na! Arable land is plentiful in Nigeria for farming. There is a saying that when you open a farm, you close a motel. Besides I can donate 10 acres from my village to the cause sef. I dey go back to my village. I go plant coco (yam), I go plant cassava, even though na yam…
Let us subsidize and incentivize sustenance and production farming. Like if a youngster decides to return to his village to farm instead of combing Victoria Island's high streets looking for a bank desk job, government should encourage him with a stipend.
2. Comrade Buhari – you are a man of many hats, like your soon-to be predecessor Brother Goodluck who also liked to rock face caps too. General, in fact before your campaigns started, you had hardly been seen in public without your Hausa cap (for good reason as you with your Papa Ajasco bald patch are almost unrecognizable without head-gear, like a runs girl is without Mac powder). In your military days, you rocked your army hat with fervor as we cowered watching you announce War Against Indiscipline on our TV screens during your address (undress) to the nation. GEJ liked the Niger Delta brim and bowler hats but he was no cowboy in our wild west of a country. Mama Peace also liked the gele with the white handkerchiefs and crocodile tears to match. But Mr. President we need you to put on your thinking cap. Fast. Meanwhile, goodbye to Goodluck.
3. Transform the NYSC program into an auxiliary military conscription service which could perform public works projects for pay for 3 years;  after which, members can either join full time and be incorporated and trained into a Home Guard regiment – or some kind of corps unit that can be utilized for policing. It will eliminate unemployment and idleness among youths who have just finished school, and are depending on their parents. Now if we have educated members in the nation's forces, maybe N20 bribes will stop.
Youths obey the clarion call? Errr, no. Keep the allowee coming though…
4. Introduce a welfare system for older Nigerians (ages 60 and above), as it irks to see our senior citizens destitute in their older years. Err, obviously there may be problems administering this initiative because in Nigeria, one's age changes depending on the situation. Nigerians reduce their ages, if they are professional football players, or if they are high society folk, or if they are in the civil service so that they can biologically expire before they professionally retire. And no, one's passport would not be conclusive proof of one's age, as a Nigerian e-passport these days states whatever age or name one puts on the passport application form. I can change my government name on my passport to Sabifok and my date of birth to February 30 19419 if I wanted to. GMB, sha sort it out. My own is cyber activism.
5. Pay our policemen well. In fact change their uniform – why would a sergeant wear black in sunny and hot Nigeria? Black hides dirt marks, but it also covers filth. It also conceals bribes especially neatly folded N20 notes. Assign an indigenous designer like Vonne or Kunbi (I don't know them personally o) to commission a decent service uniform for our cops. One with sewed pockets and a bright public friendly uniform. I would suggest a design myself but what do I know? Personally I preferred that era when policemen wore shorts and carried a torch and whistle. Hey you stop there! Police is your friend…Peem!Peem!
6. Nigerians in the diaspora should be able to vote. I won't say more, as any topics on returnees or Nigerians abroad does not do well in the comments stakes. Don't shoot the messenger.
7. Create a department or ministry of entertainment as that is now supposedly our 2nd largest export. One time in Yankee, an oyibo man who found out that I was Nigerian told me he liked Jim Iyke movies. I replied that I liked Rambo and Mike Tyson.
Make Obi Asika the Minister and Don Jazzy the Minister of State (I swear I don't know them personally and they didn't put me up on this, I swear). Make Esco the Director-General of that Ministry. Oh shucks, I forgot…ethnic politics in this country means you cannot have Igbos in the 3 highest profile positions in a Ministry. Me, I dey fear Lagoon, so disregard my nominations, biko.
8. Lagos needs a mayor. Lagos needs someone who feels the pinch of ordinary citizens and can act and react quicker to issues with less bureaucracy than a Governor can. Something like a figurehead we can vent our anger at when things do not work at the local levels. A bit like what we do to the Arik/Bellview ticketing officers and air hostess when they overbook passengers and we cannot see their CEOs to yell at. The Mayor of London Ken Livingston was known to ride the Tube to work, and Boris Johnson liked to bike around the City too. Perhaps our new mayor will use BRT too.
9. This one may pass GMB's power, as it is constitutional issue and our Senate and House of Rep would probably need to create bogus committees, assign themselves illicit estacodes and exchange Ghana-must-go bags full of Naira between themselves; but imagine if we could practice true federalism where each state generates its own revenue from what it produces, and is not economically dependent on the federal government for oil cash.
Imo State has Owerri as its fun-loving capital. Owerri is home to numerous beer parlors, okada drivers who are willing to take you to the ends of the earth for a pittance, fun seekers, and confidential if not presidential hotels, so it has the propensity to become Nigeria's Las Vegas. Works Layout will be like the Vegas Strip (no pun intended). What happens in Owerri usually stays in Owerri…except for the Otokoto wahala.
Perhaps I am asking for too much – but use the comments section to give your opinion on whether you agree, and what your State can produce if it was economically independent. Also let us know what you feel Buhari should address when he resumes office.
Mr. President, it's evident, nobody really cares/
Struggling out of the gutter, I am twenty-two with gray hair/ – Tupac, Letter to the President (1999)