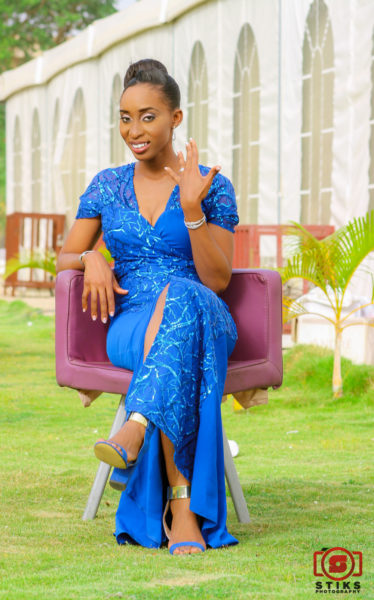 A typical Nigerian wedding takes several months to plan. It is such an anticipated event that the planning is almost like preparing for a new born baby. You are constantly shopping and having consultations with experts (vendors) just to get that one day right. The planning process practically consumes the bride; before you know it, you are dreaming about bits of the event every night.
Contrary to popular opinion I absolutely enjoyed planning my own wedding and have no regrets that we didn't hire a wedding planner (it was simply stress free; thanks to my mum who was the actual master planner). However I learnt quite a lot from it. Here are a few of the lessons:
Never say 'Never'
Having been a maid of honour at two of my closest friends' weddings in which both ceremonies – traditional wedding (know as engagement ceremony in Yoruba land) and church wedding – were done on the same day, I had vowed that it was too stressful and would never do same. Well, you know what they say about how you can't know the pain a man feels until you walk a mile in his shoes. Absolutely true. When you actually start planning your wedding, reality sets in and you begin to let go of certain fantasies you have nursed all your life. My wedding was in Abuja and lots of our family and friends were coming from Lagos, so I simply reasoned that it would save a whole lot of money if guests lodged in the hotels for 2 nights (Friday to Sunday) and still got to enjoy both ceremonies from beginning to end. Suffice to say I was the one who suggested having both ceremonies on the same day. I ate humble pie and each time people complained that I wouldn't enjoy the day because I would be too exhausted I simply replied that I would rest throughout the day before, which by the way I actually did. So if you have been one to say a lot of "I'll never do this" or "I'll never use that" get ready to eat your words.
You Can't Please Everyone
I probably knew this before, but planning my wedding consistently re-emphasized it. As much as it's your wedding and probably you, your fiancé and your families sponsoring it, every Tom, Dick and Harry seems to think they have a say in what and how you do things. I got used to constantly hearing annoying questions, complaints and comments, such as:
Why is your wedding in Abuja? ….. (Me: Hello…. Where do my parents reside? How can you not have a bridal train?
How can you use black and white décor, black is for funerals?
Why did you choose yellow asoebi, it doesn't suit my complexion.
Why is your aso-ebi so expensive? Why is your aso-ebi so cheap? Why didn't you send me aso-ebi?
The list is endless but I sure learned to stick to my guts, ignore unproductive public opinion and not try to please anyone but myself and le fiancé.
Learn to Trust the Experts
I had a hard time deciding on a reception dress style. I seemed to find a new style I wanted to dub on Instagram or BellaNaija Weddings every week. Each time I found a style I would take a screenshot and send out to my friends asking for their opinion. Alheri got tired of my indecision and suggested I meet up with her designer, Karen. When I finally met up with Karen, she said 'I don't copy styles I can only recreate them', so I told her my specifics: a long blue dress to match hubby's suit, no off-shoulder, no backless, no over exposure of cleavage.
She sketched something and suggested fabrics which I insisted she source for herself. She eventually made something quite different from what she had sketched but the bottom line was I loved it at first sight and it was an absolute hit on the wedding day. Incidentally my wedding gown was also custom made and after the first fitting I had asked the vendor to adjust it to be a bit looser so I could be more comfortable, she agreed but to my surprise at the final fitting she hadn't adjusted anything. When I complained, she insisted that it was perfect and that I would adjust to it, "besides it's a wedding gown, you aren't meant to be super comfortable in it" she said. I was very weary of this as I had recently witnessed the zip of a bride's reception dress burst because it was too tight. Luckily, my gown fit perfectly on the wedding day and by some magic I could sit and walk comfortably in it. Maybe I just happened to have lost a little weight.
Lower Price doesn't Necessarily Mean Lower Quality
Finding a makeup artist was one of the most challenging parts for me. Mostly because I live in Lagos and wanted an Abuja based makeup artist. I had figured that using a Lagos based makeup artist would mean additional cost, as transport and accommodation would obviously be included. The problem with the Abuja artist, however, was getting to do a trial. I wasn't going to Abuja until a week before the wedding so all I had to rely on was pictures of past jobs.
I scrolled through Instagram daily in search of an affordable Abuja makeup artist, asked friends and past brides for referrals. After chatting with 7 different artists, I was still not convinced by any of their pictures and I knew I wouldn't have time for 7 makeup trials in the space of 1 week.
In the last trimester of planning, I finally got referred to my final makeup artist by a friend's sister who happened to model from time to time. I just sensed that she would know a good artist. Surprisingly, Makeup Artist 8 agreed on the lowest price of all the people I had chatted with. Her pictures were promising and she happened to live not too far from my Abuja residence, so I figured the trial would be very convenient which it was.
On the wedding day, her work turned out great and despite the fact that she didn't do a single touch up after the church service, my face stayed perfect all the way till the photographers had retired for the day. Style secret: get the look for less. No one will know if you don't tell them.
You Can't Control Everything
If I had to plan my wedding all over again, I'd probably spend ALL my energy on making sure me and hubby looked our best (not that we didn't o) but I just won't waste energy or time on other insignificant details that most brides worry themselves with. In the end you really can't control whether people stick to the order of photography, what jokes the MC cracks, how many people your parents invite, or the cake baker's speech. Some things will go wrong and no one will notice. The best you can do is make sure you have fun and wear the perfect smile 99% of the time – because 2 weeks after, people will only be talking about what they see in your pictures.