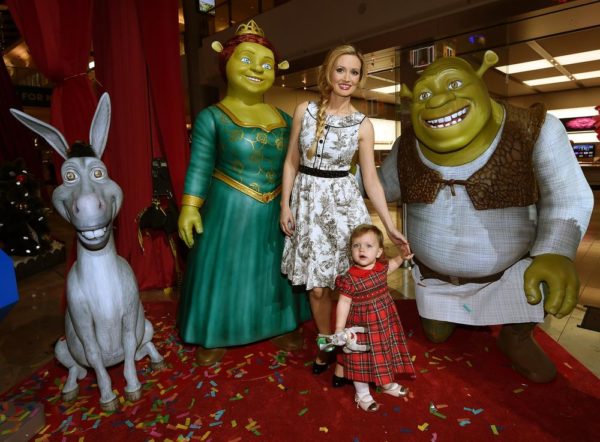 Everybody loves a good movie franchise. Mostly because they seem familiar and you don't need an exposé about characters or major plot lines. The studios love franchises too, oh how they love 'em. Franchises bring studios bucket loads of money because they increase the fan base for the movies, thereby increasing ticket sales which in turn make them really rich.
However, greed gets the better of the movie executives and they sign off on bad sequels which do the exact opposite: they tank the franchise. They "Nuke the Fridge" or "Jump the Shark"
So here's my list of movies that have succeeded in nuking the fridge
10. SHREK THE THIRD
The first Shrek movie was beyond amazing. It was smart, funny and it made a lot of references to pop culture not to mention that it had some kick ass soundtracks. It was the perfect animated feature. It created lovable characters and made us laugh. The 2nd one was a little diminished but we all loved it nonetheless. However, when the train wreck that is Shrek the Third got released, we all felt tired and watching the movie was beyond exhausting. No jokes, the soundtracks were forgettable and Justin Timberlake.
9. THE BOURNE LEGACY
Ok. Some people might come out and say, "The movie wasn't all that bad" and to be honest, it wasn't all that bad. But why on God's green earth would you make a Bourne film with Jason Bourne? Why?! This is highly unlikely, but I believe there were some poor devils who went to the cinema to see The Bourne Legacy expecting to see Matt Damon playing Jason Bourne and they got Jeremy Renner playing Aaron Cross. I would imagine that this realization would've left them with "What The F**k" plastered on their faces. The truth is The Bourne Legacy shouldn't even exist. However, I hear another Bourne movie starring Jeremy Renner is in the works. OH, JOY!!! Sarcasm is all I have left.
8. PIRATES OF THE CARIBBEAN: ON STRANGER TIDES
Well, this is a no brainer. I don't even think I need to explain how this movie destroyed the franchise. It was BAD at best. It seemed like a spin off to me since the film makers decided to throw William Turner and Elizabeth Swan away from the story and surround the plot around Jack Sparrow who at this point has made the transition from funny & entertaining to intolerable & gimmicky.
I'll be honest, I think the Pirates of the Caribbean franchise lost it with "At World's End" but if that movie sentenced the franchise to death, "On Stranger Tides" is most definitely the electric chair. Tueh!
7. INDIANA JONES AND THE KINGDOM OF THE CRYSTAL SKULL
Really?! REALLY?! Aliens?! Are you kidding me? I anticipated the new "Indiana Jones" movie for sooooo long, I entered the cinema with a hard-on expecting to get oiled up. I sit expecting a good 'ol time and what do I get? Fucking aliens. F**k you very much Speilberg and Lucas.
6. EVERY SINGLE SAW SEQUEL
The first Saw movie was ok. It was really…. ok. I mean there were a lot of plot holes here and there, but I liked it. It didn't have too much gore and it wasn't overly complicated. "Saw" made a load of money; so the studio executives came along and decided to milk the franchise dry with 6 sequels. 6 sequels!!! For the love of God, exercise some chill! As the sequels went on, it became obvious that the film makers had decided to confuse us with overlapping stories and insane plot twists so we wouldn't notice the shit storm that was every single "Saw" sequel.
5. EVERY SINGLE PARANORMAL ACTIVITY SEQUEL
The first "Paranormal Activity" was truly frightening. It raised the bar when it came to "found footage" horror movies. It took advantage of our fear of the unknown, which I believe is our strongest fear. The ending was perfect and it should have been left at that, but when you make almost $200 million from a movie with a $15,000 budget, the greed sets in. They proceeded to make four unnecessary sequels who are begging the audience to see them as relevant throughout their running time.
4. THE FANTASTIC FOUR: RISE OF THE SILVER SURFER
Yes, the first "Fantastic Four" movie was dog crap, but we all thought it could be saved. We thought; "Give it a more serious plot and you could salvage it" oh, and yeah, "Get a new director. Preferably one that didn't direct the 'Barbershop' movies". Did FOX listen to our cry? Heck no! We got Tim Story at the helm again and everything pretty much went tits up from there on end. We asked for a serious plot and what do we get? The Not So Fantastic Four swapping powers and a melodramatic Silver Surfer that no one gives a crap about. This movie was like a still born. FOX is rebooting the franchise with a completely new cast and premise. I hope to God it'll deliver.
3. JAWS : THE REVENGE
"Jaws" is one of the greatest horror films ever made. It was exciting, scary and had all the shock value anyone needs from a good horror movie. It also had an unforgettable score that further enhanced the scares. The "Jaws" franchise started to sink with "Jaws: 3D", but the last straw was "Jaws: The Revenge". The movie had a daft plot at best and the special effects were terrible. The movie is so bad it got nominated for Worst Picture at the 1987 Razzies. It's so bad it has an amazing 0% Rating on Rotten Tomatoes. But the thing that really pains me is the fact that Michael Caine couldn't accept his Oscar for "Hannah and Her Sisters" because of his shooting commitments on this film.
2. BATMAN AND ROBIN
Where do I start? The nipples? The Chrome Bat Suits? The film's lack of respect for the laws of physics? George Clooney's wise cracking Dark Knight? Uma Thurman's acting? Joel effing Schumacher? Rubber Lips?! I could go on and on and on. This film was abysmal. It was a wreck. It ruined "Batman" in the eyes of this fan boy and every fan boy around the earth. Thank God for Christopher Nolan for reviving this franchise murdered by Joel Schumacher. DEATH TO SCHUMACHER!
1. DAREDEVIL
Duh.
Have you got your own movies to share? Let's know in the comment box below.
Review written by Chiemeka Osuagwu for www.sodasandpopcorn.com. Follow him on Twitter @Tu_CHAe
Photo Credit: Getty Images