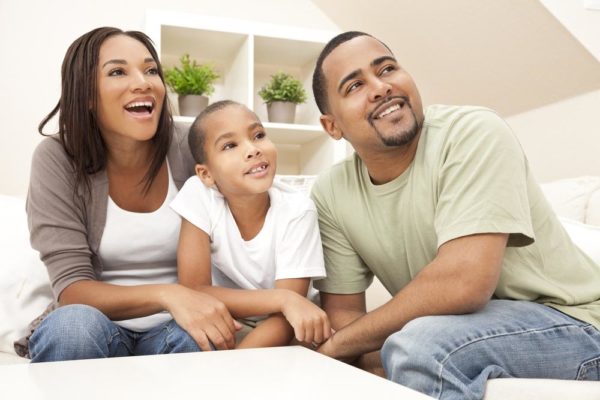 I definitely didn't grow up being told 'I love you' by my parents. In fact, they have never spoken the words to me, but somehow I know they love me. Still, I can't help wondering in what ways my life could have been better if they had spoken the words. As parents, I don't think our children should be left to wonder years from now, what they might be missing just because certain magic words weren't spoken.
Verbal expression of love is gradually gaining ground in our culture, especially amongst parents and children, and I am so glad to observe this!
As parents, we can't afford to keep our children in the dark. We shouldn't leave them wondering about certain vital life issues. Their foundation should be built rock solid with affirmation, validation, security, love, confidence, etc. They shouldn't live a day wondering – Am I loved? Who believes in me? Does anyone believe in me? Can I achieve greatness? Who cares? Who's got my back? Who will be there for me?
It is our responsibility as parents to make sure our children know the answers to these questions without a shadow of doubt. The feeling of validation, affirmation and confidence knowing the answers to these questions generate is at the bedrock of raising confident children. It is impossible to raise outstanding children when they are uncertain about being loved.
It is alright to show affection to our children and provide for them, but we need to keep affirming and building them up with our words. Words are powerful, in the sense that they are creative. They have the power to assure, build, strengthen, empower, and can remain unforgettable.
Below are some of the words we need to keep speaking to our children and the potential they have to fortify our children:
'I love you!'
These famous three words enrich lives in amazing ways. Kids flourish in a love-filled atmosphere, and one of the major components of love is words. We know love is always better expressed. Saying 'I love you' gives your children an anchor to live and dream on. Knowing we are loved is at the basis of the greatness we achieve. They won't go all out in desperate search for love; rather, they will set out to live fully because they know they are loved.
'I am proud of you!'
Children innately love to make their parents proud. Don't make the task too hard for them, don't be a hard-to-please parent, who rarely sees what is being done right. Be quick to see what your children do right. Be quick to tell them how proud you are of them. Appreciate the least effort they take in the right direction, to propel them forward. 'I am proud of you' validates kids; it builds their confidence. They won't live their lives desperately looking for approval. They will know they are approved and so gain the freedom to be who they are. We all know how limiting approval addiction can be. Save your children the heartache, approve of them now.
'You can!'
In life, our children will likely meet a lot of naysayers, people who will tell them they can't or try to limit them. As parents, we need to see greatness in our children and empower them to see it too. This is not about putting them under pressure, but about helping them to recognise their potential and the possibilities ahead of them. Believe in your children so much, and say it boldly. People often rise or fall to the expectation we have of them.
In conclusion, be your children's No. 1 fan, encourager and supporter. Fortify their esteem so much that it will be almost impossible for life to deflate them. This is not so hard to do; it's as simple as choosing to impact them with affirmative words every day. You can never say 'I love you' or 'I am proud of you' too much. Overdose them with positivity, if possible! And make sure you treat them accordingly too, don't let your actions counteract what you are saying.
Photo Credit: Dreamstime | Darren Baker