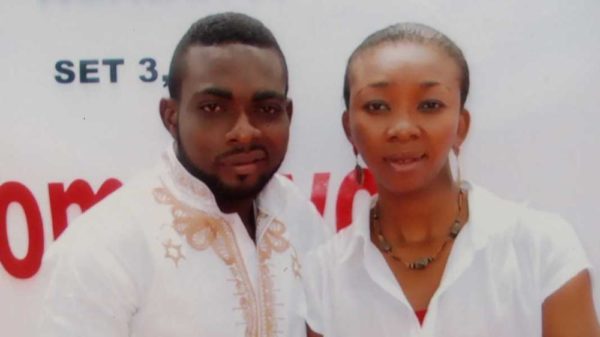 I first met Dennis Akagha in January 2015 when we both attended a Dirtpol focus group at the University of Lagos. The discussions centred around public perception of the Ebola virus, a few months after the country had been declared free of the disease.
You can guess everyone's amazement when he let it out that he had survived the virus and that his fiancée had been taken by the disease. Suddenly, all the news reports of previous months came together to be embodied by this bespectacled young man who sat across from me. To show that I wasn't one of those guilty of stigmatization, I reached out to shake his hands.
We took a photo at the end of the discussion as he told me how his fiancée Justina Ejelonu, a nurse at First Consultants Hospital, contracted the virus on her first day at work and how he had to deal with neighbours who were afraid of contracting the virus from him. It was also shocking to note that no one from his work place ever got in touch during the tribulation.
One could sense strength and purpose in his voice as he spoke of plans to set up an NGO to help victims of stigmatization across the country and the continent.
Months later, Dennis is in India undergoing training to set up a social venture at the Kanthari Leadership Institute for Social Visionaries in Kerala, India.
On Friday, August 14, Dennis would hold a Twitter chat in remembrance of his fiancée Justina Ejelonu. He would answer questions using the hash tags #CelebratingJustinaEjelonu and #RIPEbola.
In a recent interview, Dennis tells me about his healing process. Excerpts below:
It's been a year since your fiancée Justina Ejelonu died as a result of contracting the Ebola virus at her work place, do you feel that she could have been saved if the disease had been found out earlier?
Well, I still believe everything happened for a reason, I have no right to question God because He knows best and understands what happened. Some persons were brought to the hospital earlier and they still did not make it. Humanly thinking I would say yes, but God still knows best and why everything happened the way it did.
You were with her through it all, do tell us how it all happened. She just got a new job at First Consultants, what was your plan together?
Justina and I had big dreams and visions but our major concern was to cement the relationship to become husband and wife. We wanted to do things right but due to some financial challenges on my part, it was really a problem for me, although we had done introduction and were hoping to finalize the whole process by September last year. Our plan was to set up an NGO for children, premature babies precisely, because she fell in love with babies born too soon during her NYSC days. But first thing was settling down as husband and wife. However, the Ebola incident cut everything short.
A year after her death, how have you found healing and what are you doing now?
Finding healing has not been easy, most especially with someone you truly love. After her death, I found myself doing those things I ordinarily wouldn't do just to find healing
What are the things you found yourself doing after her death?
This one is personal sir. All the same the healing couldn't come but I believe it's a gradual process and it might require someone to be in the picture before I fully heal.
You contracted Ebola from Justina, how did you survive?
I survived by the grace of God…nothing more, nothing less.
How did you overcome the trauma and stigma?
Well, I think one of the things I did to overcome the trauma and fear of people towards me was to speak to the press immediately after I was discharged. I spoke with Sahara Reporters, then to Vanguard. That was how my story began and that was able to solve some of the problems I had even in my neighbourhood. Although some persons still avoided me even till December. This gave me a general overview of what people who are suffering from one infectious terminal disease or the other are facing in terms of stigma and discrimination, for instance HIV/AIDS.
Your fiancée died, you lost your job, people were afraid of you, you were stigmatized, some other person would have given up on humanity. How were you able to find equilibrium and bounce back to living a whole life again?
First was my determination to bounce back and secondly my family members and the family of Justina, most especially her mother and her elder sister, they all showed me love and care. I was always checked on to know how I was doing. My family would always want to see me around the family house, this helped me a lot. I also found solace in the presence of God (church).
Familial support and faith are always very important. At the moment you're in India doing a social work programme, tell us about this and what your plans are when you return home.
I am not doing a social work programme but undergoing a training that will enable me set up a social venture in Nigeria. This passion was as a result of my personal experience as a survivor of a dreaded disease and what I went through as regards stigma and discrimination. Ebola may not come into Nigeria again but people need to know that being infected with diseases such as HIV, cancer, etc is not a death sentence. These people need to be loved and cared for. As a matter of fact, my dream social venture is to spice up the lives of these kind of people that the society has given up on.
A nursing organization has named an award in honour of Justina, do you think this is a good way to keep her memory alive?
As a matter of fact, yes. The initiative started this year but before then they paid her family a courtesy visit and sought permission from her parents. That was a very good move by the Nursing World Organization and I applaud them for that initiative.
Join the #CelebratingJustinaEjelonu chat at 10am on Friday, August 14.