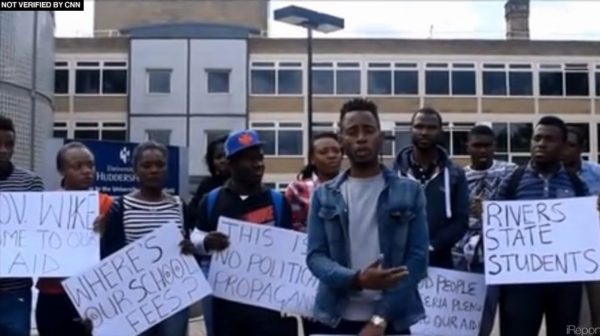 A student who is currently studying in the UK under the scholarship scheme of Rivers state sustainable development Agency (RSSDA) sent BN an e-mail, urging us to share this story.
According to a CNN iReport article written by one of the students, the Rivers State government has been unable to continue paying their school fees under the RSSDA scholarship scheme, and as a result; they could be facing deportation.
The riversstate.gov website describes RSSDA as:
An agency set up by law under the [former]Governor Chibuike Rotimi Administration in 2008 with the vision of transforming Rivers State rural and urban economies from dependency to self sufficiency. The Agency runs Human Capital Development programmes and Agric/Agro-Allied and Business Development.

These programmes include: Overseas and local scholarship scheme for undergraduate and post-graduate studies in diverse disciplines; and Secondary education scholarships tagged 'Greater Horizon and Opportunity Programmes' for exceptionally brilliant pupils from the 23 Local Government Areas of the State; Workmanship and Technical Training programmes,  Hydraform projects; Agricultural projects like the Rivers Songhai Farm, Hatcheries, Cassava farms, Snail Farms, Aquaculture centres, Poultry farms amongst others.
Here is the CNN ireport story one of the students urged us to share:
I have a story about students abandoned by rivers state government that are facing going back home. Please check my timeline and you will see a video I posted today. Watch it and if you need more info let me know. We need to create awareness about this.

We are 2nd year students with the university of Huddersfield currently hoping to progress to final year by September or going on placement as some of us have chosen.

It is with deep shock that we realised that the RSSDA (Rivers state sustainable development Agency) under the rivers state government who is our sponsor have not paid our fees for 2 years. The university have made all efforts to get the money from them but they have since attributed the non-payment to the government of rivers state not releasing funds. The university even went to the extent of travelling to Nigeria for the money.

We are more than 11 students with the cost of each student fees being 12,500 pounds each. Since all effort have failed to get the money from the agency, the university have come to the resolve of suspending our studies and revoking their sponsorship on our visas, Hence, giving us 60 days to leave the country. The have 10 days to revoke the visa cancellation if the agency gives them a time frame for payment and the 10 days expires this Friday.

The agency have deliberately refused replying the university on several emails and refused to also commit to them by giving them time frame for payment.

Worst of it all is that the agency have not even acknowledge the situation or even comfort us and take responsibility for whatever damage this might incur. They said and I quote "they don't even have our flight money back". We are stranded!!! We have not been paid allowance and rent money for 9 months now which is meant to be 800 pounds a month.

Fees owed by the government around England and other part of the world have amounted to about 3 billion naira. We need this video to spread let the whole world see how politics is affecting the future of the country. PLEASE!!!

If you need any other information don't fail to contact me. Please help create awareness.