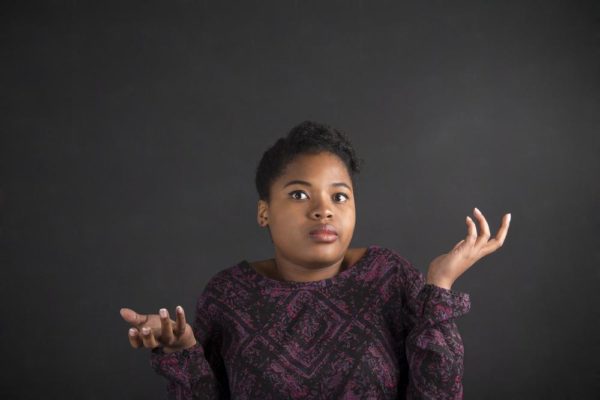 A few days ago, I was reading on a blog somewhere about how most Nigerian ladies have dark armpits and what not. Of course you can imagine the arguments that ensued in the comments section. As I read along, I remembered something weird that happened to me on a date once, and it had to do with my armpit. I swear this is embarrassing as it is, but oh well, I am going somewhere with this.
Many years ago, I went out on a first date with Dapo*. Dapo was your average Nigerian guy, nothing unusual to raise red flags or anything. I think we met on Hi-5 back then and we used to gist regularly for weeks before I finally agreed to dinner. On the said day, Dapo had sent me a text asking if he could make a request, to which I said sure. He said you have really beautiful skin in the pictures I've seen of you on Hi-5, would you mind wearing something without sleeves?
I was like Huhn? Ooookay, sure.. no wahala. It was summer anyway so I definitely wasn't going to wear a turtleneck in the first place so I put on a halter neck top and denim pants. His request should have been red flag #1 right. The problem with me is by the time normal human beings have counted 10 red flags I'll still be deciphering number 1. His request was somehow but I was thinking this boy wants to intoxicate himself with my skin, his problem not mine.
Dinner went well, too well in fact. I was already thinking well, well, well, Seun, ahn ahn you try o, go on with your bad good self. This was until the conversation turned to my body, specifically my skin. I promise you, readers… till today I don't think my entire body from crown to toes has ever received that much compliments as my skin alone did that night.
He was sitting across me the whole time and at some point reached across the table to hold and play with my fingers. He was even doing the itsy bitsy spider movement towards my armpit, and me being ticklish as can be, would giggle and withdraw my arm quickly. We are in public for God's sake, don't kobalize me. Then he asked for my thoughts on kissing on a first date, I told him how I felt about that and he agreed with me. He actually said I don't agree with kissing on the lips on a first date, that's too personal, too much too soon. Again I was like ahn ahn, this boy your head is correct o.
When we got to the front of my house, we, of course, exchanged last pleasantries of how enjoyable the night had been and I was enthusiastic about a second date. Dapo then says I know I said I'm against kissing on the lips on a first date, but do you mind if I kiss your armpit.
Ehn? Repeat that question please. You want to kiss my armpit (I quickly raised one arm up just to make sure my armpit had not turned into lips or something actually kissable).
Dapo repeats himself again and continues; I have been starring at them all evening, they are beautiful, they are not dark like most are and I am sorry but I just have a thing for armpits, that's why I requested that you wear something without sleeves. Any woman I date has to have clean armpits, they are my favorite part of a woman's body, I don't like to kiss on the lips, yes it is a fetish and I can't help how I feel. He went on..and on..and on.
I thought I was hearing double. Words eluded me because I totally did not see that coming. I mean, I've heard of shoe or foot fetish but please which one is armpit again? See me o. Why? For goodness sake, why? How can a fine boy be looking this normal, but an armpit is what he wants to kiss?
Apparently, this is just another type of fetish, just the way some guys have a foot or boob fetish, which they find very sexy and arousing, while some of us find it quite creepy and maybe disgusting.
If you were in my shoes, would you have indulged him? Would you still want to date him? Have you ever dated anyone with a fetish? It would actually be interesting to hear if guys have experienced women with fetishes as well because we mostly hear of men. I can't possibly be the only Nigerian to have encountered someone with a fetish, please share yours.
Photo Credit: Dreamstime |  A J Cotton