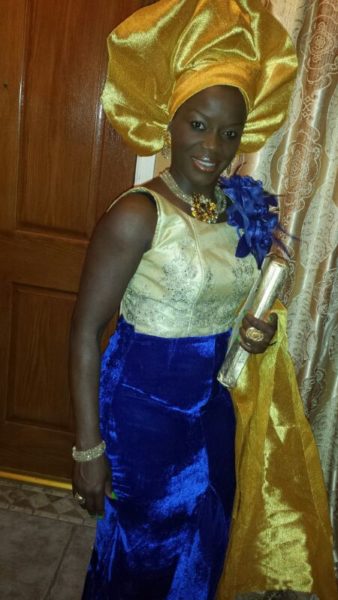 Proverbs 31:28: "Many women do noble things, but you surpass them all."
We all know women who are good at what they do. Whether they are the glue that holds their network of friends together or they are head of the parent-teacher association at their kids' school, we recognize them for extraordinary action. But my mom quite literally has it ALL together. She is a dear friend to many, a loving mother to three and a great wife to one. Her involvement in each capacity far exceeds the minimum requirement. From serving as a support system to her friends and generously blessing those in need to staying in the place of prayer for her family while achieving her goals, she makes us wonder how she gets it all done. She's not perfect, but she's priceless. Her children call her best, her husband call her blessed and her friends call her best-dressed. My mother is a Proverbs 31 woman.
My sisters and I hail her as our hero because of her mustard-seed faith, her gentle spirit and her humble heart. Although she juggled a lot while we grew up, she didn't let it stop her from rising to the top in her career as a pharmacist. She serves on the board of the National Association of Pharmacists & Pharmaceutical Scientists, owns two pharmacies and still finds time to be an incredible mother, wife and friend. Embracing the stresses of motherhood, she has instilled a heart of gold and an attitude of hard work in us. She encourages us to cling to the hem of God's garment while navigating life and pushes us to pursue our destiny. One thing that she frequently tells me is, "Remisola, the sky is your limit. There's nothing you can't do with the grace of God." Growing up, when she got frustrated with us over something, she would gently say, "You can do better. I know what you are capable of." That's the type of person she is. She believes in your potential and won't let you rest until you achieve it.
Having a prayer warrior for a mother has truly changed me as well. When she can't sleep during the night, she prays. When she wakes up in the morning, she prays. She consistently asks God to put the right relationships into our lives and to open up doors of opportunity in our favor. A mom is one of the most important people in terms of shaping your future and I believe my sisters and I struck gold with ours. My mom is a strong pillar behind the success of our family and has laid an incredible foundation for us to build upon in generations to come. She never ceases to tell us how proud she is to be our mother and how much she loves us.
"She is clothed with strength and dignity; she can laugh at the days to come". As she looks to the future, she has high hopes of returning to Nigeria and blessing the country that raised her. Her goal is to spread awareness about Diabetes healthcare in Nigeria and educate Nigerians on how to cope with the disease. It's no surprise that she will continue to fulfill her dreams and pursue her passions. After all, that's the woman she is. "You only have one life to live," she says. "I want to look back on mine and know that I lived well." She understands the art of sacrifice, embraces the necessity of hard work and prudently strategizes for the future. I am blessed to call Femi Omodara my mother; a Proberbs 31 woman!