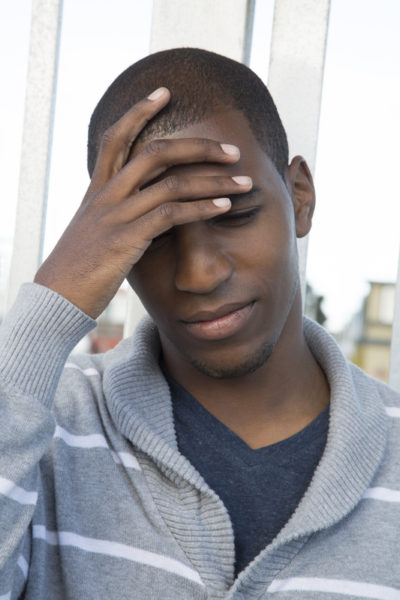 Hello BellaNaijarians,
We received this comment today on a previous post discussing the controversial comments of an ESPN host on spousal abuse – Do Women Provoke Men to Physically Abuse Them? ESPN Host's Comments Spark Outrage
The theme of domestic violence and spousal abuse came to the forefront in 2015 with high profile cases including a Dr who died following alleged domestic violence and also celebrity wives speaking out about spousal abuse as well.
Here, a man shares his story on how he hits his wife. He tries to defend himself by saying "he was provoked". In our opinion, there is no excuse and justification for Domestic Abuse & Violence.
However, he is also crying out for help and advice.
Read and draw your own conclusion.
***
My name is Odus, I have read all the contributions on this blog. I stumbled on this blog as I searched google for an answer to my question: WHY DO MY WIFE ENJOY PROVOKING ME UNTIL I HIT HER?. Yes that is what I am currently facing.
Happily married for years with lovely kids but cursed with a wife whose only language she understands is when I hit her. I have spoken to her begged her, told her things not to do to me yet she derives pleasure in doing them.
One of the contributing statement strongly applies to my case. I will play my scenario and leave you to judge.
On a Monday morning as I rush to get ready for work around past 8, my wife meets me in the kitchen making tea and asks "Where is our daughter?". I replied saying she is sleeping, my wife goes "Why did you not wake her up?" and I replied saying "I will no longer do that anymore, and anytime she forgets to wake up my daughter early, my daughter wont attend school"
I told her am tired of having to be the one to always wake my daughter up, bath her and at the same time get ready for school and drop her late in her class each day. I told her she should get organised and make sure her kid sleeps on time and wakes up on time and she that caused the argument that day.
Instead of my wife to apologize or express herself in the same way I passed my message across to her. Instead, she started yelling saying "I have started this morning…that if I woke up on the wrong side of the bed, I should not take it on her etc…"
Now unfortunately, we live in the western world where if you raise your voice your neighbours can call the cops but in my case we are known already in my neighbourhood. My wife is the master screamer. She can never argue or express herself in a cordial manner. The painful thing is that she sticks her face in the window and begin to curse and yell so that the whole neighbourhood hears since she knows that I get embarrassed easily and I don't want my neighbours to know.
On that Monday, I quickly ran to my room to play a Christian tape which usually helps me avoid her and helps dampen the noise so our neighbours don't hear. She turned it off saying – "I am using her to play tape" and that it was too loud.
Back to the provocation of the said day, after yelling and shouting abuses on me, knowing her, I kept on dressing up to quickly leave the house.
She comes into my room and starts yelling curses on me pointing fingers and pushing my head backwards constantly. I would readjust myself so I don't fall as I was dressing up and she would shove and push.
She said she would make sure I hit her today… I tried holding myself but the curses and abuses, shoving and tearing of my shirt made me slap her which she wanted so much and told her I was her husband and she had no right to point fingers at me or shove me…she can shout but never do that.
I pushed her out of my room tried to lock the door but realized my little daughter was staring so I left it open not to scare her. My wife went to the living room and was shouting that I had beaten her and I had hit her to my little daughter. My daughter became hysterical but my wife did not even bother.  She came back dragged me and was swinging me round from one corner to the other. When I could not take it anymore I reacted…when she saw that I carried a tool and I was going to hit her.
Guess what she said?
"Please don't do it you know you have a heart condition. Remember your heart" and I said to myself what type of a wife is this? This same woman had sent me to the emergency for heart attack early this year. Thank GOD I did not hit her with the stool. I kept it and changed and packed up some more clothes so I slept out that day. While leaving with my bags, my wife came out and said to me "bye bye useless man …"
I am so so embarrassed and I want this to stop but am afraid it will continue because my wife does it on purpose and when I try to leave she hides the key. Lots of times, I have videoed her and she would get worried and reduces but most times she will provoke until you push or shove and if you do that she goes to the ground and screams you have beaten her. Meanwhile, she is hitting scratching or placing huge curses at you.
I am a victim of provocation at the highest level. Yes, it is not right to hit a woman and one cannot justify it which I continue to regret but how do you handle a woman who wants you to hit her at all cost and would do anything to make sure you hit her. Yes you would say leave the house but if am about to leave she will stand in front of the door or seize the key…if you push her away you have abused her …how do you deal with this please advise.
APOLOGIES FOR THE TYPOS.
*Name changed
Photo Credit: Sixdaysllc | Dreamstime.com