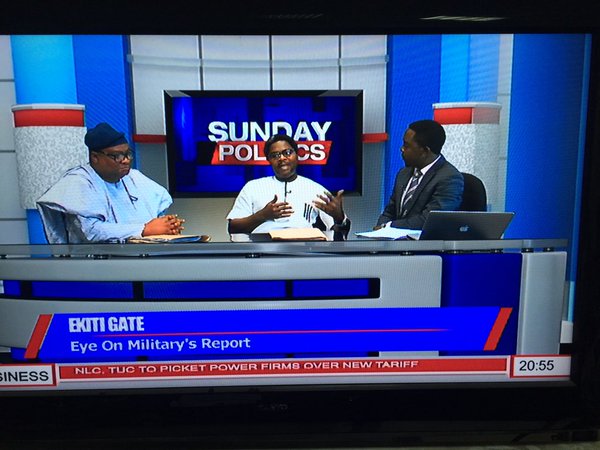 Who needs Nollywood when we have Nigerian politics to give us an endless stream of drama. The Ekiti governorship elections in 2014 was one of the most controversial elections in recent history.
Soon after the elections, various claims about the various election malpractices.
Today, Secretary of the Ekiti state chapter of the Peoples Democratic Party Dr. Temitope Aluko alleged that former President Goodluck Ebele Jonathan gave Governor Ayo Fayose of Ekiti State, $37m cash to manipulate the election process in the State.
incumbent, Kayode Fayemi of the All Progressives Congress.
The Ekiti Election of 2014 was rigged, we had meeting with Ex-Pres. Jonathan in the Villa where we planned it – #DrTopeAluko

— Kayode Akintemi (@KayodeAkintemi) January 31, 2016
Ayo Fayose betrayed me first & he betrayed even Omisore against @RaufAregbesola in Osun Election – #DrTopeAluko @CTVPolitics with @SeunOkin

— Kayode Akintemi (@KayodeAkintemi) January 31, 2016
We had a #StrikeTeam made up of Soldiers & MOPOLs, 44 Teams in Trucks & HiLux Vans – #DrTopeAluko on @CTVPolitics with @SeunOkin

— Kayode Akintemi (@KayodeAkintemi) January 31, 2016
Pres. Jonathan informed the military hierarchy that Ayo Fayose would stand in for the President, he did not have to say more – #DrTopeAluko

— Kayode Akintemi (@KayodeAkintemi) January 31, 2016
We were given $35m for the campaign & @MObanikoro was only the courier, we got it from Office of the NSA – #DrTopeAluko on now @CTVPolitics

— Kayode Akintemi (@KayodeAkintemi) January 31, 2016
I am one of those that asked Gov. Fayose not to make Dr Aluko Chief of Staff because he is unstable – #Olayinka pic.twitter.com/EYDq0hmluq

— Kayode Akintemi (@KayodeAkintemi) January 31, 2016
I would have loved to give Ayodele Fayose more money than $2m, but I did not give him one penny, Dr. Aluko is a liar – @Dr_IfeanyiUbah

— Kayode Akintemi (@KayodeAkintemi) January 31, 2016
Sen. Kashamu can not say that he did not give any money to Ayo Fayose during the election that is not true – #DrTopeAluko with @SeunOkin

— Kayode Akintemi (@KayodeAkintemi) January 31, 2016
I am stating emphatically that what happened in Ekiti in 2014 was a coup & not an election – #DrTopeAluko with @SeunOkin on @CTVPolitics

— Kayode Akintemi (@KayodeAkintemi) January 31, 2016