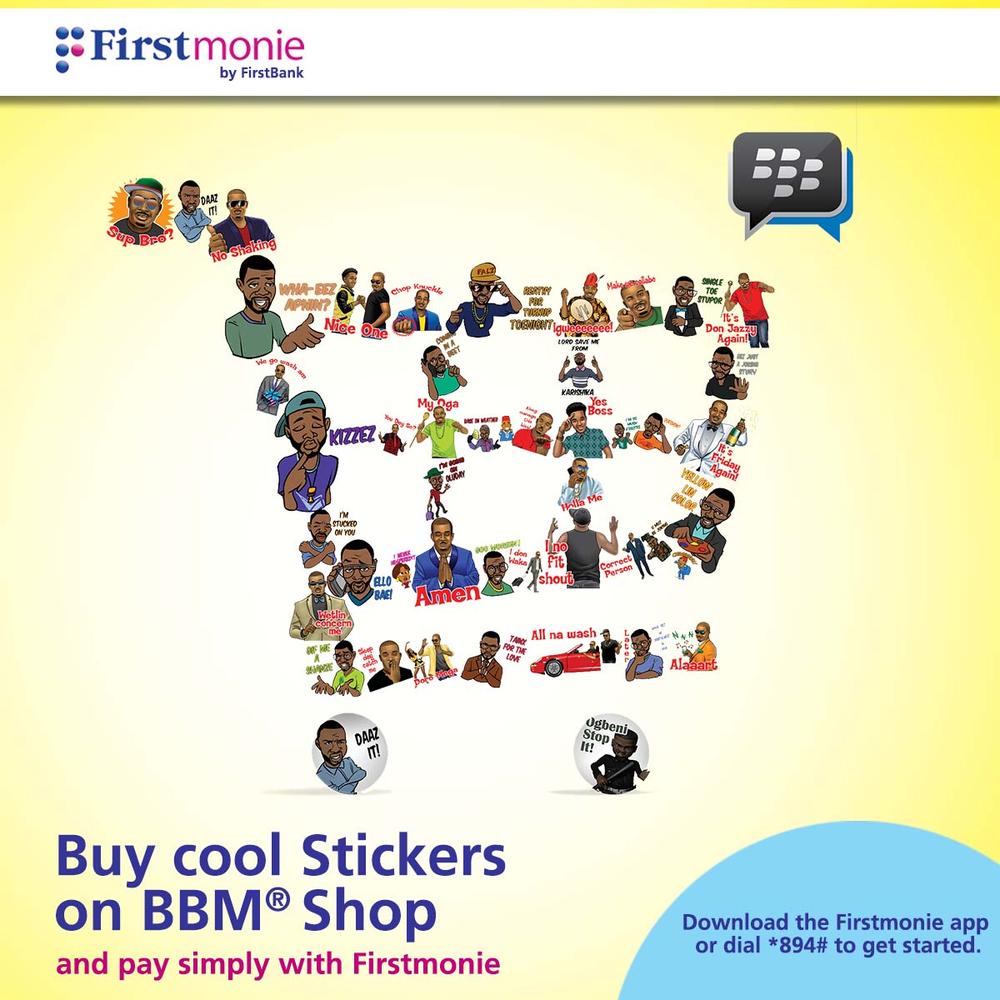 To allow you explore and access fun and interesting sticker packs on the BBM Shop, Firstmonie; the mobile money service of First Bank of Nigeria Limited and MMIT (Mobile Media Info Tech) partnered with BlackBerry in Nigeria to enable social commerce in BBM™; the popular private social network.
You can now access and pay for contents on the BBM Shop using your Firstmonie mobile wallet from FirstBank. To make your chats more exciting, Firstmonie rewards you with cash back in your wallet when you purchase a sticker pack. The first 500 subscribers to buy a BBM sticker pack from the BBM Shop with their Firstmonie wallet will get cash back in their wallet to use for other purchases.
Firstmonie offers you even more when you purchase 3 sticker packs with your Firstmonie wallet as you will be automatically entered to a draw to win a brand new BlackBerry Passport phone.
Are you ready to update your sticker packs selection, get cash back, possibly win a BlackBerry Passport phone and have a fabulous Valentine? Here is how it works in 5 simple steps;
Fund your Firstmonie wallet at any FirstBank branch, FirstBank ATM or Firstmonie agent
Go to the BBM Shop, browse and select your favourite sticker pack
Click on the amount tab to see the Payment Options and choose Use Mobile Billing
Select option to pay with your Firstmonie Mobile Wallet (If you do not have a Firstmonie wallet, download the App or dial *894# to subscribe)
Confirm payment, enjoy and share stickers with loved ones.
This offer is open to all and existing Firstmonie subscribers from 1st February to 29th February 2016.
You may not be able to find the right words to express your thoughts however; you will find the right sticker packs on the BBM Shop with Firstmonie. Download the Firstmonie App or dial *894# to get Firstmonie and start spicing your BBM Chats.
For more details on how to fund your wallet and offers:
Visit http://firstmonieonline.com/bbm-offers/
Join Firstmonie BBM Channel: C002ECBD2
Follow @Firstmonie on Facebook, Twitter & Instagram
_______________________________________________________________________
Sponsored Content