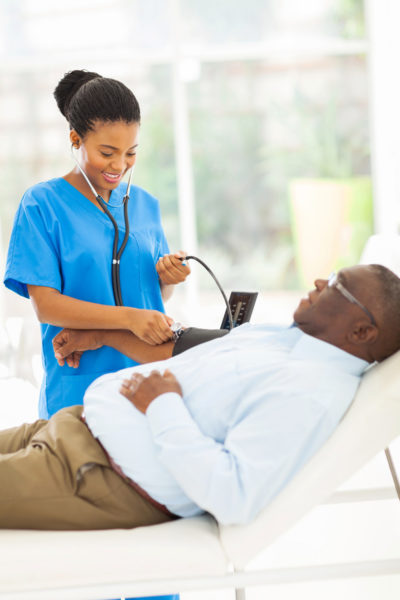 Nobody likes to fall sick. Not even if it's a "simple" headache. Some people cope better than others in most cases. I fall into that category where every time I fall sick, it's always a tad bit dramatic. My mum always teases me that I always get emotional. I always cry. It's the feeling of helplessness that gets to me. I had a slight tummy ache on Sunday, so I decided to sleep it off. By Monday morning, I woke up feeling woozy. I still struggled to go to school. Thirty minutes into the lecture, I had to excuse myself. As I made the usual walk home, I called my boyfriend who happened to be close by, that I was feeling really down. He told me to stay put and 10 minutes later he was by my side.
We walked to the closest Boots store, by this time, I couldn't stand straight or walk without help. Before the Boots staff could get help, I was already in tears, clutching the right side of my belly. As a staff spoke to whoever was supposed to send an ambulance over the phone, and they kept asking me questions like "Have you had a baby in the past 7 days?" even though I had just told them I was on my period, I wondered if I was going to die being asked questions I deemed irrelevant while I was in excruciating pain. We got a cab instead, and drove straight to the Accidents and Emergency ward.
It took a while (or so it seemed to me) before I was finally properly attended to, after which I was asked the same set of questions the ambulance person asked. It turned out that I had an infection in my kidney, so I was admitted. Over the next couple of days, the nurses came to check on me round the clock. Some of them were student nurses from my school and we made small talk. Every morning my jug of water was changed, I was given a clean supply of soap, toothpaste, comb, and the likes, and my vitals were taken CONSTANTLY. The buzzer was working, I didn't have to yell for nurses. When I had to go for an X-Ray, CT-Scan and Ultra sound, the porters came promptly, wheeled me to the location, when I was done my reports were put at the back of the wheelchair and read to me back at my ward. The nurses and doctors were so nice. "Should I help you up me love?", "Do you need a blanket mi lady?" "Would you like a sandwich darling?"
I couldn't take oral drugs and had take pain killers anally (I felt violated, by the way); but for every time I had to take my meds up my ass hole or got a needle in my arm or tummy, I was asked for permission first, and they still apologised later, even if it was for my own good. As for the meal times, I'm not big on oyinbo food (a pinch of salt qualifies as spicy to them). I only took tea and ice cream from them and that was to give my mum who took over from my boyfriend after some days. Best of all, everything was free, as an international student, I was covered by my NHS. All they needed was my name and date of birth to dig up my NHS number.
I am talking about this because this is my first hospital experience outside Nigeria and now I understand why anybody who can afford it will leave Nigeria to a foreign country for treatment. It's never a good experience in Nigerian hospitals. From the always angry nurses in government hospitals screaming "Madam steady ya yansh, if you no want injection others dey wait me", to the non-professional treatment you will receive even from the unnecessarily expensive private hospitals. Don't even get me started on record keeping. If I had a dollar for the number of times I've had to buy a new patient card in the same hospital because they couldn't find the old one.
I spoke to my sister this week and she gave me the gist of how a cousin who lives with us suddenly became bloated and his eyes rolled back and he was rushed to Maitama General hospital around 9pm. They had to get him a card before he was attended to. The doctor who finally came reeked of alcohol with red eyes and prescribed drip. My siblings went round the hospital to get water but they couldn't so they drove out to buy. When they wanted to drive back in, the gateman yelled "Na why una go dey waka up and down this night? Una no know say cold dey?" My sister told him it was a hospital and she could go out again if she needed to. To which the gateman replied "Na hin be say na una go open gate by una self". When they got in, the doctor charged them 2500 Naira. My sister told him she would pay at the cashier but he refused and said not to worry, she should give him the money and he would give the cashier. After my cousin's dose of drip, he was asked to go back home. My sister asked about running tests and he said no need. Even if they wanted to, the "machine" wasn't working.
From these two stories, I have racked my brain as to what the problem is with Nigerian hospitals. Is it that the salaries are low? Or the staff are overworked? Or the Health system as a whole is just at its worst? While in my ward, I overheard a man whose wife was sick yelling at the doctor "This health system does not work!" I chuckled on my bed. This uncle didn't understand that he was having it so good. I was tempted to ask him to fly his wife to Nigeria for treatment.
Why are most Nigerian nurses so grouchy, or purposely sitting down not doing their jobs? Even most shows and movies portray them as gossips, that goes to show how idle they can be. I need answers to these questions. What has your Nigerian hospital experience(s) been like?
Photo Credit: Dreamstime