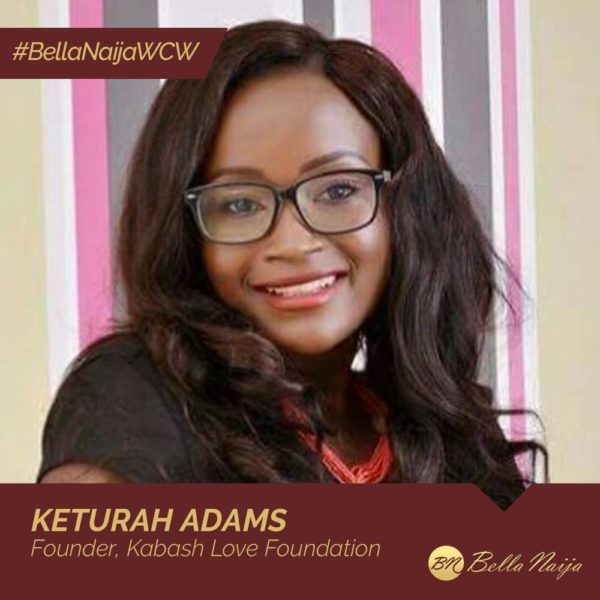 As a child, #BellaNaijaWCW this week Keturah Adams was diagnosed with osteomyelitis — inflammation of the bone marrow — in her shoulder and was always recovering for a surgery or preparing for another during that time. Keturah is one of the very few ones fortunate to come from privileged backgrounds and are able to afford and access appropriate health care.
One of the biggest problems that come with poverty is ill health as either families can't afford or access appropriate treatment or because of unhealthy environments. Children are the worst hit and in most rural communities on many occasions, pay for less serious illnesses like malaria, diarrhea, e.t.c with their lives and Keturah wants tackle this problem.
Keturah believes health care is not a privilege, but a universal human right and with her Kabash Love Foundation, she's focusing on providing solutions to issues relating to maternal and child health, under-five mortality, and women's empowerment.
Kabash Love Foundation is an NGO "dedicated to ensuring a safe environment and the overall well-being of women children and youths through health care interventions and empowerment programs."
Keturah worked at Nigeria's National Primary Health Care Development Agency (NPHCDA) while undergoing the mandatory NYSC program and also worked as a field staff with the agency after her service. She began KLF afterwards, armed with necessary information and research reports and monitoring and evaluation documents on primary health care.
According to UNICEF, "Every single day, Nigeria loses about 2,300 under-five year olds and 145 women of childbearing age. This makes the country the second largest contributor to the under–five and maternal mortality rate in the world."
A 2015 estimate dictates that the maternal mortality rate (MMR) in Nigeria is 814 per 100,000 live births while under five mortality ratio is 201 per 1000 live births meaning that one in five Nigerian children never reach the age of 5.
Upon finding that infection is one of the major causes of child mortality (80 percent of maternal infant mortality rate due to infections) mainly via the umbilical cord, and that some cultural and traditional practices inhibit women from using safer measures in delivery, Keturah decided to secure safe and infection-free births.
She began working with Traditional Birth Attendants (TBAs) to proffer solutions to the problems, training them on easier and safer measures for delivery. The TBAs are also trained on postpartum care and how to identify warning signs of conditions such as depression and symptoms of hemorrhaging.
She also trained 1,000 women from 25 IDP camps on best practices for general hygiene, environmental sanitation, and procedures for cutting umbilical cords. She also distributed delivery kits with necessary supplies, especially the ones that help to prevent infection.
KBF runs a Skills Acquisition, Training and Empowerment (SATE) program, "an empowerment initiative that targets the Girl child and unemployed youths. Resourceful people are trained on skills of interest and equip them for individual development & sustenance as regards means to livelihood."
KPF also has its Girl Child Education and Empowerment (GCEE) initiative as well as its Advocacy and Health Education (AHE) program.
Today, her intervention programs have reached over 10,000 women and children.
Keturah, who has degree in Biological Sciences from Kaduna State University and a diploma certificate in Project Monitoring and Evaluation from African Medical Research Foundation, Kenya, was selected as part of the 2017 Mandela Washington Fellowship.
Right now, Keturah is championing the Healthcare Not Wealthcare campaign, which seeks to ensure free first aid by hospitals and clinics in emergency cases.
We celebrate her passion and commitment to improve access to effective and affordable healthcare in under-served communities. Keturah aims to set up emergency healthcare post in deprived communities and launch a sterile delivery kit program to support pregnant women in under-served communities and we are rooting for her!