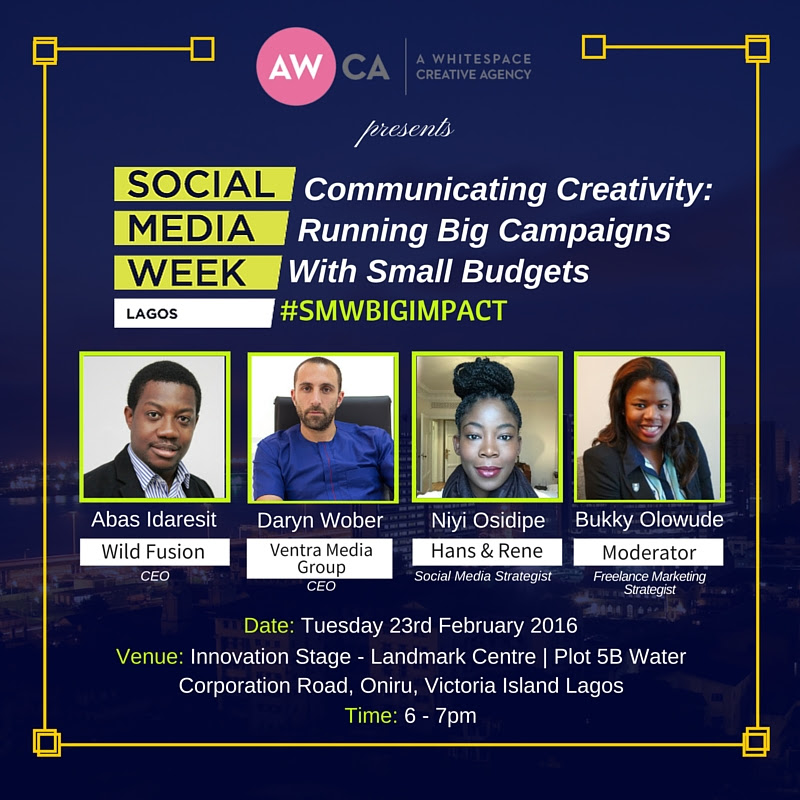 Social Media Week Lagos kicked off yesterday.
There are lots of exciting events all week long.
To register, visit the schedule page on the SMW Lagos official website and click the event you are interested in.
You can register for your free badge or if you want the VIP experience, buy an Executive VIP Badge.
Feb 23 Tuesday
PenCom Innovators Breakfast & Fireside Chat with Chinelo Anohu-Amazu
8:30 AM – 10:00 AM
Hosted by Pencom
Innovation Stage
Official Event
Showcase / Business
Feb 23 Tuesday
SME Support Clinic
9:00 AM – 5:00 PM
Hosted by The Future Project
Red Media Africa
Official Event
Multi-format / Business
Feb 23 Tuesday
TECHNOLOGY & THE YOUNGPRENEUR: FORBES- 30 UNDER 30 LEADERS USING TECHNOLOGY AND BUSINESS TO CLOSE THE POVERTY GAP
10:00 AM – 2:00 PM
Hosted by Aim Higher Africa and Forbes Africa
Independent Event
Panel / Business
SOLD OUT
Feb 23 Tuesday
Harnessing The Tech Advantage for Business Growth
10:00 AM – 12:00 PM
Hosted by RedBrooks Consulting
The JobMag Centre
Independent Event
Panel / Business
SOLD OUT
Feb 23 Tuesday
Technically Speaking…The Future of The Contributory Pension Scheme
10:00 AM – 11:00 AM
Hosted by PenCom
Innovation Stage
Official Event
Panel / Business
Feb 23 Tuesday
Executive Boardroom Open Hours
10:00 AM – 4:00 PM
Hosted by Social Media Week Lagos
Executive Boardroom
Independent Event
Other / Business
SMW Lagos Executive Badge required
Feb 23 Tuesday
Destination Lagos: A Digital Journey
10:30 AM – 11:30 AM
Hosted by SMW Lagos
Experience Stage
Official Event
Panel / Business
Feb 23 Tuesday
Lufthansa Arrivals Lounge at #TravelAfricaDay
10:30 AM – 5:00 PM
Hosted by SMW Lagos
Experience Stage
Official Event
Networking Mixer / Culture
Feb 23 Tuesday
Online Livestreams: Best Practices From Naij.com
10:45 AM – 12:00 PM
Hosted by Naij.com
Masterclass Suite
Independent Event
Panel / Media
Feb 23 Tuesday
Harnessing Your Consumer's Digital Insights With Analytics
10:45 AM – 12:00 PM
Hosted by RainyLemon Limited
Hangout Suite
Independent Event
Panel / Business
Feb 23 Tuesday
Spinlet Live! Being a Social Media Star & Succeeding in the Music Industry
11:00 AM – 2:30 PM
Hosted by Spinlet
Spinlet HQ
Independent Event
Panel / Media
Feb 23 Tuesday
PenCom 1-to-1
11:00 AM – 12:00 PM
Hosted by PenCom
Executive Boardroom
Official Event
Workshop / Business
Feb 23 Tuesday
Driving Tourism… The African Story
12:00 PM – 1:00 PM
Hosted by Lagos LaidBac
Experience Stage
Official Event
Panel / Culture
Feb 23 Tuesday
Access Nigeria: Connecting Citizens to Government Using Technology
12:00 PM – 1:00 PM
Hosted by BudgIT Nigeria
Innovation Stage
Independent Event
Keynote / Politics
Feb 23 Tuesday
Harnessing The Combination Of Digital For Print
12:30 PM – 1:45 PM
Hosted by Tush Magazine
Hangout Suite
Independent Event
Talk / Media
Feb 23 Tuesday
Going Digital! How Nigerian Businesses Are Embracing Digital Transformation
12:30 PM – 1:45 PM
Hosted by Accenture
Masterclass Suite
Official Event
Class / Business
SOLD OUT
Feb 23 Tuesday
#PowerUp Lunch Hour
1:00 PM – 2:00 PM
Hosted by Casper & Gambini
Executive Lounge
Official Event
Networking Mixer / Networking & Parties
SMW Lagos Executive Badge required
Feb 23 Tuesday
Harnessing Digital Innovation for Social Good: The NESCAFÉ Get Started Prize
1:30 PM – 2:30 PM
Hosted by Nescafé (Nestlé)
Innovation Stage
Official Event
Panel / Business
Feb 23 Tuesday
Digital 101: Improve Your Content Marketing Game
2:15 PM – 3:30 PM
Hosted by Digify Bytes
Hangout Suite
Official Event
Workshop / Marketing
SOLD OUT
Feb 23 Tuesday
Industry Opportunities for Tech-Savvy Students & Graduates
2:15 PM – 3:30 PM
Hosted by Paradigm Initiative Nigeria
Masterclass Suite
Independent Event
Panel / Tech
Feb 23 Tuesday
The Africa You Don't See: Sharing Our Journey Through Photos
3:00 PM – 4:00 PM
Hosted by SMW Lagos
Experience Stage
Official Event
Panel / Culture
Feb 23 Tuesday
#InstaWalk Walking Photo Tour Powered By Instagram
3:00 PM – 6:00 PM
Hosted by SMW Lagos
Experience Stage
Official Event
Workshop / Culture
Feb 23 Tuesday
Digital Marketing, Branding, Communications for Semantic Web aka Web 3.0
4:00 PM – 5:15 PM
Hosted by Cymantiks Limited
Masterclass Suite
Official Event
Workshop / Business
SOLD OUT
Feb 23 Tuesday
Where Social Media Meets Power
4:30 PM – 5:30 PM
Hosted by BudgIT and SaharaReporters
Innovation Stage
Official Event
Panel / Politics
Feb 23 Tuesday
CREATIVE CONVOS: The Business of Design
5:45 PM – 7:00 PM
Hosted by Printivo.com
Masterclass Suite
Independent Event
Talk / Business
Feb 23 Tuesday
Communicating Creativity: Running Big Campaigns With Small Budgets
6:00 PM – 7:00 PM
Hosted by Whitespace Creative Agency
Innovation Stage
Independent Event
Panel / Marketing
Feb 23 Tuesday
#CirocLife VIP Social Lounge Powered by @CirocLifeNGR
7:00 PM – 9:00 PM
Hosted by Ciroc Premium Vodka
#CIROClife Lounge
Official Event
Party / Networking & Parties
SMW Lagos Executive Badge required