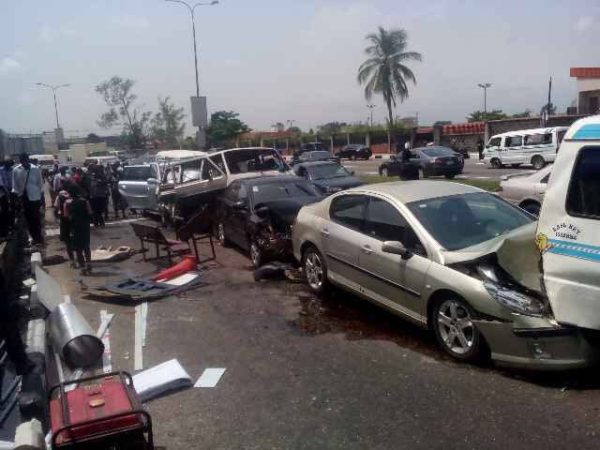 Reports from twitter show that there has been an auto crash along Ozumba Mbadiwe Way, Victoria Island Lagos, causing heavy traffic.
From the tweets, it is clear that the crashes occurred sometime around 2 PM, near 1004 Housing Estate on Wednesday afternoon.
LAGOS ISLAND: Report of multiple accident on Ozumba Mbadiwe Road, in front of 1004 housing Estate.Police alerted.1403hrs

— Zoey (@msidusogie) March 23, 2016
#ACCIDENT:: 1542HRS – Traffic builds-up following terrible multiple vehicle collisions on Ozumba Mbadiwe road, VI, [email protected]@TrafficChiefNG

— Risk Control Nigeria (@RiskControlNG) March 23, 2016
#PHOTO [3:38PM]"@Woulk3r: Avoid OZUMBA Mbadiwe. Terrible multiple collision. Traffic everywhere. @Gidi_Traffic pic.twitter.com/vctBUjlTKv

— GIDITRAFFIC (@Gidi_Traffic) March 23, 2016
It is not clear the number of casualities involved, but a twitter user tweeted the accident involved 7 cars.
Accident on Ozumba Mbadiwe 7 cars involved. Emergency ambulances are needed pls RT

— A$AP KACHI (@TheMerevingian) March 23, 2016
See other tweets and pictures
Multiple accident along Ozumba Mbadiwe by 1004 pic.twitter.com/ndoNITNPaK

— Temefaa (@Temefaa) March 23, 2016
PHOTO: Ozumba Mbadiwe by 1004. Avoid that route if you can pic.twitter.com/ExiuYY7eef VIA @UnwanaEsang

— TRAFFICBUTTER APP (@trafficbutter) March 23, 2016