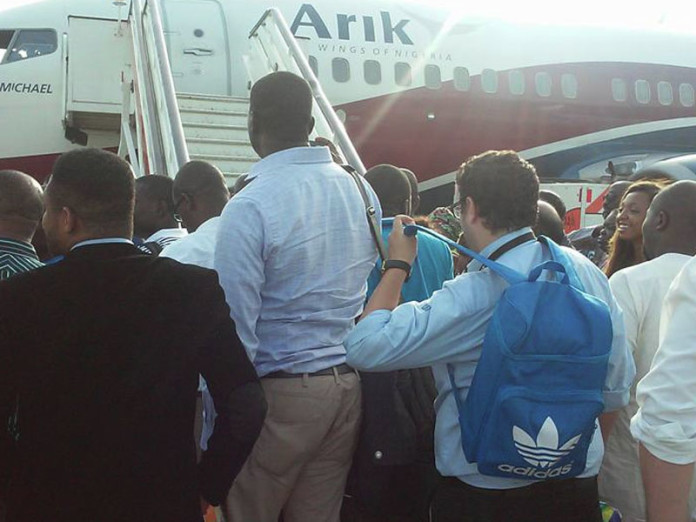 The Nigerian Union of Air Transport Employees (NUATE) on Wednesday disrupted Arik Air's flight operations at the General Aviation Terminal (GAT), Murtala Muhammed International Airport, Lagos.
The Union was protesting an alleged indebtedness of N12.4 billion by the airline to the Federal Airports Authority of Nigeria (FAAN). They were seen with placards which read, "Arik!!! Pay your debts. N12.4 billion is too much.", "FAAN can no longer pay salaries, pensions, staff claims due to debts."
The protest led to the grounding of all Arik Air's flight on Wednesday.
Arik Air has apologized to its customers in a statement signed by the airline's spokesperson Adebanji Ola saying it is still in talks with the management of FAAN. It read:
Workers of the airline were prevented from gaining access to their duty posts, thereby disrupting the day's operations. The action by the workers' union is connected with the long-standing and unsubstantiated claim by FAAN alleging spurious indebtedness of the airline to the agency, which is now a matter before a Federal High Court in Lagos at the instance of FAAN.

For several months, the managements of Arik Air and FAAN have been meeting to reconcile the accounts between the two institutions. The reconciliation process is still ongoing until the latest actions by the union.

The current situation is deeply out of control of Arik Air and the management of the airline has been compelled to suspend all domestic operations for today. This will remain in force until such a time that the unfortunate situation is resolved.

Arik Air sincerely apologises for the inconveniences the FAAN workers' union's action may have caused its esteemed passengers. We live to serve the needs of the people of the great nation, Nigeria.

We look forward to working collaboratively with FAAN and other aviation agencies to resolve the impasse and return to our core purpose of providing essential world class services to the people of Nigeria.