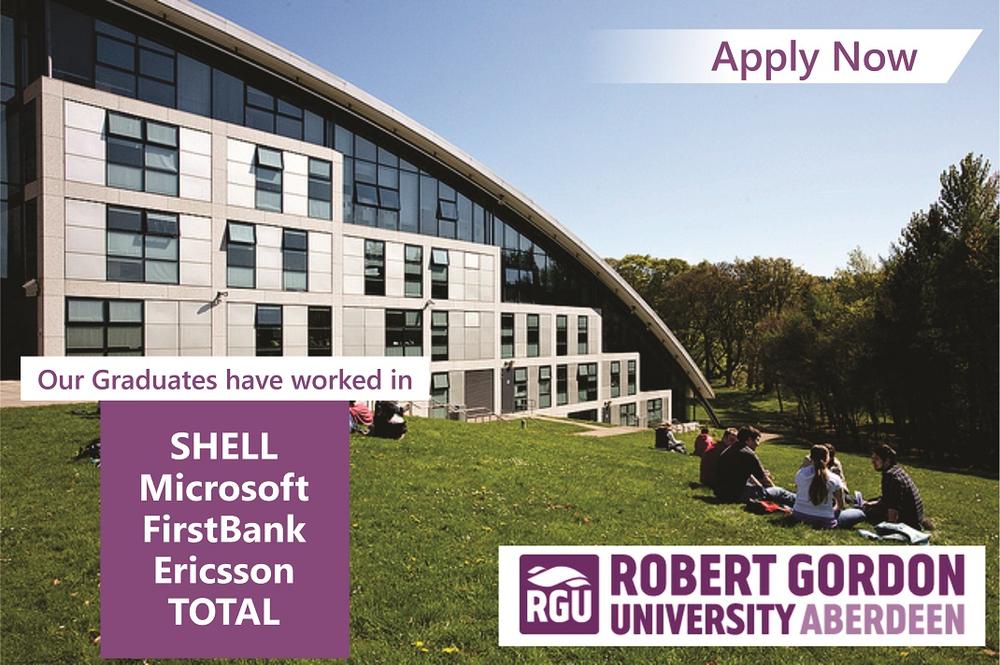 Robert Gordon University RGU, Scotland is located in Europe's Energy capital with part time and full time job opportunities for international students, state of the art campus facilities, and a great social life.
RGU is one of the top destinations for Nigerian students in the UK and offers foundation, undergraduate, university transfer and postgraduate programmes in Business, Law, Accounting & Finance, Engineering, Computing, Health, Nursing and Pharmacy.
Some of our Nigerian alumni have gone on to work at such companies as Shell Petroleum Development Company, Microsoft, First Bank Nigeria, Ericsson and TOTAL.
By attending the open day event, you will get free admission processing, free visa counselling and expert advice on the available study options. You also get to start by September 2016.
Register HERE to attend OR visit RGU Website for more details.
The event takes place at the following locations:
PORT HARCOURT
MOD EDUCATION
85, Olu Obasanjo Road (LASO HOUSE) GRA, Port Harcourt
Date: Saturday, April 23rd 2016
Time: 12pm-5pm
UYO
MOD EDUCATION
123 Olu Obasanjo Road, former Abak Road, Uyo
Date: Monday, April 25th 2016
Time: 12pm-5pm
LAGOS
MOD EDUCATION
7 Allen Avenue, Ikeja, Lagos
Date: Tuesday, 26th April 26th 2016. 
Time: 12pm-5pm
MOD EDUCATION
7 Hughes Avenue Yaba, Lagos
Date:  Saturday 30th April 2016.
Time: 11am-3pm
WARRI
JUBILEE CONFERENCE CENTRE
5 Enerhen Road, Effurun, Warri
DATE: Wednesday, April 27th 2016
Time: 12pm-5pm 
ABUJA
MOD EDUCATION
43 Nouakchott Street, Off Lome Crescent, Wuse Zone I, Abuja
Date: Thursday, April 28th 2016
Time: 12pm-5pm
CALABAR
MOD EDUCATION
133, IBB Way, Calabar
DATE: Friday, April 29th 2016
Time: 12pm-5pm
————————————————————————————————————————–
Sponsored Content