Hi BellaNaijarians, this is Flo of All Nigerian Recipes.
I love Ogbono Soup and I enjoy cooking it but grinding the ogbono seeds? Not so much. This is because I use a coffee grinder to grind my ogbono. In Nigeria, we have manual grinders in every Nigerian market and these machines grind ogbono very well, even when the seeds are not so dry. Outside Nigeria and for those in Nigeria who do not want to use the manual grinders, we use coffee grinders or spice grinders.
These substitutes don't do such a good job of grinding ogbono seeds because let's face it, the manufacturers did not have ogbono in mind when making these coffee and spice grinders hence their inability to grind ogbono very well. It's even more frustrating during the rainy season (in Nigeria) and winter (in temperate regions) when ogbono seeds are not bone dry.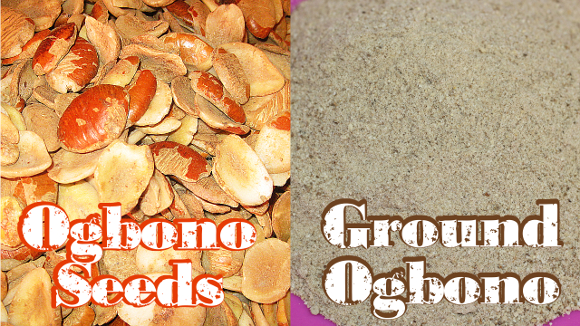 These are the steps I take to ensure that I get a fine powder of Ogbono with the kitchen appliance that is available to me:
I start by cleaning the ogbono seeds with a brush. The seeds get dusty from the particles that are released when they knock against each other in the storage container.
Toss and blow off the dust and small particles.
Grind in small batches following the instructions for your coffee/spice grinder.
When done, you will notice that there are some well ground ogbono bits and some not so well ground. Some even look like they have not been put through the grinder!
Pour into a plate and grind more batches of ogbono seeds.
Sift through using a sieve with a wire mesh.
Wrap the coarsely ground ones in aluminium foil or put in a container and set aside for next time you want to grind ogbono. It's becomes easier with this first step out of the way.
Grind the sifted one a second time to get the finest particles.
With all the grinding, sifting and regrinding, this cooking task is high up there in my list of cooking peeves.
These steps are better watched than read about so see the video below for more insight.
Watch the Video
Comment below and let me know the cooking task you don't look forward to. What's your cooking peeve?
Photo Credits: All Nigerian Recipes.