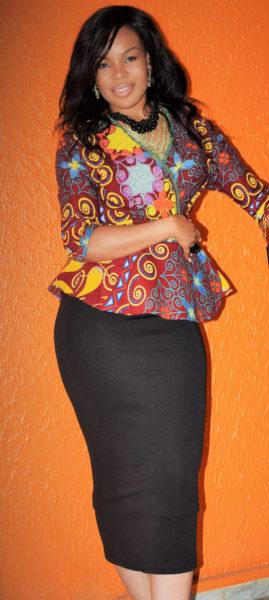 As I watched the newly appointed British Prime Minister, Theresa May, mount the podium to give her very first speech as Britain's new PM, I sat up proudly beholding the second woman Prime Minister in British history take her position in her seat of power. A sense of accomplishment filled me, though I was neither European nor British by citizenship.
I saw a woman, in her chic attire, poised with confidence and competence, ready for the challenge of upholding and accepting the highest office in Britain. I shared in that moment, that accomplishment, merely because I am a woman.
With the likes of Chancellor of Germany, Angela Merkel, the recent appointment of the British Prime Minister, the US presidential hopeful Hillary Rodham Clinton making history as the first woman nominee of a major party, and women heads of State of African nations such as the likes of Liberia and Malawi. What is the status of woman in leadership within Nigerian government?
Nigeria, which has grown as a heavyweight economic powerhouse, is home to literary giants, thought leaders and initiative contributors to society. It is also home to the richest Black man (Dangote) and richest Black woman (Alakija) in the world (According to Forbes).
Nigeria continues to demonstrate, through many industries, why it is the giant of Africa. With a country this vital and influential to the world, and given the recent developments of women in world politics, one begins to wonder what is Nigeria's position when it comes to women in leadership shaping the country and contributing to vital policies? As of 2014, women made up 49.09% of Nigeria's population; but is this number reflected in the representation of this critical demographic in Nigerian political leadership?
While gender inclusion is everyone's business, and as we encourage diversity in the private sector workplace, there is, a most severe need for women to uphold top level positions in government as it boils down to pure logic. The public sector, unlike the private, is essentially made up of mechanisms designed to govern the entire nation and should have deliberate representatives that represent the total body.
And though there are minority groups (such as ethnic groups) that may not be found on the roundtable, the female gender is too large a demographic to go overlooked in top-level decision-making processes.
How Nigeria ranks among other nations
So, where does Nigeria rank with participation rate of women in high-level national political positions?
In the world classifications of participation of women in national parliament (both House of Representatives and the Senate), Nigeria ranks 176 out of 193.
Let's compare it to some other African nations. In Rwanda, for example, 63.8% of its House of Representatives, are women; in Senegal it's 42.7%, in South Africa it's 42.4%, in Namibia it's 41.3% and in Ethiopia it's 38.8%. In Nigeria it's 5.6%.
In countries like Zimbabwe, within its Senate, women make up 47.5%, and even in Sudan (which has experienced volatile conflict in its recent past decades) women make up 35.2% of its Senate. Nigeria has 6.5% of women filling the seats of its Senate.
In other places of the world in countries like Iraq and Israel, which have imposed great restrictions to the participation of its women in general public life due to a number of factors, has relatively high number of women participants in their parliament, at 26.5% and 26.7%, respectfully. Again, Nigeria is 5.6%
Presidential/ Heads of State
Nigerian women need to hold more high-level political offices to allow Nigeria to continue exercising her fullest potential in groundbreaking feats that the nation has been known for. As of 2016, Nigeria cannot currently rank with some (7) other African nations when it comes to having had female presidents or prime ministers. Liberia, Central African Republic, Gabon, Mauritius, South Africa, Malawi, Burundi have actualised this with President Ellen Sirleaf Johnson, Catherine Samba-Panza, Rose Francine Rogombé, Agnès Monique Ohsan Bellepeau, Ivy Matsepe-Casaburri, Joyce Hilda Banda, Sylvie Kinigi, respectively.
The first administration to ever truly give Nigerian women a fair chance was that of ex-President Olusegun Obasanjo. When President Goodluck Jonathan came, his administration intensified what Obasanjo did with women holding about 35 per cent representation in elective positions.
About 8 months ago, President Buhari announced his cabinet members after a five month wait, naming 6 women in his cabinet out of the 36 ministers named. Just so we're clear, that is: 1/6th of the cabinet are women, just in case those numbers were not graphic enough.
The federal ministries currently led by women are the Ministry of State- Foreign Affairs; Ministry of Finance; Ministry of State, Trade, Industry & Investment; Ministry of Women Affairs; Ministry of State Budget and National Planning; Minister for Environment.
Real consequences for women in Nigeria with lack of representation
So, what does this mean for a nation full of bright and intelligent women and girls? Given the above statistics of low women representation in government and elected office, policies affecting women and girls stand to be less informed and ill-fitting to Nigeria's society of ambitious and promising women and girls.
There are very real consequences to women being absent in planning & policy and direct impacts from the level of female representation to the condition of life for women and girls throughout the entire nation.
Without an adequate number of women in policy making efforts, women suffer as with the case of the recent "Gender and Equality Opportunities" 2015 Bill that was rejected by the Senate earlier this year. (Which, by the way, only seven women serve in the 8th National Assembly out of the 103 current senators (four senators-elect from the PDP and three from the APC) Carry on…
The bill sought to provide landownership rights to widows as well as eliminate a number of discriminatory practices that are experienced mostly by women and girls based on their gender.
Women are needed in all areas of government most particularly in areas where they play the greatest role in and that directly affect them, such as in peace-building capacities where women and girls experience displacement and the effects of conflict differently than men and boys in terms of security, economic opportunities and more. Policies to address not only their needs but the needs of entire communities deserve the contribution from those that are vital and hands-on in the day-to-day functioning of flourishing communities- women.
Past & Present
Gone are the days when women did not receive education or hold positions in the workplace. The business sector is saturated with women CEOs and MDs, and many NGOs in the civil society sector are headed by women, however in the public sector, women have not been given the space to hold enough ground as they should in this year 2016.
In the past, in 1957 during the pre-independence era of Nigeria, a couple of women political activists such as, Mrs. Margaret Ekpo, Mrs. Janet Mokelu and Ms. Young were members of the Eastern House of Assembly. They set a precedent of what should have followed in terms of women playing vital roles in the governing of this great nation.
With the lack of existing women representation, many young girls may not see senator, representative or President as viable professions and may not aspire to become future leaders and representatives without first seeing an increase of the images, stories and experiences of the existing African women in these vital roles.
It is imperative we celebrate those that exist and motivate a class of young women ready to take up the challenge, sooner than later.