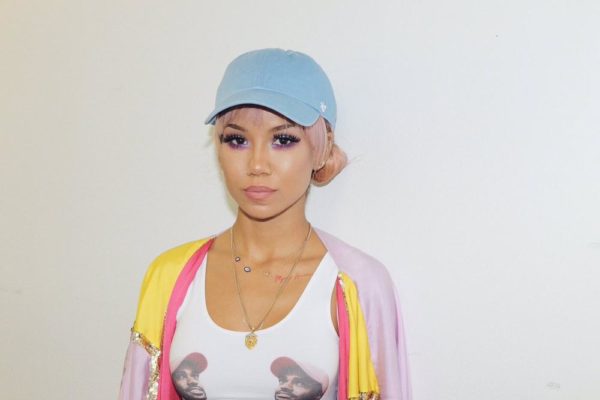 Jhene Aiko has just dropped a new song called "New Balance".
In the song, which a number of Twitter users are suggesting is about Big Sean, she talks about how she unexpectedly falls in love and how she's struggling with her feelings as well as other people's judgment.
The song, uploaded on her Soundcloud, is still a rough demo.
A Twitter user tweeted at Jhene Aiko about the song saying "@JheneAiko wrote @BigSean the most beautiful love song!" and she retweeted it with three heart emojis.

Listen to the song below.
See the lyrics below via Genius.com
[Verse 1]
Most of us are angry
Most of us are strangely
More alike than we'd like to believe
Most of us are empty
Most of us are simply
More alive in the scenes of our dreams

[Chorus]
Then there's you
You've got something I've been wanting, oooh
You're so new
Oooh
You're my salvage, you're my balance, oooh
You're so ne

[Verse 2]
Most of us are hurting
Most of us are searching
Someone to love
Someone to understand
Most the time I'm fighting
Multiple voices residing
In my head

[Chorus]
Then there's you
You bring silence to my violent truth
Yes you do
Oooh
You're my salvage, you're my balance, oooh
You're so new

[Verse 3]
It hit me like a tidal wave
Knew that I was in love with you right away, yeah
Turned all my days into brighter days
Even when people say what we do is not okay
According to what the people say, yeah
Who cares what other people say?
Man fuck what other people say
I'ma ride for you
Baby, if you gon' ride for me
Cause I know, yes I know
That what we have is oh so real
And oh I feel so confident in
All you say
When you say
You'll never leave
You'll never leave
Please never leave
Yeah, I believe you
Yeah I do

[Verse 4]
Most of all I am thankful
You are just what I prayed for
You are what I was made for
Yes, I'm for sure
Most of all
I just want to mean the most to you
Most of all, baby, I'm just tryna grow with you
I just wanna go with you
Cause you bring so much hope to the picture
Some of us do find the one
To fall in love
And off of the
F*king face of the Earth with
Some of us do deserve it
A love that's true and perfect
Some of us been through it all before
Some of us do still come back for more