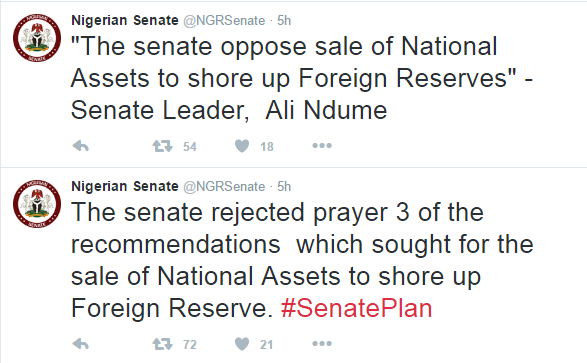 The Senate has rejected the sale of National assets as a solution to get the country's economy out of recession.
The rejection was made during plenary on Tuesday after the Senate's Ad-hoc committee on the state of the economy presented its report.
The senate rejected prayer 3 of the recommendations which sought for the sale of National Assets to shore up Foreign Reserve.
Deputy Senate President, Ike Ekweremadu, in an additional prayer called for the senate to urge the Federal Government to Renegotiate terms of cost of production & profit sharing for Joint Ventures.
Speaking after deliberations on the report, Senate President, Bukola Saraki said: "Democracy is in action we will monitor the recommendations, we will do oversight & pass necessary bills on our own part. We have done our own parts in setting the agenda & our commitment to work with the executive on the 20 points agenda."