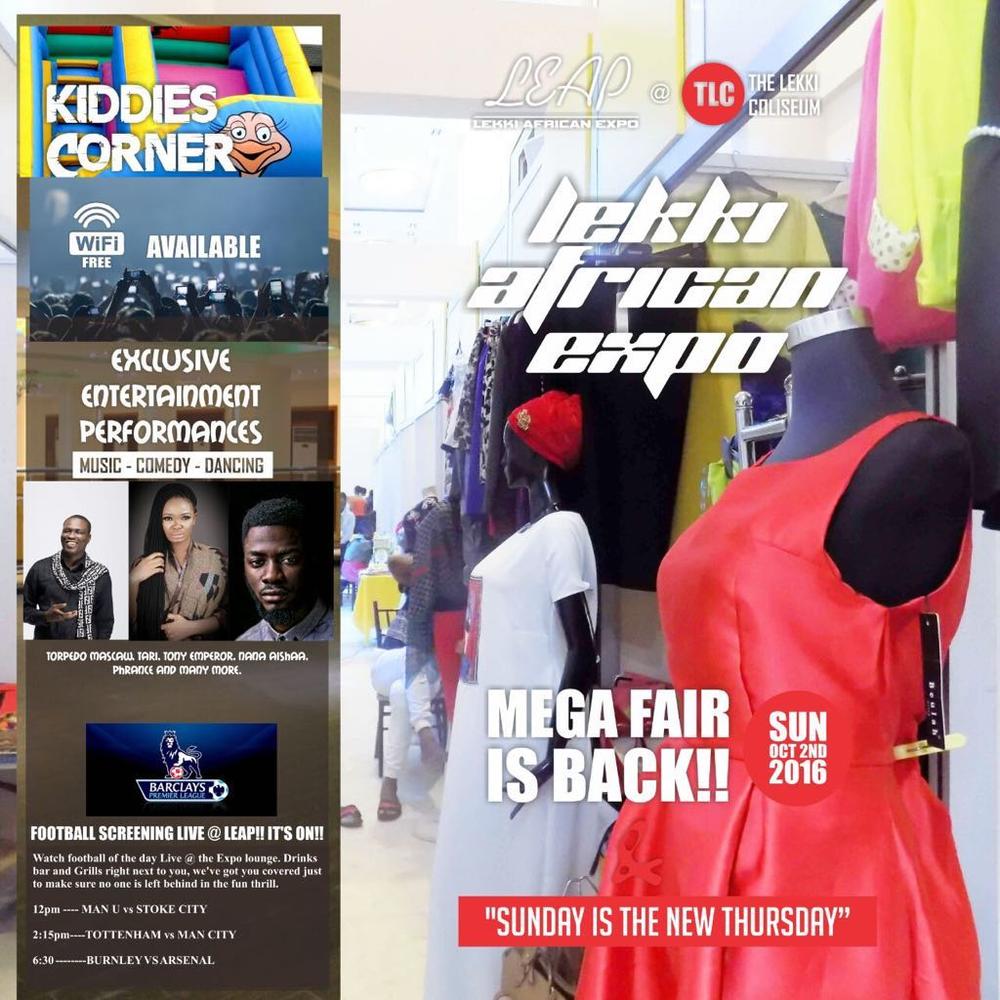 Large number of manufacturers from particular industry present their products and show their capabilities to distributors, wholesalers, retailers,and end-users. This fair will attract  participants and visitors from all over the country and provide widespread interactions and exposure.
Due to popular demand, Food, Fashion, Home Decor and Entertainment fairs' have been merged together to hold every first Sunday of the month.
LEAP is set up in a relaxed and entertaining atmosphere; with lots to eat, drink and enjoy with family and friends at the La Vida-Bella lounge set up within the auditorium. The purpose of moving the fair to Sunday is to include more activities, time Flexibility for both artists/performers and customers and reduced traffic.
Entertainment is fully covered, with hot celebrities in the building, music artists, live band, dance drama etc and also one of the hottest Djs on the wheels of steel… Lekki African Expo is the place to be.
Date: Sunday, October 2nd, 2016.
Venue: The Lekki Coliseum, Lagos.
Other factors to consider:
Vendors: Why choose LEAP?? The Lekki African Expo is an amazing shopping carnival filled different variety of products ranging from cultural arts and craft to foreign collections in clothing, shoes, bags, accessories, hair pieces and lots more. Leap also offers different varieties in food and drinks.
Free wifi:
Oh yes!!!! Free wifi to access all your social media platforms: Instagram, snapchat, Facebook, etc This is to make the shopping experience a memorable one.
Kiddies corner: We don't expect you to shop and worry about your kids at the same time. Let us keep them occupied with our state of art toys, bouncy castles, live cartoon characters, lots of food and goodies while you enjoy the LEAP experience.
Football Screening LIVE @ LEAP!! It's on!! Watch football of the day Live @ the Expo lounge. Drinks bar and Grills right next to you, we've got you covered just to make sure no one is left behind in the fun thrill. Man U vs Stock City ( 12pm), Tottenham vs Man City (2:15pm) & Burnley vs Arsenal ( 6: 30pm)
Discounted Stalls: Stalls are more affordable for vendors who make payment on time.
_______________________________________________________________
Sponsored Content