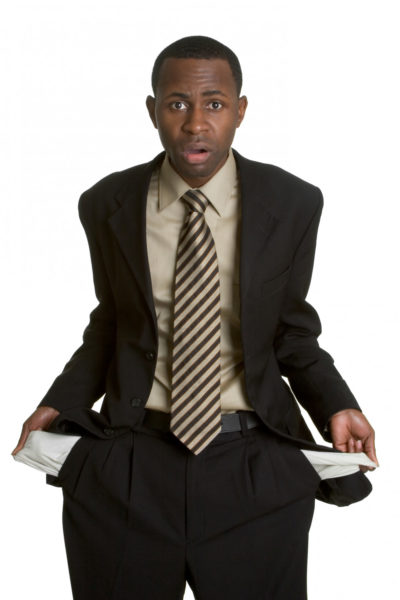 Hello Bellanaijarians, I have been away for a while but I am back now. How are you all coping with the recession? The high price of food items (most especially rice), the high Dollar-Naira exchange rate, the high school fees, the epileptic power supply and the hot sun? It is not easy being a Nigerian at this point in time.
Let's talk about money. We all want more money- we want the freedom, ease and comfortable lifestyle that comes from being in possession of good money.
One day, you walk out of the bank with a sad face. You had gone to lay a complaint at the customer service desk. The ATM had refused to dispense the last N500 note in your account to you. You are broke. If they turn you upside down and shake you, not even a pin will drop from your pocket.
As you walk along the road pavement, you hear Timaya's current street anthem playing on a record shop;
"When moni no dey
Pipul dey carry me play
When moni no dey
Everibody run away
When moni no dey
Nobody look at my face"
Jeez!
This is your current reality. You wish the huge stacks of minted Naira notes that you saw at the banking hall were yours, if only they would give you one bundle your life would change forever.
Kai!
You resolve that you must do something about your broke state. You must get money as soon as possible. You need money to become a big man/big girl like your contemporaries.
You ask around, making enquiries about the best way to make money without getting yourself at loggerheads with the law or shedding blood. You check here, you check there and you find yourself being directed to an interior forest to meet a native doctor.
The shrine is a mud house with a thatch roof. The native doctor welcomes you inside and tells you that he knows you want money.
You have come to the final place of solution.
"Take this liquid, pour it into your bathing water and bath with it everyday for three days. On the third day, after bathing, walk into any bank of your choice and take away money. Nobody will see you because this juju will make you invisible to the natural human eye!"
The price of the juju is N10,000. You run away to borrow the money to pay for it.
You just can't wait to test the efficacy of the juju.
Bath..bath…scrub….scrub..scrub…
Day three…Yippie!
You wear your polo atop your jean and step out for the biggest cash heist of your lifetime.
You walk through the bank's security door with no hindrance, nobody can see you!
Whaaaaaat? It is working! Ndi ara! Ghost mode! Dem no dey see me!
There is a long queue at the deposit/withdrawal counter.
"Next customer please" The cashiers call out as they bent over their workstation screens.
Whoom!
You jump onto the front counter and jump down on the other side.
Pam!
Your heart is beating rapidly, you are invincible and super human….it is such a great feeling.
You remove the Ghana must go bag that you brought along with you and start packing the stacks of naira notes from the counting machines and from the drawers into your bag. You move from one cubicle to the other, packing the money like crazy.
"Money is this you? I am going to chop liiiife!"
As you stuff your bag with the notes, you start humming and dancing…
"Yeh give me the money eh
Biko nyemu ego
Orimi jekin jekin l'owo oh
Life is all about the money eh"
Nobody can see you, nobody can hear you but you can see everybody. You dance happily and saunter to the bulk room…
Dollars! Dollars!
One dollar is 470 Naira at the black market!
You have hammered!
You fill your second Ghana must go bag with the dollars…
The bank is in uproar, the tellers and cashiers can't understand what the hell is happening to the money. They are searching for the disappearing monies.
The bank manager and all officers are running helter skelter, things are at sixes and sevens.
Security men are all over the place, the customers are chattering excitedly as they scream and demand for their money back.
"There he is! A satanic spirit is making money disappear in this bank!"
Someone shouts and points at your direction. You give him a frightened gaze and hastily walk away. He is a pastor wearing a French suit with a big Bible in his left hand. Everybody follows the direction of the pastor's finger and stares at your direction but they cannot see you.
You run out with your loaded bags.
But there is a huge problem:
How to turn back to human visible form. You forgot to ask the native doctor how to regain visibility.
No problem. You would find out from him.
Your cash is in your room for safe keeping. Thank God, the notes are also invisible like you!
Shrine!
"Hello, hello, anybody here? Hello?"
Whaaaaat!
Horror!
The native doctor is lying on the floor, his skull has been smashed in by a big rod. Blood is seeping out of his wounds. The shrine has been desecrated and ransacked.
He is stone dead.
Whaaaat!
"Somebody hellllllp!"
But nobody can see nor hear you.
You run back home. You pull out a bundle of the precious cash and run to the supermarket.
"Give me one cold bottle of malt"
The sales boy cannot see you. You and your money are invisible.
"Oh my God!
How can I spend and enjoy this money when nobody can see me to collect the money from me in exchange for goods and services?"
You pick up your phone and call your contacts, family friends and loved ones. They pick the call but they can't hear what you are saying.
You are almost mad with grief.
You are alone in your alternate world.
You pull out the bags and start throwing the wads of notes into the streets.
"Everybody come and take this money! It is useless to me! Feel free to take and spend as you like. Come and take!"
But nobody notices or sees anything, they are going about their normal business…
Whattttttt!
You run around screaming with tears running down your invisible face. A pang of regret floods your money loving mind as the sad reality dawns on you that you are condemned to live as an invisible being in a physical world.
You now realise the truth in the saying that 'life is not all about money'.
Photo Credit: Jason Stitt | Dreamstime.com