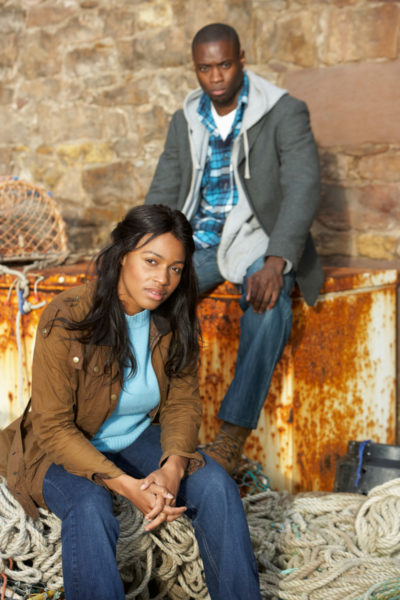 A friend of mine shared a sad story of how her neighbour damaged his girlfriend while beating her. She said that this couple were always fighting. The guy was always beating her, but that night, he had beaten to a pulp and damaged her eye.
The family got the police involved and the guy was apprehended. But I keep asking myself why did she stay that long till she was damaged? Often we see our friends and family who are victims of physical and emotional abuse in a relationship and would be asking this same question. Why does she stay after being hit?
Here are four reasons they stay after being hit.
They believe that abuse is normal
Many victims of abusive relationships have this obnoxious believe that abuse is normal in a relationship. Some of these victims never grew up in loving homes. This is one reason parents are advised against allowing their kids witness them having a fight. The psychological effect of these fights might really go a long way in instilling in the children that violence in a relationship is natural.
Researches have shown that many people who were raised in abusive homes are either abused in relationships or are the abusers. They go with this mentality that beating makes them feel loved. I once overheard a girl telling someone that if her boyfriend or husband does not beat her it only means that he doesn't love her. Surprising as it is that girl will love it when she is being beaten and will probably do things that will elicit beating from her partner. Without knowing that she can be severely damaged and this person might not even be found to pay for the damage.
They have low self-esteem  
These people have poor judgement about themselves and think they do not deserve more than they get from their partners. A friend of mine, who was in an abusive relationship, told me that her partner always talked down at her. He never saw good in anything she did, and made her feel inferior. She said that this made her look down on herself and think that the man was actually doing her a favour by being with her. It made her think that no man would want to be with a good-for-nothing like her. That was one of the reasons she kept going back after being hit.
Her case was weird because she was the one feeding and clothing the partner. This is one technique that these abusers use to rob their victims of their self-esteem.
They have put in so much
This friend of mine said that what made her leaving difficult was that she has put in so much into this relationship. Her body, mind, love and strength had all gone into the relationship and leaving it all means she would lose a great deal. She said that nobody can be as hopeful as a victim of an abusive relationship.
Victims of abuse look for the faintest hope to hold on to; and the hope rarely or never pays off. Until she left, she never knew the damage she was doing to herself by being with such a person that saps every energy in her. One disadvantage of being in this kind of relationship is that it makes one emotionally, socially, psychologically and financially bankrupt. Because it takes someone who is emotionally stable to put in his/her best in her place of work. Most victims of emotional abuse do not socialize well with people because they have been robbed of their self-esteem and can rarely think productively.
They believe that love connotes suffering
They hold on to the "nothing good comes easy" saying. Victims of emotional abuse see love as a good thing that is worth suffering for. They think that one day this person will probably change and that's why they keep enduring and waiting in pain to see these persons change. Maybe the abuser pleaded to change and that word gave her the tinniest bit of hope to still love and be in that relationship. This friend of mine said he would come back begging, telling her that he would change and as a result of that promise, kept staying whenever she decided to leave.
She said it all started with raising of voice which later graduated into series of slaps and matured into beating and whips from belt. At first she thought it was the stress coming from him losing his job, she kept on making up excuses for the abuse she was going through until it dawned on her that she only had one life without a spare. She realized that this was her life, it is not some kind of rehearsal, the game was on and the ball was in her court. So she stopped making those flimsy excuses and summoned courage to leave that relationship.
If she could summon the courage to leave that relationship, you can do it as well. That your friend, relative, or colleague can equally summon the courage to do the same if you can get them to read this kind of articles. Don't judge them because judging them won't help.
Photo Credit: Monkey Business Images Ltd | Dreamstime.com