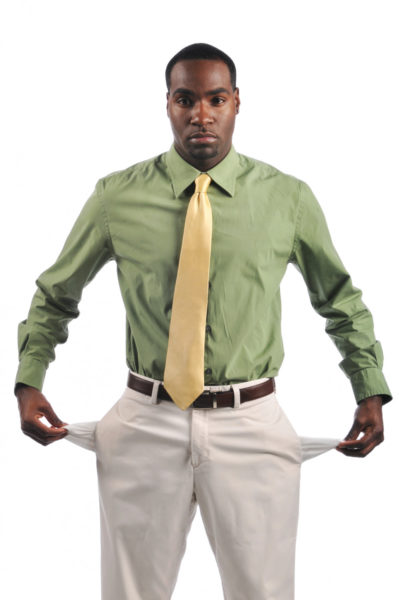 A Facebook update from one of my friends got my attention earlier this week. The poster talked about a guy who I will call Kene.
Kene is in a relationship, but was seriously considering marriage to his girlfriend of about 4 years now. Kene is 33 years old and his girlfriend (abi na fiancé) is 25. (Okay I made that up)
The only problem was that Kene earns 35k a month. My friend's post was to find out if any of his single female friends would agree to marry a guy that earns 35k a month.
Now, I didn't really want to get involved because according to the poster, the question was for single ladies.
Unfortunately, the Amebo in me raised its head when I noticed that the post had already garnered more than 400 comments. Omoh, no be only me like amebo o.
Trust me naa, I no gree dull for that kain thing. I just jejely go collect some kwilikwili and zobo from mallam at the gate, balance well well for bed, and began to read the comments.
Some comments made me laff sotey I almost choked. One girl, Jenifa, was like, "In this economy? I jump and pass. So if em buy bag of rice 22k, and buy painter of garri 1k, how much go remain? No be me and him, God forbid o"
Another one replied with a question, "Abegi, na spirit go marry the rich men ni? I no come this world come suffa o".
Of course, some of the 'mature' men and women among the 'commenters' tried to be 'reasonable'. They talked about how, "nobody knows tomorrow o", "the only permanent thing in this life is change…", "It is better to support a man that is still trying to find his feet so that when he 'makes it' with you, he will respect you", etc.
Trust me, I just balance for bed dey sip my zobo like say na champagne, dey read the comments. Wetin concern me?
Of course the story is inconclusive. And in my opinion, my friend probably made up that story. But again, wetin concern me? All I wanted was a good story to relax with that evening and I got it.
However, I couldn't help musing over the topic later on that day. And what beat my imagination so much was the type of comments some of the 'mature' posters made on that thread.
Now don't get me wrong. I sincerely believe that everything is possible. I believe that God is a miracle working God, and it won't take him more than a night to change anybody's story just like he did for Joseph in the bible. I also think in all sincerity that every lady should support her man and his dreams irrespective of how small things look now, because dreams do come true.
NB: A dream in this context doesn't refer to dreams of eating Eba and Egusi soup while sleeping at night probably because you slept hungry. I mean dreams of a future, a bright future.
But I couldn't help but notice that the young men being portrayed in some of those comments seemed to be lazy people. You know, the type that are always singing "I can see everything turning around…", or whistling "nobody wey no fit to make amoooo o", and dancing Psquare's "Cos my bank alert na gbagam", while waiting for God to come and do a miracle and turn them to Eribe agwu-agwu overnight without doing anything, forgetting that success is a result of focused and intelligent hard work too.
These are guys who are comfortable (emphasis on comfortable) going to work every morning, and returning by 4pm in a place where they spend most of their days listening to the radio, chatting on Facebook and talking about Messi.
It pains me because these young men still go to markets where a bottle of red oil is now sold for #800 and a painter of rice is sold for #2,400, yet they are not perturbed.
A few years ago I quit a job in a bank even though I had no other job waiting for me. I quit because I felt undervalued. I felt it was demeaning to say that my mental output and youthful energy and every other skill I had, was worth 40k a month. I was convinced it was worth more than that, and even if I was selling puff puff and Kwunu, I could make up to that amount every month.
Was it an easy decision? Actually it was. I had a dream, and that dream was strong enough to push me towards making something better out of my life.
A passage of the Bible I love so much (Eph 3:20) says that God is able to do exceedingly abundantly above what we can ask or think. Then it added that it is according to the power at work in us.
Friends we all have unlimited power within us. We all have brains with unlimited potentials. Stop allowing someone else to determine what you are worth. Don't allow yourself to be subjected to a mass assessment.
If your monthly pay does not take you home at the end of the month, quit whining about it every evening with your friends. Instead, go back to the drawing board and draw up a plan of how you can create work for yourself and improve your life. And start working on it immediately.
Is this a way to say that everyone earning less than 100k should quit their jobs and become entrepreneurs? Absolutely not! And even if you must, you must take some crucial steps before you quit your job.
This however, is my way of saying you should not rest your oars. Stop being complacent! Yes, you. Stop complaining about the hand that life has dealt you and turn things around. Why? Because you can!
I mean, I know you are a masters degree holder, but nothing stops you from supplying ice block to traders in the market, or frying and selling akara very early in the morning before you go to work.
Nothing stops you from using your very active social media pages for business.
Nothing stops you from driving an intra city bus shuttle when you get back at night.
Nothing stops you from being a real estate agent, doing a make-up job, cutting your friends' hair, or being a caterer during weekends.
Yes there is recession. But who says you must go on a recess? Get back to your dream. It doesn't matter how tough things seem now. If you are really determined to make that dream come true, you will definitely find a way…
Up Nepaaaaaaaaaaa! Abeg make I go charge my phone, I dey come
Photo Credit: Dreamstime