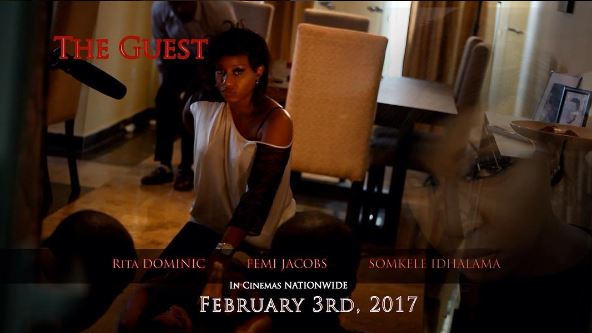 There's a clickbait headline you may have come across. "Rita Dominic loses her mind in the trailer for The Guest." Well, that is only one-third the loss that should attend The Guest. Ms Dominic should lose her mind all over again if she sees the final product. And the audience will lose respect for Ms Dominic's acting. [Watch the trailer here]
In her role as Nikki, Dominic is guest to Lola and Billie (a couple played by Somkele Iyamah-Idahlama and Femi Jacobs.) At some point in the past, all three were students of the same school, where Billie had a thing for Dominic. The man had no money so she passed him on to her friend Lola. Now Billie has money but hasn't had sex with his wife in a while. Money, it seems, can buy many things but maybe not married sex. His wife is busy with a new business, planning big moves and trips outside of Lagos, but has time to help her old friend settle in.
That old friend has just gotten deported back to the motherland. We hardly see her luggage but she certainly has returned with a huge cache of entitlement. The guest room she is given is not to her taste, she says, but still she locks herself within until the room needs to be broken into. But this room is not what she is after. She has bigger plans. The house is supposed to be hers. If she had accepted the man's advances all those years ago, she thinks, she would own the whole building. But rather than get a time machine, she decides on seduction.
The set-up: A sex-starved husband and a dissatisfied single woman walk into a cozy apartment. You know where this is going. And when seduction works and then fails to work, a woman scorned will emerge. As everyone knows, a woman scorned plays one hell of a tune.
Frankly, the only way the script of The Guest, as directed by Christian Olayinka, would be anything besides bad, bad, bad is if the screenwriter had all limbs tied together and then was forced to write the entire thing with a pen between his front teeth. This is unoriginal screenwriting at its basest. The prototypical film in this woman-scorned-turned-psycho genre is 1987's Fatal Attraction with Michael Douglas, Anne Archer and Glenn Close. (Locally, Nikki's ancestor is Ngozi Nwosu's fetish and scheming Ijeoma in Evil Passion from 1990s' Nollywood.)
The success of Fatal Attraction (alongside major box office earnings, it received several Oscar nominations) sparked an imitation spree that has lasted decades with Idris Elba, Beyonce, and Ali Larter doing a poor copy in 2009's Obsessed. This one is worse. The script is so bad, cliches are uttered like manifestos; in place of directing is a void; and the fight scene is abject.
The makers of The Guest surely have seen Obsessed if not Fatal Attraction, and perhaps thought that over a half-dozen years later, the Nigerian audience is ready for an update. To that end, Ms Dominic as Ali Larter gets to "act crazy" on the matrimonial bed; as Ms Close, she doesn't boil a bunny, she stabs a few people. None of this is convincing. Indeed, it is a head scratcher why she has chosen to be in this film. A large part of the audience will have seen Dominic give her career best performance in Izu Ojukwu's excellent '76. From that high, she gets to this lowest of lows.
For their parts, Jacobs and Iyamah-Idhama can neither save themselves nor this film. Iyamah-Idahlama is bland and one-note throughout. Jacobs, whose confused puppy look was put to good use in Daniel Oriahi's Taxi Driver, brings back the look to risible results here. All three actors are supposed to have a future in New Nollywood. Maybe. But not on this evidence.