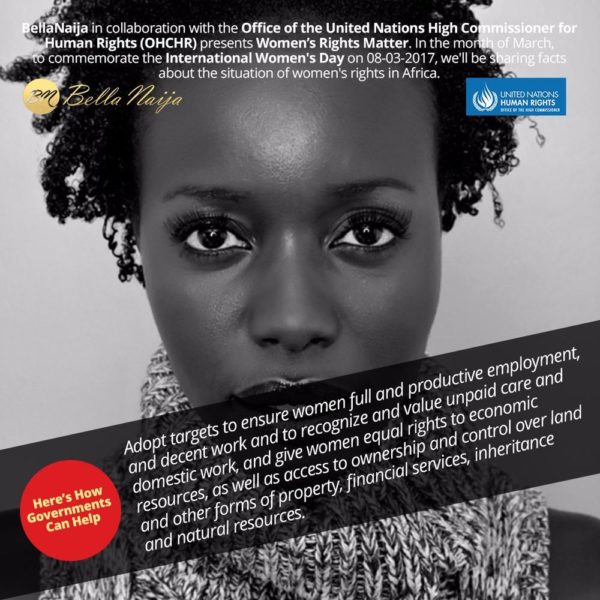 Through the month of March, BellaNaija is committed to giving special focus to women's rights in Africa. We have partnered with the United Nations, Office of the High Commissioner of Human Rights (OHCHR) to bring awareness to the issues affecting women in Africa.
According to the report prepared by the OHCHR, the issues affecting women on the continent are (but not limited to)"
Gender based violence
Lack of access to economic empowerment tools/resources
Lack of access to sexual and reproductive health resources
Discriminatory laws against women
Child marriages
Female genital mutilation
Discrimination against women living with Albinism (or with children with albinism)
Forced sterilisation of women living with HIV
A closer look at some of these issues will reveal that harmful cultural practices, and an absence of legislation plays a huge part in the continuous harm being done to women in Africa. In countries where the laws exist, there is still limited levels of implementation.
Women in general have always been culturally marginalised as the nurturers, the care givers, the one who stays at home. However, women do so much more. From the days of old, women have always had commercial ventures on the side, in a bid to support their homes. They may not have been as visible as they currently are, but African women have always proven to be resourceful. However, women still face difficulties like inadequate access to real estate, finance, and other resources that will allow them thrive.
African women have taken great strides to take a more front and central position on the bridging the gender equality gap. More women are being vocal about domestic violence. There is an increase in awareness given to the secrecy that shrouds the abuse of the girl child. More efforts are being made to bring succour to victims of rape, and other forms of gender-based violence. However, there is still a lot of room for improvement.
We hope that the government will take more pro-active steps towards helping women.
Below, we'll share some excerpts from the UN Report on the different ways that African governments can help bring change for the advancement of women's rights.
Strengthen support for institutions in relation to gender equality and the empowerment of women including the systematic integration of a gender perspective in all Ministries as well as National Human Rights Institutions.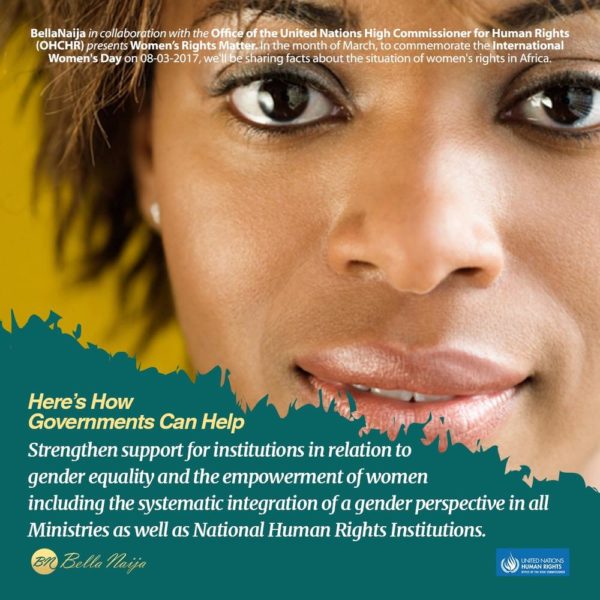 Adopt and enforce targets to end all forms of discrimination and violence against all women and girls, including domestic and sexual violence as well as harmful practices such as child and forced marriage and FGM.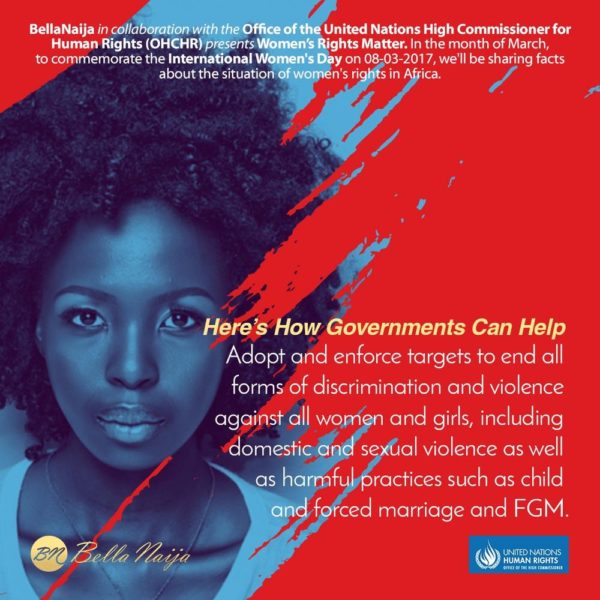 Repeal any law which discriminates against women and hinders gender equality in all spheres of life : in the family, in economic and social life, in public and political life and in the area of health.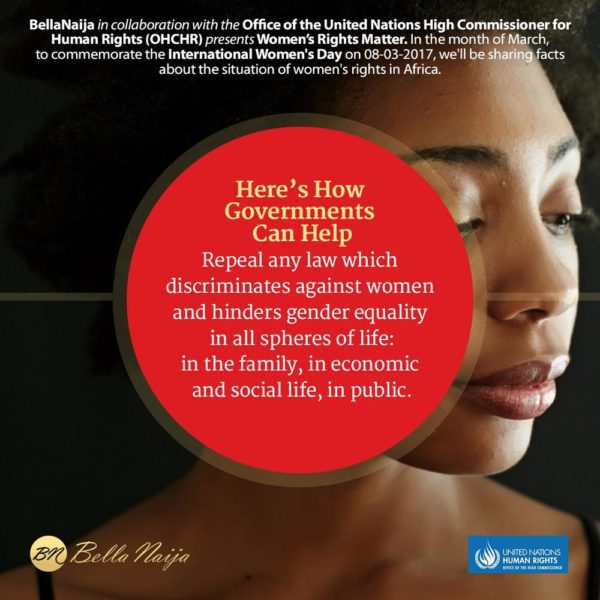 Repeal or eliminate laws, policies and practices that criminalise, obstruct or undermine access by individuals or a particular group to sexual and reproductive health facilities, services, goods and information. At the very least, bring laws into compliance with the [Maputo] Protocol.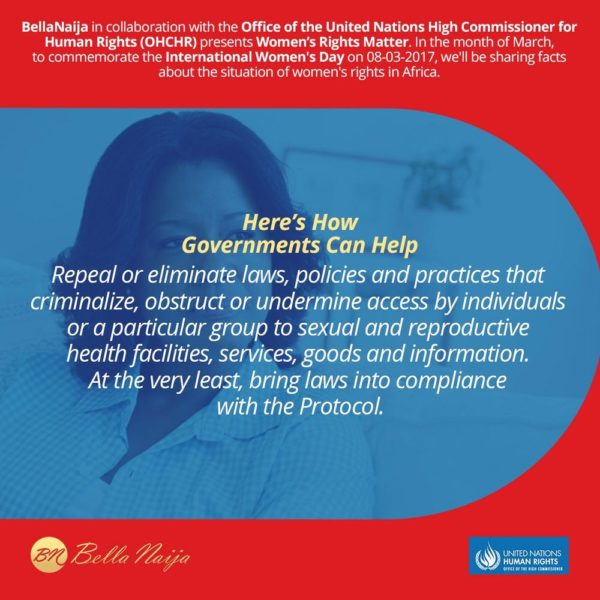 Adopt targets to ensure women full and productive employment, and decent work and to recognise and value unpaid care and domestic work, and give women equal rights to economic resources, as well as access to ownership and control over land and other forms of property, financial services, inheritance and natural resources.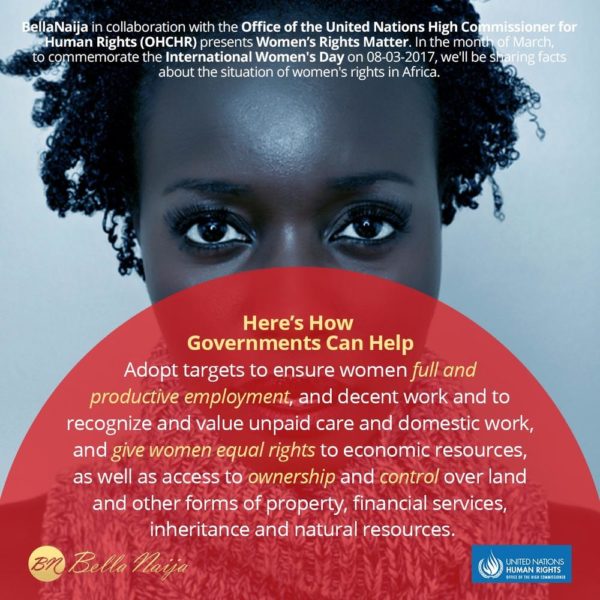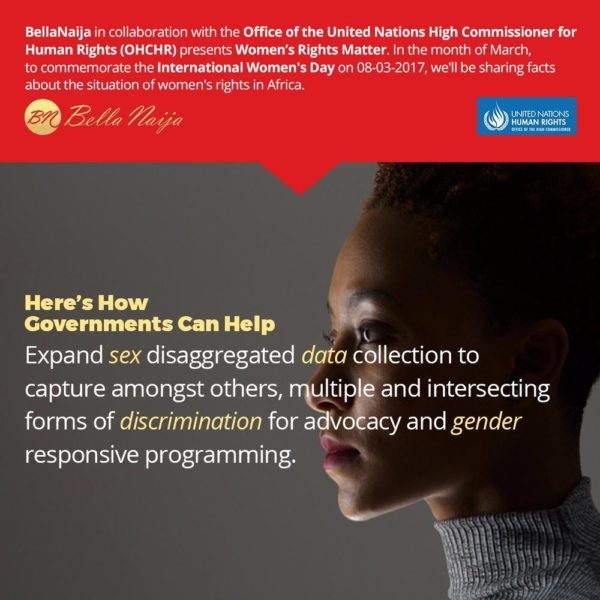 How can you be a part of this fight for justice?
Empower, educate and inform.
Report incidents of women's rights violations to law enforcement authorities/agencies.
Support local civic societies that work with women's groups, and advocates of women's rights.
Provide employment opportunities to encourage economic empowerment of women.
Provide awareness for the eradication of discrimination against women.