If you've ever had a health-related issue in Nigeria, then you will probably understand that it is extremely difficult to fund your treatment and navigate the healthcare system.
In view of this, BellaNaija launched the BN Community Centre. This online platform will feature "calls for help" as submitted to us. This includes information, photos and account numbers.
***
His frail and petite look doesn't do justice to this brave little fighter. At only 4 months old, Adegoriola is already engaged in a battle that has toppled many far beyond his age – a battle for his hope and his survival.
He has been diagnosed with complete unbalanced Atrio-ventricular canal defect (Moderate sized ostium primum Atrial septal defect, large inlet Ventricular septal defect, moderate Atrio-ventricular valve regurgitation) small patent Ductus Arteriosus, severe hyperkinetic pulmonary hypertension. For short, he has a severe and live-threatening heart condition and is being treated at the Lagos University Teaching Hospital, Idi-Araba.
This disease is very rare, complex, and dangerous. And unfortunately cannot be treated/operated in Nigeria. His family is in great despair, having already spent their entire life-savings on treatments and diagnosis. They seek help through donate-ng.
The 4 months old is in great pain and situation will deteriorate rapidly. He needs urgent surgery and the estimated amount is $15,000 which translates to about N6,750,000 the current exchange rate. This is a revised cost after recent visit to OAUTH. Initial cost was estimated to be $30,000.
Please visit the donation link to give your support. https://donate-ng.com/saveadegoriola.
Please donate and help spread the words #saveadegoriola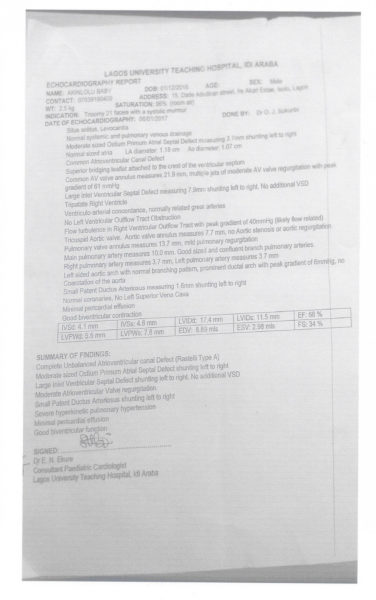 Having supported the fundraising for the IDPs, buy Xmas gift for the orphan, build schools for the poor, and raise money for treatment for the sick among other projects, donate-ng is calling on all well-meaning people from all over the world to come together to help save Adegoriola's life.
We bank on the support, compassion and generosity of people all over the world make this happen. Thank you and God bless as you donate.
***
We, at BellaNaija, encourage you to give if you can. However, please ensure you perform independent verification prior to donating any funds.